News
To Nancy Lopez, with gratitude: Sharing memories of a 25-year career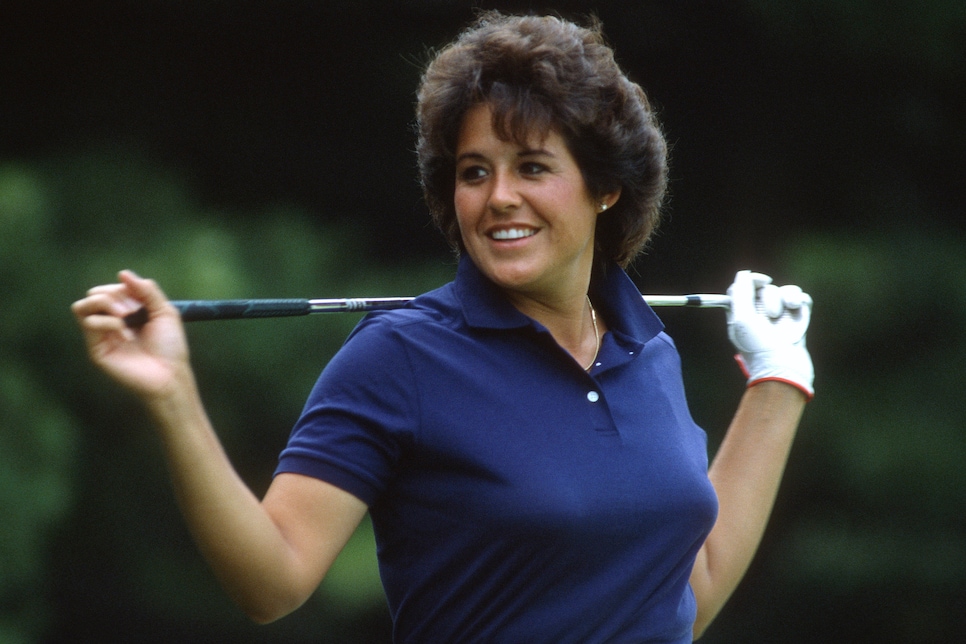 Nancy Lopez at an LPGA tournament in 1987.
Focus On Sport
Editor's note: In celebration of Golf Digest's 70th anniversary, we're revisiting the best literature and journalism we've ever published. Catch up on earlier installments.
Once upon a time, there was a golfer named Nancy Lopez who won the U.S. Girls' Junior in 1972 and 1974, at ages 15 and 17. In 1975, she finished runner-up in the U.S. Women's Open as an 18-year-old amateur. She went to the University of Tulsa and turned pro in 1977. In her rookie year on the LPGA Tour, she won nine tournaments, including five in a row. She was Tiger before Tiger, and she had this amazingly unforgettable smile. Nancy went on to win 48 LPGA events, including three majors, had three kids, and now, at 63, lives in The Villages, Fla.
In October 2002, on her 25th anniversary as a professional, Golf Digest paid tribute to Nancy with these career recollections from her contemporaries. The interviews were conducted by longtime Golf Digest contributing editor Jim Moriarty with an assist from a summer intern, Isaac Gruber.
Moriarty was both a photographer and writer for the magazine. He was especially good at travel writing, where a feel for the game imbued his pieces with an empathetic humor—I remember him writing once, "Working the ball to me means finishing with the same ball as I started with." For as long as I've known him, Jim and his wife, Audrey, have lived in Southern Pines, N.C., where he now works on a local arts and entertainment magazine called PineStraw. (Audrey runs the Tufts Archives at Pinehurst.) Jim says, "Now I get to write about sculptors, painters, museum curators and marine archeologists instead of Patrick Reed." Moriarty doesn't "remember a damn thing about doing the Lopez story," but he still has the letter from Mickey Wright that's quoted here. "It's part of the small stack of correspondence I had with Mickey," he says. "I couldn't value the letters more if they came from Joan of Arc."
As for Isaac Gruber, we remember him as a rather timid student from Emory at the start of the summer, but by August he exhibited a robust confidence and journalistic instinct. We tried to hire him back the next summer, but he interned with the sports agency IMG, got a law degree with honors at the University of Chicago, married last year and now works as general counsel at a financial firm in Charleston, S.C. I ran into him at a wine-reduction party of the Manatee Club in New York last year. —Jerry Tarde

***
There was the smile. And there was the game, too. The moment Nancy Lopez stepped onto a golf course, she jumped right into our hearts. She was the little girl from New Mexico with the smiling eyes, fearless and joyful in the same instant. As an ambassador of golf, only Arnold Palmer is her equal.We'll remember the five consecutive victories as a rookie. The 48 tournament titles, four player-of-the-year awards and three majors. And the heartbreak of never winning a U.S. Open, including a gut-wrenching duel with Alison Nicholas. But the impact Nancy Lopez has had on golf can't be measured by birdies and bogeys. It can only be told through the fondest memories of people she met along the way.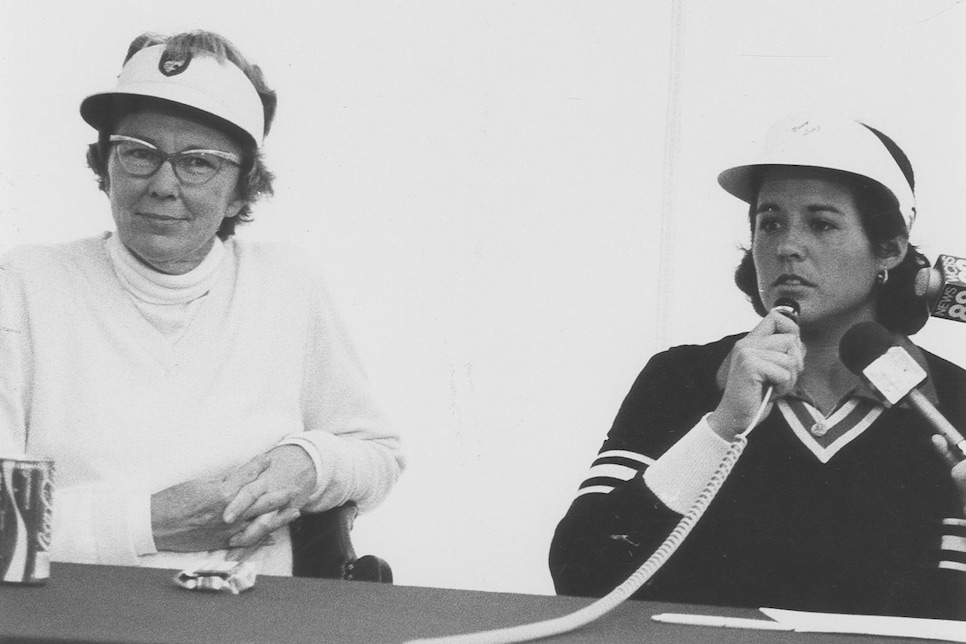 Winner Nancy Lopez and runner-up Mickey Wright at post-round interview during 1979 Coca-Cola Classic at Upper Montclair CC in Clifton, NJ.
LPGA
IDENTIFYING THE 'IT' GIRL: Mickey Wright
I had the pleasure of playing with Nancy in 1977, just before she turned pro. We were paired in the first round of the Women's International at Moss Creek in Hilton Head. She shot 80, and to most people it was an uninspired performance. But I came in raving about her to anyone who would listen. Her calm demeanor, emotional control and tenacity screamed out to me that she would be something special. I told my friends that she definitely had "it," whatever "it" is. Sure enough, it didn't take her long to prove me right.
'SHE'S NEVER GOING TO MAKE IT': Jan Stephenson
After Nancy turned pro, the IMG people hired about 12 players to do a pro-am and clinic and said to me, "Oh, good. You're a real student of the game—we want to see what you think about this girl's swing, because everyone says she's going to be a superstar."
Nancy got up there in the clinic, and she was hitting these big duck hooks, and I told everyone, "Well, she's short and she's across the line, and she's never going to make it."
They've never let me forget that.
A SWING (AND SOME BEER) TO SAVOR: Lee Trevino
I was living in El Paso when Nancy was a hotshot 12-year-old amateur—she won the New Mexico Women's Amateur Championship when she was 12. I remember her father, Domingo, bringing her over to El Paso, and I watched her hit some golf balls. I told her father, "Don't do anything. Everything I can see is going to work."
The only help I ever gave Nancy was when she was going to the University of Tulsa and I bought her some beer when she was underage. We were there playing in an exhibition, and she and her girlfriends came out. And she says to me, "Could you get us some beer at the 7-Eleven before you leave?" I said, "Yeah, come on, girls." I put them all in the car and bought two six-packs for them.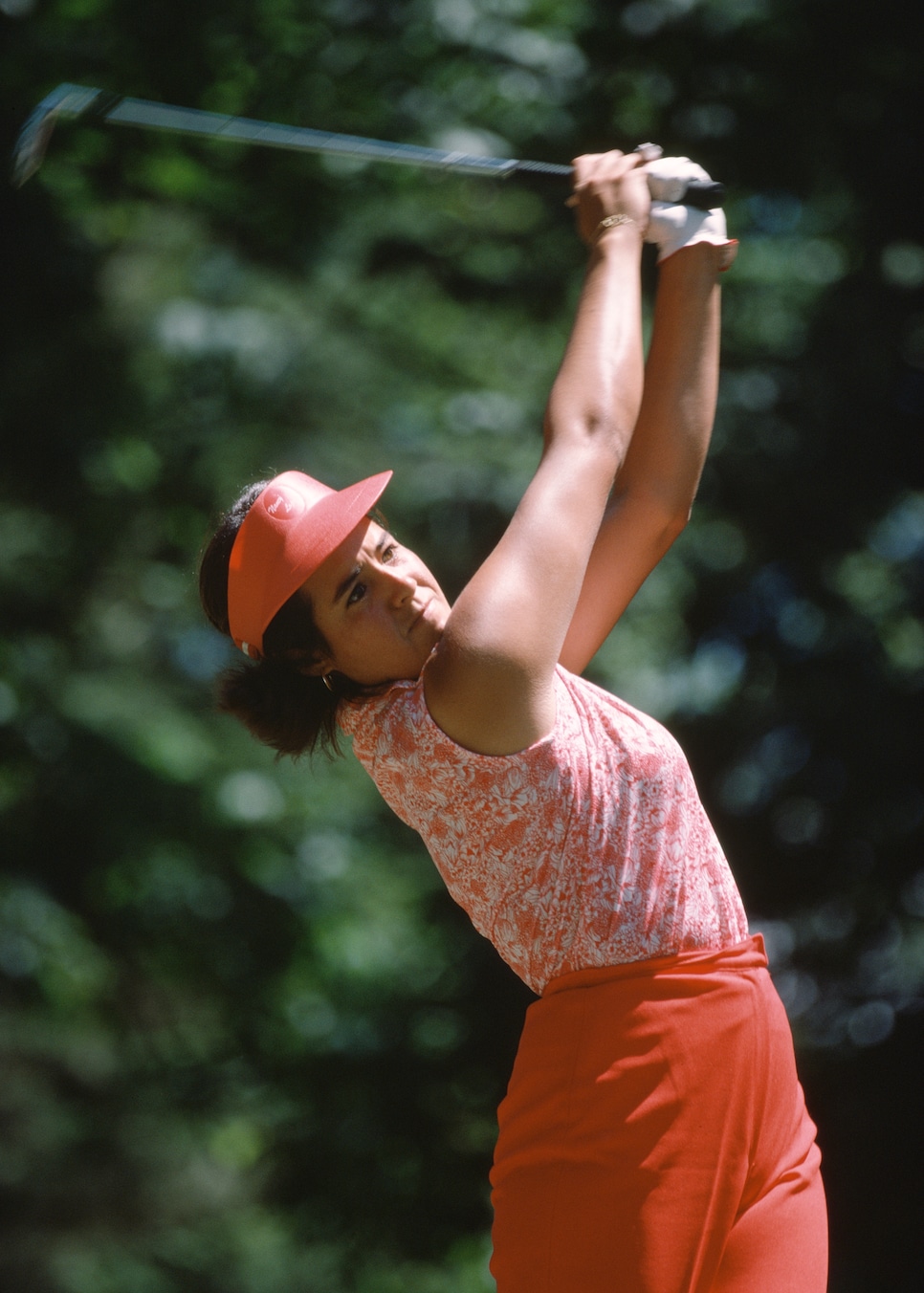 Nancy Lopez hits a shot during the 1978 LPGA Championship at the Jack Nicklaus Golf Centre, Kings Island, Mason, Ohio.
Leonard Kamsler/Popperfoto
SMILING THROUGH THE TEARS: Dale McNamara, former women's golf couch, University of Tulsa
We were playing in a tournament at Furman, and it was the morning of the final round. We were behind by a couple of shots, and everybody was in the van except Nancy, which was unusual because Nancy was always on time. Here she comes down the stairs, tears streaming from her eyes. I asked her what was wrong, and she said she had just gotten into an argument on the phone with her boyfriend back in Tulsa.
All the way to the golf course, she's sniffling, and I'm thinking, We've got a real problem here. Well, the next thing I know, we get to the course, the tears stop, she shoots 70, and we win by two shots. She walked off the 18th green smiling, talks to everyone she needs to talk to, thanks everyone she needs to thank, then goes off by herself and starts crying again.
The first time I ever laid eyes on Nancy, though, was on a recruiting visit. What I remember most is that I never saw anyone so happy. When we got to her house, to see that family interact was just fabulous. I'll never forget the love in their eyes for one another. The honesty that was there. There was an aura, and everything was perfect. We're sitting on the floor, going through her scrapbook, and I'm looking around me and all I can think is, I've got to go home and wash my windows.
A COLLEGE RIVALRY: Beth Daniel
In college, a whole bunch of teams got together and toilet-papered and soaped Tulsa's van. Nancy came out in the middle of the night and started yelling, "Who did that? Beth Daniel, where are you? I know you did that." I said, "It wasn't me. It wasn't me." But she always blamed it on me, totally. She still does.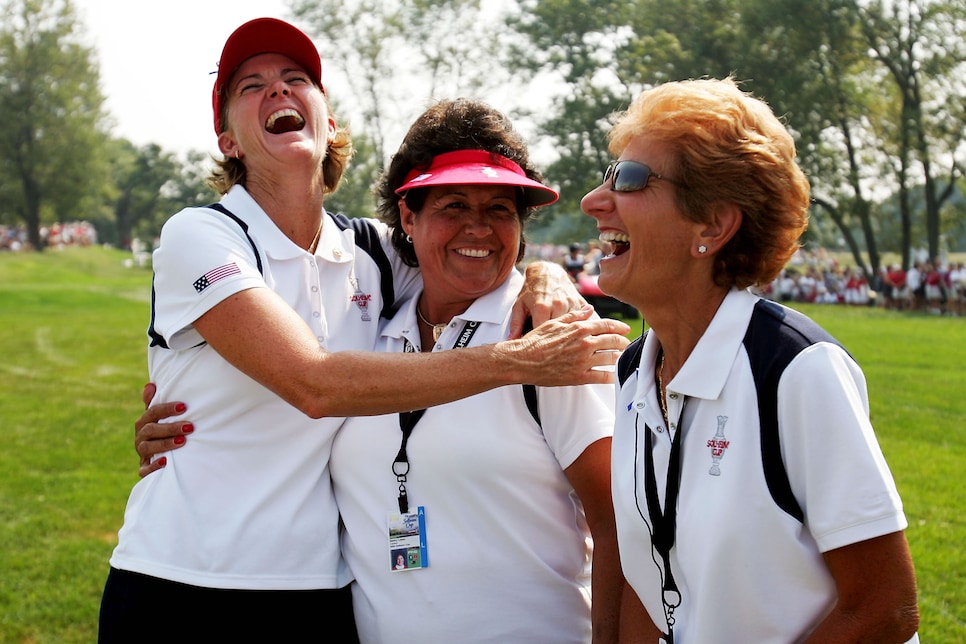 Beth Daniel (left), Nancy Lopez and Donna Caponi celebrate U.S. win in the 2005 Solheim Cup at Crooked Stick.
Andy Lyons
PLAYING FOR BIG BUCKS: Jo Ann Washam
Nancy and I played practice rounds together all the time. We never played for anything. One day, Beth Daniel and JoAnne Carner said, "We'll take on you and Nancy." I said, "OK." Nancy wasn't included in this conversation, just me. So we play this practice round, and at one point Nancy says, "What are we playing for?" And I said, "Never mind, Nancy." Beth had been in New York all night and JoAnne was late getting into town. They happened to have a bad day, and we got lucky. When it was over, we each made like $145. I handed Nancy the money, and she said, "Don't you ever do this again. I don't want to play for this kind of money."
THE ROOKIE STREAK: Ray Volpe, former LPGA commissioner
In 1978, the year Nancy ran off five consecutive victories, we were at the LPGA Championship. We made a million demands on her time. And no matter who went up to her, her attitude was, "How can I help?"
I learned a lot from Nancy Lopez. I've seen a lot of athletes freak out, treat people like garbage or distance themselves. Never Nancy Lopez. When I'm under pressure, I think about her. Still to this day when I'm asked about my experiences with professional athletes, she is by far the nicest I've ever known.
PLAYING FOR THE LOVE OF THE GAME: Don Ohlmeyer, television executive
Nancy was a hell of a story. She touched the audience, because the audience knew she really loved playing the game. And they were touched by the respect she showed her father.
We were at the beginning of a period of time when people who followed sports were having ambivalent feelings about the people in sports. What got lost was the feeling of people playing a game because they loved it. Without the fans, there wouldn't be a game. Nancy knew that. As time has gone on, fewer and fewer players realize it.
I thought she was somebody who was going to be important in the world of golf—and she was. Then I thought she was going to be important in the entire world of women's sports—and she turned out to be just that.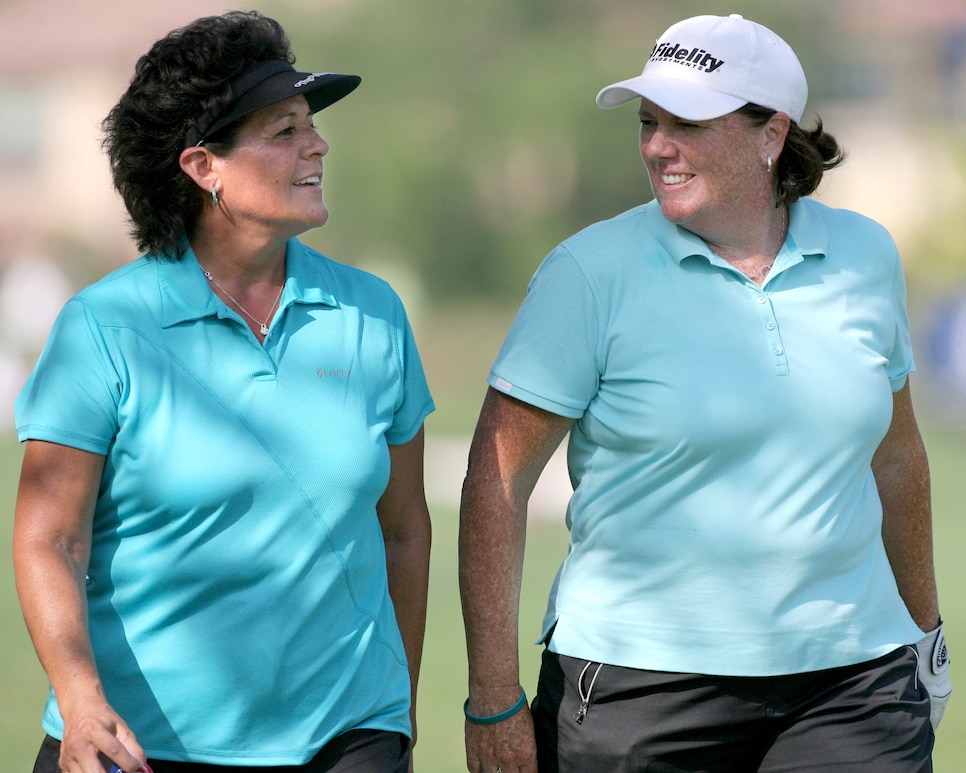 Nancy Lopez and Meg Mallon walk together during the first round of the 2007 Ginn Open in Kissimmee, Fla.
Gary W. Green
INSPIRATION FOR A CAREER: Meg Mallon
When I was in high school, I'll never forget, I was watching some other sporting event—it might have been the NBA—and they broke in to show Nancy Lopez, LPGA golfer, going for her fifth win in a row. I thought, How cool is that? I was 16 years old or something and had never even thought about becoming a professional golfer.
A BAD DAY: Charlie Mechem, former LPGA commissioner
Nancy was having a bad day. She has just three-putted a green where she at least should have two-putted, and as she came walking off someone thrust—and I mean thrust—a program or picture or something right in her face and said, "Sign this for Tammy." Just like that. Nancy stopped for a minute and sort of digested the situation. All she said was, "Is that spelled with a 'y' or an 'ie'?"
NANCY VS. MICKEY: Ruffin Beckwith, World Golf Foundation
At a tournament in New Jersey in 1979, Nancy won a five-player playoff that included Mickey Wright. It must have been one of Mickey's last LPGA competitions. Everyone there recognized that they were part of a very special occasion, and you can make the case now that it was the one truly competitive moment between two of the greatest women players ever.
THE 'FLU BUG': Donna Caponi
Nancy and I roomed together on tour for many years. One night, I arrived at our hotel in Tucson about 10 o'clock, and Nancy was still up. When I walked in, she said, "I'm so sick. I've got the flu bug. Maybe you ought to get another room so you don't get sick." I said, "No, no." There's nothing worse than being in a hotel by yourself when you're sick as a dog. She was up all night, kept throwing up. The she withdrew from the pro-am and stayed in bed. Periodically we'd check on her. She'd have soup and stuff. That night, I asked her how she felt, and she said she wanted something cold like ice cream or something. The next morning she was still really, really sick and withdrew from the tournament. After she got home, she called and said, "Guess what? I'm pregnant."
THE PLAYER AND THE MOM: Debbie Harmon, 2002 Futures Tour player
I was a conditional player on tour in 2000, so when I called the tournament office at the Giant Eagle Classic to get my tee time, I expected to be paired with other rookies. They told me my tee time, and started to chuckle. "You're playing with Minny Yeo and, oh, Nancy Lopez." I was like, "Oh, my … "
My dad was caddieing, my mom was walking around, and I was playing with Nancy Lopez. A great week. We get to the tee, and she's absolutely as wonderful as a person can be. Just charming. We're standing there listening to the introduction. I had tears in my eyes.
Our four-hour round turned into about a 10-hour day spent with her, because we went through two rain delays. I was looking around at all these people, and I'm out here playing golf with her. It doesn't get any better than that.
We got to one hole on the front nine, and after a pretty good drive, she bounces her second shot into the water right of the green. The whole crowd was up on the left, and I heard her let out this, "Damn, Nancy!" I was like, She swears and everything! Then she apologized to me and I thought, How cool is this? I said, "It's OK. To be honest with you, I've said it a few times myself."
We went through one of the rain delays, and one of her daughters was there. We were in a van together. And it was neat, because then I saw the mom side of her, which is totally different from the golf side. She was just so excited to have her daughter there. She was hugging her and talking and giggling about stuff and playing with her hair. She was just "the mom." This person is all these things, and she's good at all of them.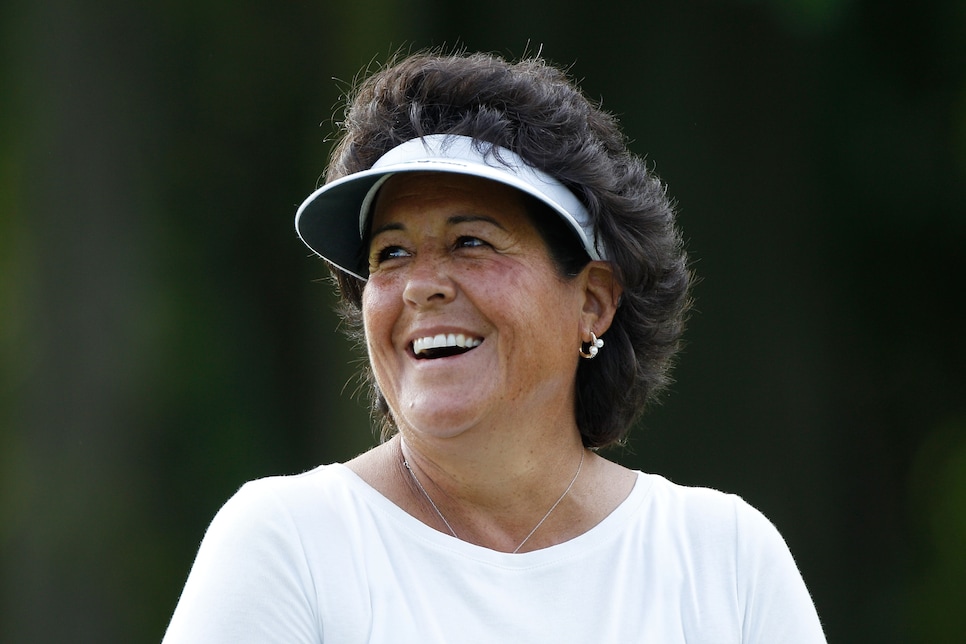 Nancy Lopez smiles as she walks off a green during a practice round prior to the start of the 2010 LPGA Championship at the Locust Hill Country Club in Pittsford, N.Y.
Scott Halleran
SHARING THE RANGE: Karrie Webb
My first memory of Nancy goes back to my first tournament on tour, at the Tournament of Champions in 1996. Because it was the first event of the year, almost everyone was there on Monday. It was really cold and windy that day, but being the rookie I was, I thought I needed to at least hit balls, so I walked over to the range. There was a really bad left-to-right crosswind, so I thought I'd just go down to the far right-hand end of the range and try to hit back into the wind. When I got down there, the only other person on the range was Nancy. And there she was down in the far right-hand corner hitting shots back into the wind. I was like, There is no way I'm going down there to hit next to Nancy Lopez. I was in the Tournament of Champions because I'd won the British Open the year before, but I didn't even think I should be on the same range with her.
DON'T GET NANCY MAD: JoAnne Carner
For about two years, whenever I played with Nancy the press was always trying to get a feud going. It never really took hold, because we always enjoyed playing each other.
Then somewhere I had a lead going into the last round, and just joking around, I said something like, "I'll lap her," or "I'll run circles around her," or something like that. Well, when it came out in the papers, it didn't have any humor to it at all. The next morning the caddies were reading the story to her at breakfast. My two-shot lead went right down the tubes—and I shot 68. I decided right then I would never get Nancy mad again.
LAUGHS ALONG THE WAY: Dee Darden, Lopez's caddie for five years
We're playing in Springfield [Ill.], and our playing partner has about a 40-footer. I'm standing by Nancy, and I said, "You watch this—she'll probably knock it in." She didn't knock it in, but she scared the hole. Just rolled it up there, and then she starts going, "I can't ever get a break. That should have gone in the hole. It was in all the way." And on and on. I looked at Nancy and I said, "You know if it was raining soup, she'd be out there with a fork." Nancy's still got a four-footer, and she starts laughing. She doesn't want the other player to see her laughing, so she turns her back and looks at me and says, "Dee, if you ever say something like that to me again, I'm going to hit you right in the head."
THE NEAR MISS AT THE OPEN: Judy Bell, past president of the USGA
In the '97 Women's Open at Pumpkin Ridge, the only place you didn't want to miss the 15th green was to the right. So, anyway, she brushed it—that's what she said—to the right. No one could get it up and down from there. No one. The next year, Nancy was getting the Bob Jones Award. At the executive-committee dinner before the annual meeting, when I introduced her, I said I thought it was my fault that she lost the Open, because of the hole location at 15. Nancy got up, thanked me for the introduction and said, "All this time I thought it was my fault. Now I can sleep again."
BLAME IT ON MOMMY: Alison Nicholas
In 1990, I played about six months and was struggling a bit, so I came home. At the Solheim Cup, Nancy encouraged me to come back to the LPGA Tour. The Open at Pumpkin Ridge, obviously, was a special day. We both wanted to win. She was fantastic in defeat, very magnanimous. I think one of her daughters said to her, "It'd your own fault, Mommy."
Nancy Lopez signs autographs during a practice round for the 1999 U.S. Women's Open at Old Waverly Golf Course in West Point, Miss.
LUKE FRAZZA
GIVING BACK SOME LOVE: Jo Geiger, founder and national executive director of Adventures in Movement (AIM) for handicapped children
Nancy has been involved with us for almost 25 years. When I first approached her, I asked her to come to Dayton, Ohio, to see what we do. I looked at her and said, "You're young, nice-looking, rich. You've got it all. But everybody has to give back. Here's the place to give back. We need you. But I'm going to need everything you have. Not just a check. Not just your name on our stationery or on our brochure."
I was looking for somebody who really cared about these kids and was willing to give us their heart.
Nancy said, "Let me think about it."
Soon after that, she called and said, "I'm coming to Dayton." She was there for two days. She met the board, she met the kids, she met the parents, she met the staff. I took her into the schools and the hospitals where we work. After two days of this, she's ready to get on a plane, and I said, "You think about all of this and see if you can give me a total commitment." She just started to cry. She said, "I don't have to think. You've got everything I have."
That was 24 years ago. She loved these kids. I tell you, it's like a light turns on when she sees them. She's down on their level. They're hugging her.
I was talking on the phone one day, and one of our kids said, "Dr. Jo, who have you been talking to?" I said, "I was just talking to Nancy." He said, "Who?" I said, "You know, Nancy Lopez, the golfer." Her picture is around the building, and he had met her and all. He thought for a minute and said, "Dr. Jo, I don't know Nancy Lopez the golfer. I just know the Nancy who loves us."