The Loop
Monday's Sony Open winner, Mark Wilson, got the attention of more than a few observers when he mentioned that he never looked at a leader board during the final 36 holes at Waialae C.C. in Hawaii. Not since Jesper Parnevik's loss at the 1994 British Open at Turnberry, when he said he didn't look at the leader board toward the end, played recklessly on the last hole, then lost to Nick Price, has so much been made of such an innocuous statement.
Here's what Dan Jenkins wrote in Golf Digest at the time: "Surely Parnevik was being as funny as his cap, or his father, late Sunday when he claimed he forgot to glance at the scoreboard and thought he needed yet another birdie before he butchered his approach to the final hole and suffered the bogey that threw open the door for Price."
Immediately after Wilson's
comment on Monday, the Twittersphere came alive with such remarks as "there's never been a great player who didn't look at the leader board."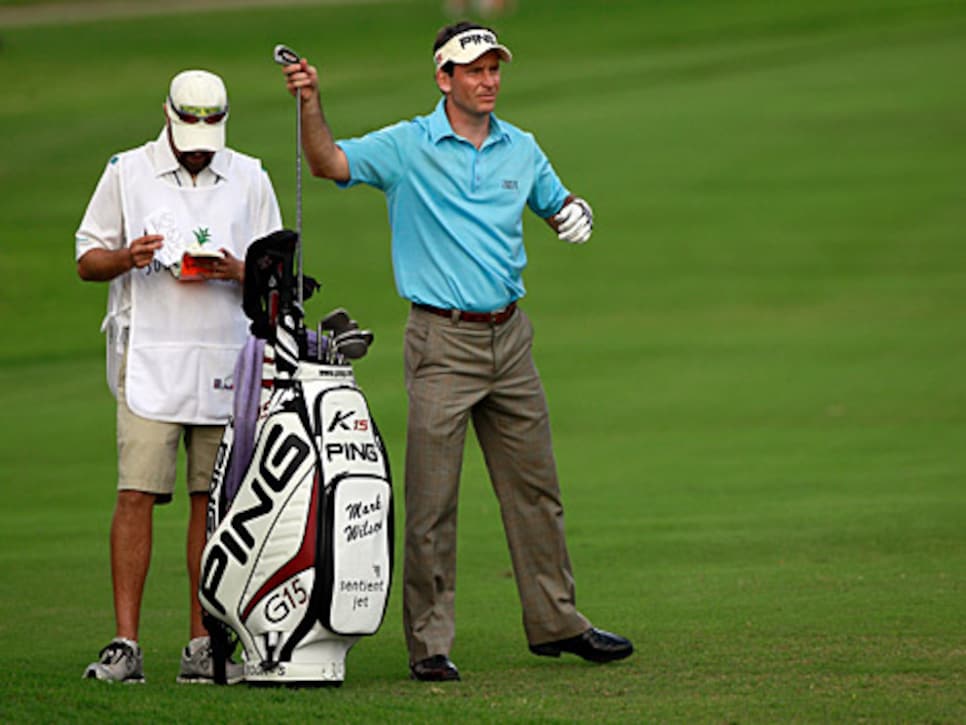 Nick Faldo joked about it on air and Tim Rosaforte brought it up as well. So did Peter Kessler in a tweet.
While it's true that all great players of the modern era knew exactly where they stood coming down the stretch, a case can be made for doing it the Mark Wilson way.
When you're in the heat of competition, it is certainly less distracting to think only of your own game--and playing against the golf course--rather than trying to keep track of all the other players around you.
This is the advice that Wilson's mental coach, Dr. Bob Rotella, gave him, and for Wilson it worked. When he got to the green of the 72nd hole, a reachable par 5, he asked his caddie what he needed to do.
"Just get it up down," he said. That's what Wilson did, making birdie and winning by two strokes.
Rotella makes a strong argument.  "This is very much what I teach," he told me. "People say you are insecure if you don't look at the leaderboard. But it's just the opposite. Players have to be totally secure and lost in their own little world to not look." Dr. Bob continues: "You're trying to give every shot the same level of importance on the golf course. You're believing in your game, not trying to be somebody else."
The same lessons can be applied to your own game. When you're playing with your buddies in a friendly match, or in a tournament that means a little more, all that really matters is shooting the lowest score possible.
Bobby Jones often said, even in match play, if you play against "Old Man Par" or against the course, the match-play score will take care of itself. In the early days of tournament golf--even at the majors--players rarely knew what others were shooting. The leaders didn't necessarily tee off last back then.
Players might hear rumors or get a sense of what kind of score it might take to win as they were negotiating the final nine, but they couldn't be sure. So they focused on just playing their own game and whatever happened, happened. Says Rotella: "Mental toughness is doing the same thing coming down the stretch as you did in the beginning of the tournament. Top basketball coaches have been telling their players this for years. 'Never mind the bleeping scoreboard. Just play your game.' " It's similar to playing a course when there are no pins in the greens. It gives you a different mindset, one that blocks out distractions and temptations.
This happened to me years ago at Muirfield Village. I was playing with two teachers from the Golf Digest Schools, Chuck Cook and Scott Davenport. It was a Monday and the course was closed, but the superintendent gave us permission to play late in the day, carrying our bags. There were no pins in the cups, so we had to shoot at the middle of the greens, rather than firing at the flags. Guess what? I ended up shooting one of my best scores. I hit more greens than I normally do, and I was never short-sided. It's the way Jack Nicklaus played most of his golf. He would aim for the safe part of the green, often away from sucker pins, and make birdies by sinking 25-foot putts.
There's something to be said for staying focused on your basic game, finding a strategy you are comfortable with, and then sticking to it. It simplifies the process and keeps you relaxed. Let me know what strategy works best for you. I'll comment on the best advice.
Roger Schiffman, Managing Editor Golf Digest