Equipment
Titleist Vokey WedgeWorks T Grind: What you need to know
*All products featured on Golf Digest are independently selected by our editors. However, when you buy something through our retail links, we may earn an affiliate commission.*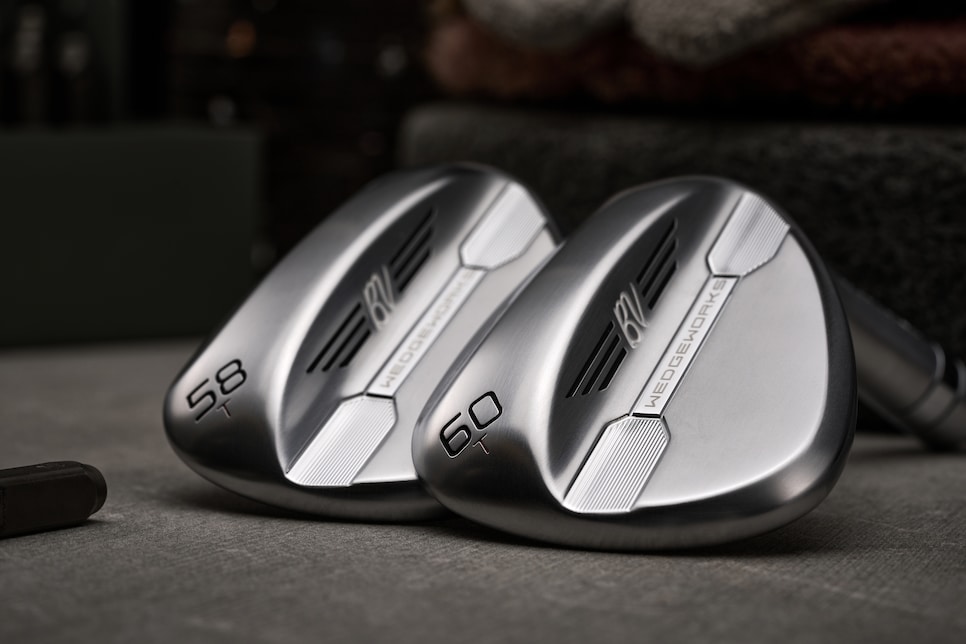 WHAT YOU NEED TO KNOW: Titlist's Vokey WedgeWorks line gets an extension with the addition of a low-bounce (4 degrees) wedge in 58 and 60 degrees with the tour-proven T grind.
PRICING/AVAILABILITY: The new 58.04 and 60.04 Vokey WedgeWorks T grind offerings are available immediately in right-hand and left-hand in Tour Chrome (right-hand only) and Raw finishes through golf shops and Vokey.com. Price is $225 per wedge. A number of custom options including toe engraving, stamping and custom paintfills are available via the company's WedgeWorks program.
THE DEEP DIVE: Titleist has introduced an extension to its WedgeWorks line with the addition of the low bounce T grind in tour chrome and raw finishes.
The T grind—inspired by Bob Vokey's work with Tom Pernice, Jr.—is a popular option among tour players. Cameron Smith, Justin Thomas, Jordan Spieth, Webb Simpson, Will Zalatoris and Cameron Young are among those utilizing the T grind in their lob wedges. Tour pros, however, prefer the club for more than just its wide back flange and narrow crescent surface.
"Cameron's previous gamer caused the ball to come out inconsistently, meaning he'd have to compensate with technique," said Vokey PGA Tour rep Aaron Dill. "As we moved into T grind, it was immediately clear that the sole was reacting better on those open-faced greenside shots, with more speed as it went through the turf."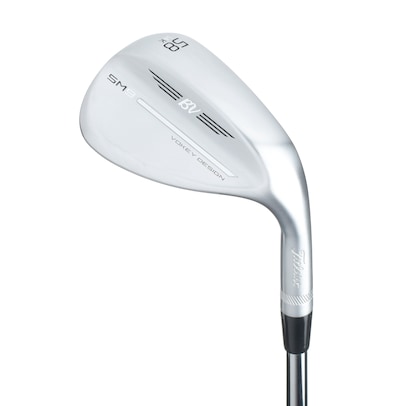 Titleist
VOKEY SM9
WHAT IT DOES: When talking about a club's center of gravity, most think of it in terms of inside the head. A better wedge, according to Vokey's thinking, requires moving that CG outside the head. Specifically, the new SM9 moves the CG forward of the face and higher than in past models. That combination controls excessive dynamic loft, yielding a lower, more consistent flight for optimal launch and spin.
WHY WE LIKE IT: Although the matrix of 23 loft-bounce options sounds confusing, it's purposeful. Swings and course conditions vary. If you're not making contact between the second and fifth groove, you've got the wrong grind. The master's guidance: A higher-bounce sand wedge and lower-bounce lob wedge provide the most adaptability for all conditions.
The WedgeWorks T grind option contains all the benefits of the SM9 line, including a center of gravity position in front of the face that assists squaring the clubhead at impact. Spin consistency was addressed as well. A new "spin milled" cutting process is employed that uses a cutter that creates the entire scoreline instead of a partial scoreline. The result is tighter manufacturing tolerances for a more consistent scoreline edge radius, allowing for the grooves to be sharper and closer to the USGA limit. The edge radius is rounded so the edge lasts longer. That, coupled with a heat treatment process, helps with spin retention. Micro-grooves are cut between the grooves to add spin on partial shots. Still, the grind is the thing with these wedges.
"I've had players say they feel like they can hit any shot with the T," said Will Harvey, Vokey's European Tour Rep. "The combination of the forward bounce for low pitch shots and the grind for the soft control shots is something needed with the vast amount of shots required on links or firmer course set ups."