The Loop
Titleist to explore super high-end with new driver, irons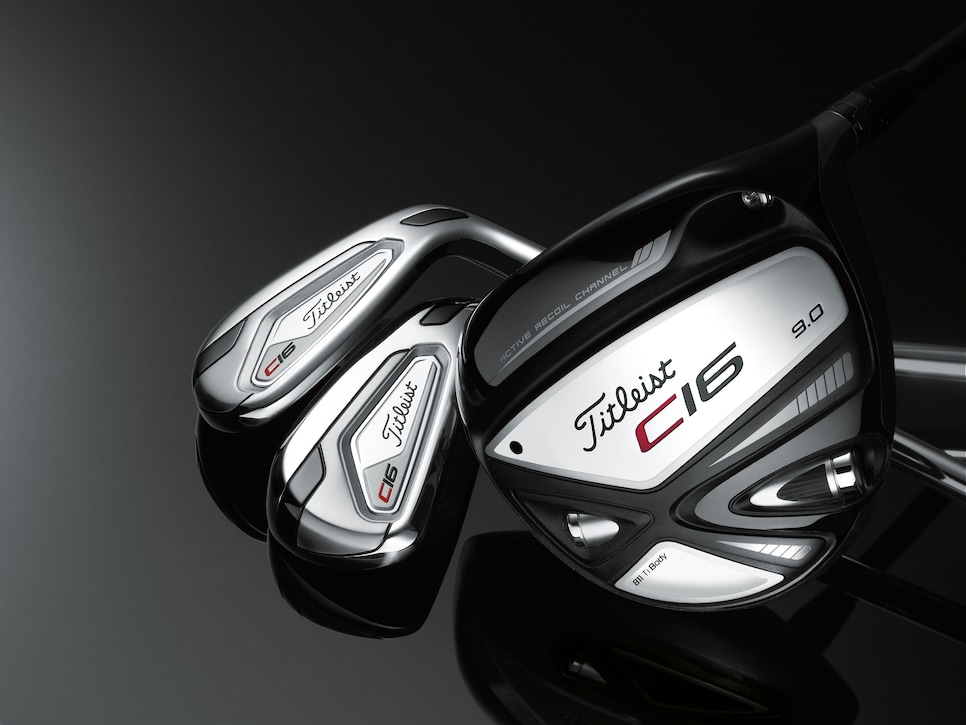 When a major manufacturer decides to announce a new line of clubs that includes a $1,000 driver and a $3,000 set of irons, three questions immediately emerge:
The answers from Titleist and its new C16 driver and irons are in some cases simple and direct. That's a firm "No" on No. 3, but on the first two, the answer might be best summed up in another question, "What if?"
Although it may not seem like it with the plethora of new clubs hitting the golf marketplace, innovation in equipment usually is restricted to varying degrees because of money and method. The theory is that you might have a lot of theoretical solutions to produce a club that generates more distance and forgiveness, but those ideas either cost too much or simply cannot be properly manufactured in quantity given current methods and design.
But the R&D team at Titleist is taking the idea of "What if?" and seeing if it can produce limited quantities of clubs that embody theoretical ideas, new materials and new methods. Just as the automotive industry produces its concept cars, this will be Titleist's approach to produce concept clubs.
The C16 line will start with a new three titanium alloy driver that is Titleist's first entry into adjustable weights, and a new set of multipiece forged hollow irons that aim to produce the longest, highest flying irons in the company's history.
"We're constantly asking how can we go to another level in terms of performance?" said Dan Stone, vice president of research and development for clubs at Titleist. "Our team has always been optimistic, and some of that optimism comes from what they see in the lab, what we can create that does some different things where cost is not even in the discussion and manufactureability is only in the discussion as much we need to come up with a minimum quantity that we could study.
"This is not a cosmetic foray into super premium products," he said. "This is really about how can we go to the next level of performance by having all the constraints taken off of us and something that we can make more than two of."
Of course, that also means no constraints in terms of cost to the consumer. The C16 driver will start at $1,000, while the C16 irons start at $2,700. The clubs will be strictly limited at just 1,500 drivers and 1,000 sets of irons. In addition, interested buyers can only purchase the clubs after a clubfitting at Titleist's California or Massachusetts headquarters, or by visiting one of more than 80 locations where fitting events will be held every Thursday for the next two months.
Stone believes what those enthusiasts will find is fairly simple: "It's our best effort to make the theoretically best performing club into a real product."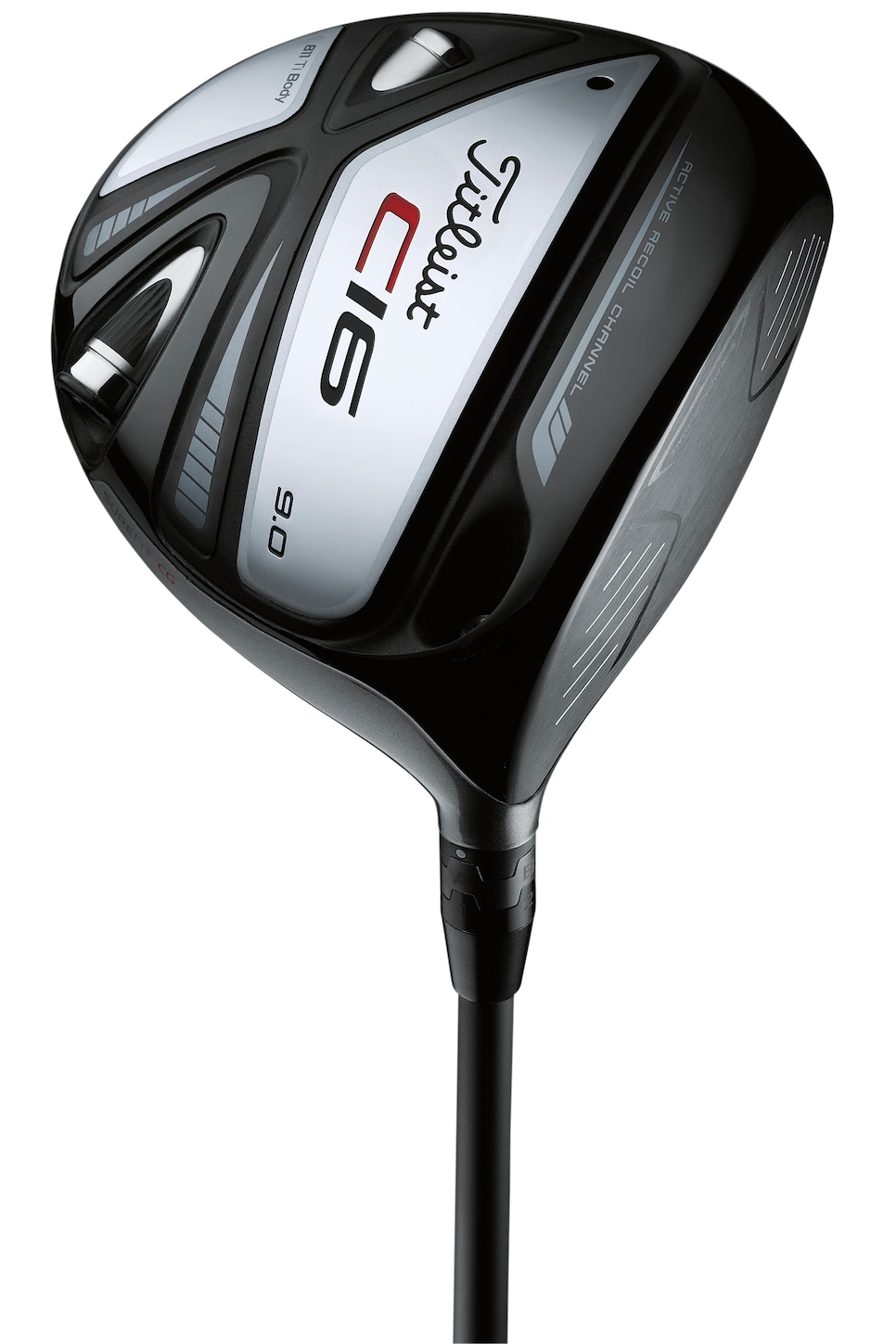 C16 Driver While Titleist's mainline drivers have offered 16-way hosel adjustability since 2010, the company has not offered a driver with an adjustable weight system for changing the club's center of gravity until now. The C16's unique 10-gram weight bar in the sole (more on that later) is only possible because the design employs three different titanium alloys in the body, face and crown.
The first weight-saving key is the use of an ultralight ATI-425 titanium alloy in the crown. That makes for a crown that's just .35 millimeters thick, or a little more than one-fourth the thickness of a dime. There's also a SP700 titanium face to improve overall face flexibility while saving additional weight and a lightweight Ti 8-1-1 body throughout the rest of the frame.
The saved mass yields room for the weight bar that angles from slightly forward at the toe to slightly rearward at the heel. There are two versions of the bar, one with the mass evenly distributed and one with the mass concentrated on one end so players can produce a draw- or fade-biased CG location (heavy side toward the heel for a draw, toward the toe for a fade). Its unique rearward slot has a purpose, Stone said.
"The goal here was to make an adjustable CG product without compromising [moment of] inertia," he said, emphasizing that the off-center hit stability is preserved by the rear location of the opening. "The key was the orientation of the cartridge."
The angled position preserves stability, but also controls unwanted spin and trajectory issues you might find in other symmetrically balanced movable weight, Stone says. He explained that too much weight far out on the toe encourages a ballflight that's high with extra spin, so angling the weight forward "might encourage more of a power fade instead of a slice." Conversely, keeping the weight farther away from the face and deep in the heel like in the C16's angled slot helps enhance a higher, drawing shot—exactly the benefit a player who's fighting a slice might prefer.
"It's a way of optimizing the two worlds of dynamic lofting at impact and gear effect in a relatively simple system of three options," Stone said.
The driver is offered in 9- and 10.5-degree lofts, and is available starting April 28.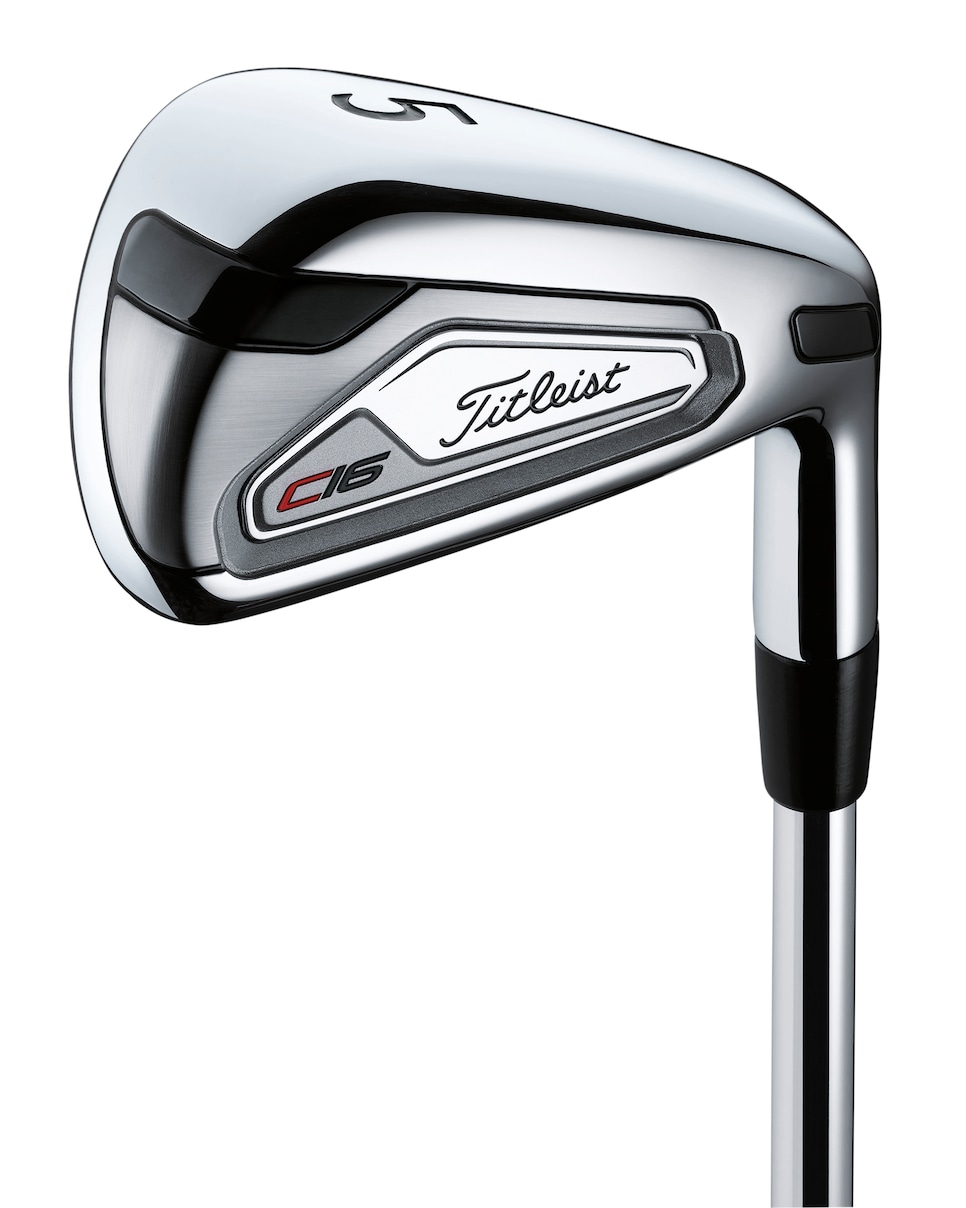 C16 irons Expanding on some of the ideas seen in Titleist's T-MB hollow driving irons introduced last fall, the C16 irons are the most dramatic departure in the company's iron line ever. It's a high-tech pursuit of additional ball speed and distance, Stone said.
"How do we generate ballspeed in an iron and not take the poor man's approach of strengthening the lofts particularly in the long irons? We wanted to try to maintain loft and generate significant ballspeed," he said.
The method involved using three different steels, plus dramatically more tungsten than any prior Titleist iron. On the 4- through 7-iron, the face and hosel are forged from a unique friction-welded bar made of 1025 carbon steel and a K301 steel, the latter normally used in high-end automotive and aerospace applications. The K301 steel is used to make a cupface that's just two millimeters thick for the largest unsupported face area of any Titleist iron. The short irons (8-iron through pitching wedge) use a thin high-strength 1RK95 steel face insert, while the backs of the hollow irons through the set are made of cast 17-4 steel.
The C16 irons also move into new territory with as much as 100 grams of tungsen built internally into the heel and toe for improved stability. For perspective, that's nearly double the tungsten used in Titleist's other current irons CB (55.5 grams), AP2 (56 grams) and AP1 (42.5 grams).
"The combination of the benefits of the face and the inertia is like going from a V-6 to a 12-cylinder engine," Stone said. "Our inertia is very similar to AP1, but in a smaller blade length. We like the idea of getting a smaller club to play big. The goal is to put this in an envelope where people feel very comfortable with how playable these long irons are."
While the irons are available with any shaft, they are being offered with "ascending mass" options in lightweight steel (Nippon N.S. Pro 880, $2,700) and graphite (Mitsubishi Kuro Kage Limited Edition, $3,000). Ascending mass shafts feature shafts that increase in weight for control in the scoring irons and speed enhancement in the longer irons.
Even though both of these new products will be a limited run, Stone believes they will have value beyond sales. In a way, he sees it as a very public research project. "What we learn from these products may crop up when the next major product launch is ready," he said. "These products will influence how we think about mainline product."
Of course, it already might have. The company's next mainline driver launch is likely scheduled for later this year.