Equipment
Titleist Pro V1/Pro V1x for 2023: What you need to know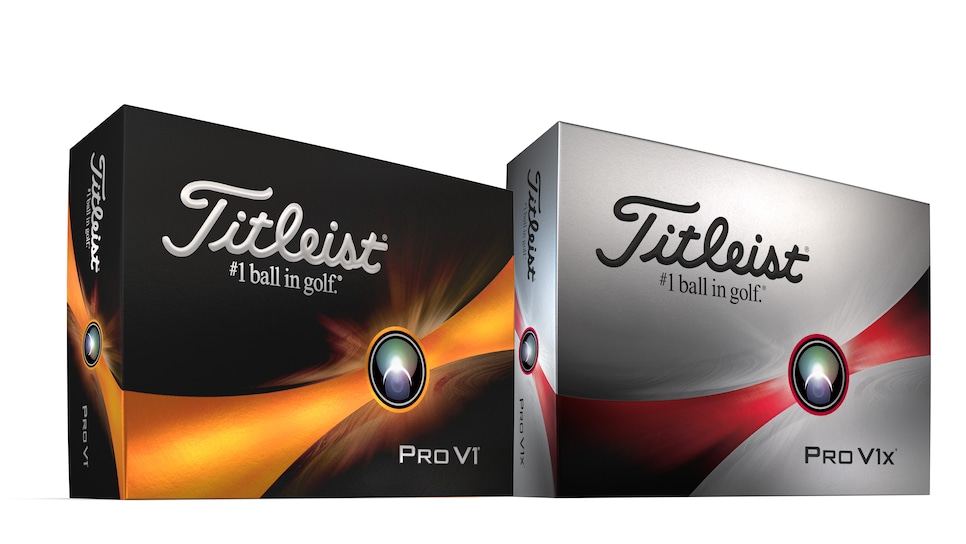 WHAT YOU NEED TO KNOW: The Titleist Pro V1 and V1x debut new flagship versions for 2023. Golf's top-selling balls and most played models in professional golf reveal a new core design, as well as a larger inner core on the Pro V1x. Those new formulations create a new stiffness profile within the cores to increase the potential for ball speed while reducing long-game spin to maximize distance and tighten dispersion for increased consistency through the bag.
PRICE: $55 per dozen. Available in white or optic yellow. In stores Jan. 25.
1. Core values: Firmer for distance, softer for spin control. Elite golf balls aren't simply a homogenous blob of rubber surrounded by firm outer layer and a urethane cover. No, that blob of rubber features a specific, highly controlled gradient of stiffness from a soft central core to an increasingly stiffer outer core. That's why some balls, like the Pro V1x, even feature an inner core and an outer core so that difference between the soft center and the firm outer can be even greater. That gradient allows a golf ball to be both faster and lower-spinning off the long clubs, particularly the driver, for the best possible distance and dispersion. Tweaking that gradient can result in better speed and a more consistent overall flight and landing pattern. The gradient on the cores for the new Pro V1 and Pro V1x reflect a change that sees the outer part of the core get firmer and the innermost part of the core get softer, said Titleist's Mike Madson, senior vice president of golf ball research and development. That's especially relevant on the softer Pro V1, as it's increasing distance while providing the potential for ideal approach shot and greenside spin, too.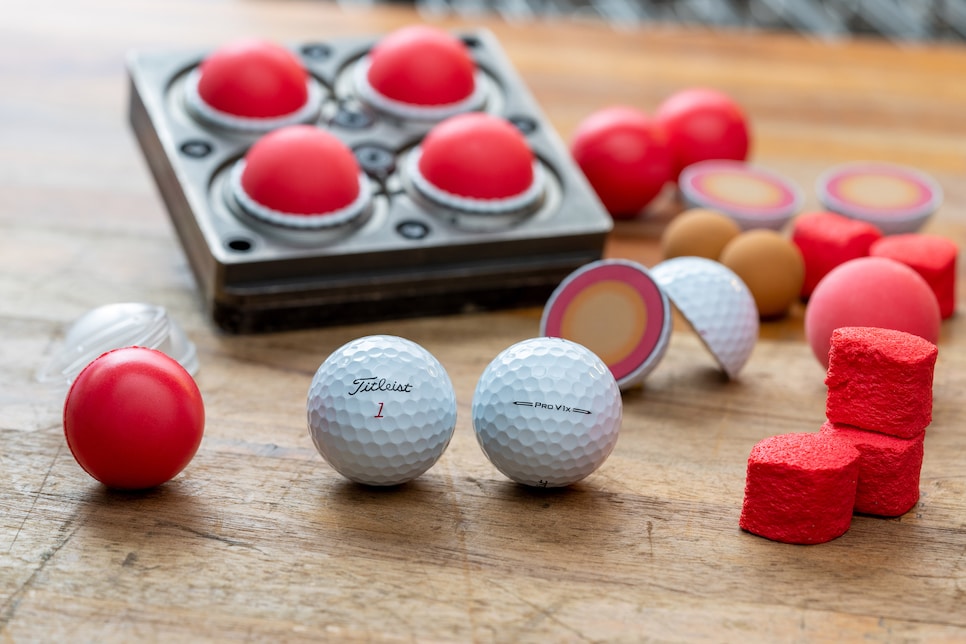 "What we're doing with the Pro V1 core is we're essentially trying to make it act like a dual core within a solid core construction," he said. "And as we advance that technology and the chemistry and we're able to make the gradient even higher within a solid core, at the same time we can take all that same knowledge and still apply it to a dual core so we can create a higher gradient in the dual core too."
A couple of Titleist's custom golf ball options in the last few years, Pro V1 "Left Dot" and Pro V1x "Left Dash," provided the test cases that helped the company's R&D team and manufacturing plants develop the science and the processes that led to the new cores on this year's Pro V1 and Pro V1x. These new models of Pro V1 and Pro V1x already have been played on the PGA Tour by more than 45 players, according to the company.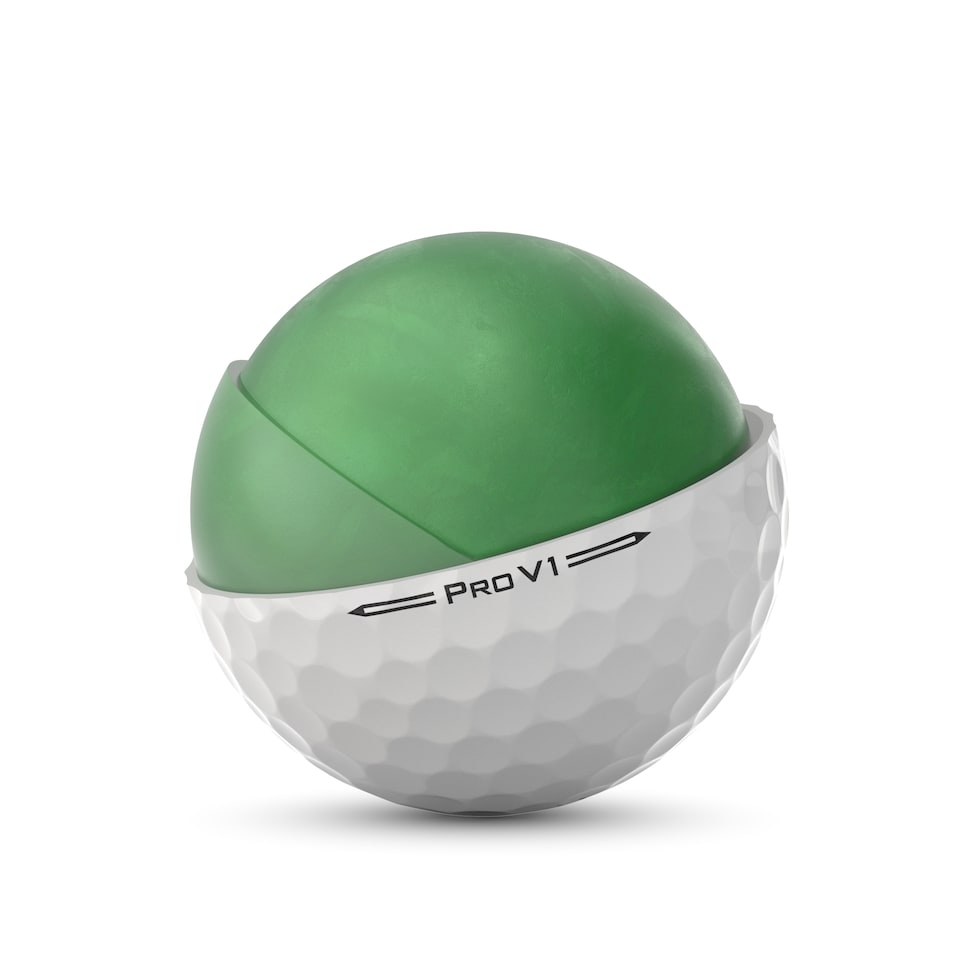 2. How the single core improved the dual core. One reason the Pro V1x came to be originally and one reason it continues to be a success is that by using two different cores, that stiffness gradient can be more extreme than it could be in a single core. That's especially important in a higher compression or firmer golf ball like Pro V1x. Firmer balls have more speed potential but that firmness means more spin, which is the opposite of what you need for distance. The softer inner core ratchets down that spin off the driver. The new Pro V1x now takes that gradient to a new level by dramatically increasing the size of the inner core. Only larger by 0.13 inches in diameter, that change actually increased the volume of the inner core by 44 percent.
"What that larger center does for us is it basically just gives us more flexibility, more room to work with that larger core, so we can create a higher gradient within the center," Madson said. "We have a little more flexibility from a chemistry and process standpoint to manipulate the gradient and keep it consistent from ball to ball. So the center is changing but that is changing really means of pushing that gradient to the next level within the dual core."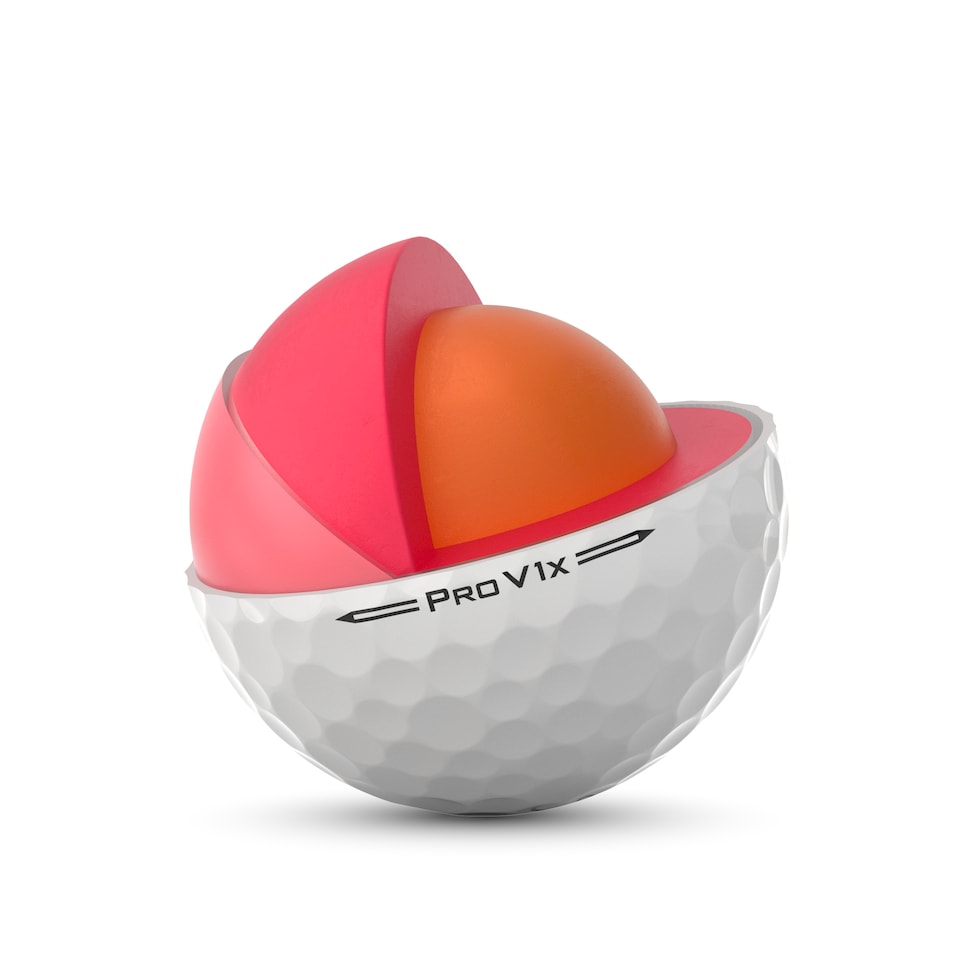 3. The eternal question: Pro V1 or Pro V1x? Pro V1 is designed for the lowest spin off the longer clubs with a more penetrating flight and a softer feel. Pro V1x is designed to be higher flying with somewhat higher spin and a slightly firmer feel than Pro V1.