The Loop
Time to face it: Tennis has a way cooler postseason than golf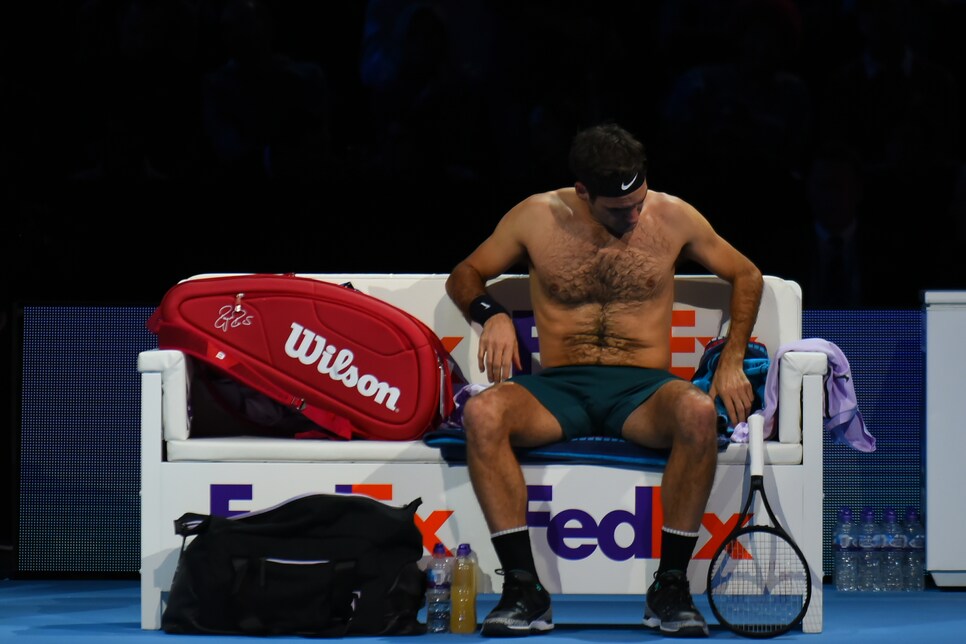 It's probably controversial to say this on a website called "Golf Digest," and the shock collar the editors make me wear may go off at any moment, but I'm going to say it anyway: Tennis has a better postseason than golf.
Now, that's like saying, umm....let me think of a good analogy...it's like saying the Germans had a better K-9 landmine-sniffing unit than the Americans in World War II. In the sense that, sure, I guess it was good for the Germans to have dog superiority, but it wasn't really the important thing. Just as WWII was decided by soldiers and guns and artillery and planes and bombs and tanks and spies, the "winners" of each tennis and golf season are decided by the majors. So the more pressing argument, I guess, is which sport has the best majors, but it turns out that argument is fundamentally stupid and unwinnable (by either side). So I'm going to compare mine-sniffing dogs—I mean postseasons—instead.
Give me a moment to wriggle free of that tortured analogy, please...
Thanks. I'm feeling better. Now let's talk about postseasons. I've written before about how the FedExCup race leaves me unsatisfied and a little bored, even though it seems like it was designed by Professor John Nash on his most unstable day. Two years ago, I even wrote about how to fix it—I haven't heard a response from the PGA Tour, so I guess the committee implementing my idea moves pretty slow. (The short version of my argument: instead of the odd compromise that tries to balance the regular season with playoff performance, and fails anyway, they should finish the series of four events with a match play tournament.) Sometimes, the format gives of the illusion of working by accident, and this year was a good example with Justin Thomas' deserved win. But even in that case, Thomas didn't win the final event, which is literally called "The Tour Championship." Xander Schauffele did, and here's what Thomas had to say afterward:
"It was a weird feeling. As soon as I finished I got asked what it was like to win the FedEx Cup. It is hard at first, because as a competitor you are mad that you didn't win the tournament."
Huh. I'm sorry, but if that's what your champion says in the immediate aftermath of winning, you do not have a good postseason.
But what about the other huge individual sport? What about tennis, the sport I invoke so often in this space that I feel the need to reassure you that I'm not being paid by the ATP? (Though if anyone from the ATP is reading, you're more than welcome to send me money.)
Tennis does it right by keeping it simple. The men (it's only men on the ATP) fight all year to finish in the top eight of the point standings, sort of like in golf, but then they settle things the old-fashioned way. The eight players head to London for the finals, which are taking place this week, and split into two groups of four. Those groups play round robin, and the winner of each group advances to a very dramatic championship match. It's riveting television, and I encourage you all to check it out this week—it's easy to watch, with just two singles match per day, and every match is exciting. As I write, Alexander Zverev—the most exciting young player in the game—is trying to survive an extremely tight third set with Marin Cilic, and earlier today Roger Federer squeaked out a win against America's best hope, Jack Sock. That's some great tennis, and it will probably be one of the "worst" days of the week—you can count on terrific match-ups at every stage.
I know what the wet blankets are going to say. "Tennis is more conducive to one-on-one matches." Pish-posh, I say. Get the final 125 players in the FedExCup down to 16 or eight, and you're guaranteed an amazing set of final matches in golf. Just going by the end-of-season standings in the 2017 FedExCup, here's what the quarterfinals would have looked like:
That's three amazing matches and one weirdo match (Schauffele v. Leishman, obviously) that would probably end up being pretty fun. Plus, it would make the championship unique for something more than the $10 million prize. Note to sports organizers: I don't really care how much money somebody who is already rich will win.
I wrote earlier this year that tennis did a pretty darn good job in 2017 by copying golf and instituting its own version of the Ryder Cup. Now it's time for golf to return the favor, and copy tennis' high-stakes finale. We want a real championship, PGA Tour. Make it happen.
Hyper-Sensitive Referee Ejection of the Week: This Guy
I won't pretend to know any context here—maybe this ref hates Vontaze Burfict for reasons we don't know about, or maybe he murdered a pigeon earlier in the game—but take a look at this "incident" and tell me if you think Burfict deserved to be tossed:
Should Burfict have swatted the ref's arm away? Definitely not. Is it against the rules, technically? Probably. But these situations call for a bit of humanity, and throwing him out seems overly harsh in this case, especially because the whole incident started when Burfict got pushed and showed some restraint by not retaliating. The funny thing is, if he had shoved the Titans lineman so hard that he fell over, a big scuffle would have ensured, complete with penalty flags, but in all likelihood nobody would have been thrown out of the game. But brush a referee's arm aside? You're gone, amigo.
That said, every cloud has a silver lining...
The Ejection Walk-Off of the Week: Vontaze Burfict
The Most Beautiful Thing on Earth of the Week: The Golden State Warriors
I bought NBA league pass in 2015 for two reasons. First, college basketball—my original love—had become an unwatchable brute of a sport, with endless whistles and absolutely no flow. Second, I wanted to watch Steph Curry and the Golden State Warriors. A lot. Two years later, these guys still amaze me. I believe Curry is a special and exotic alien, basketball's answer to David Bowie, but it goes beyond him.
I can't embed the video below, unfortunately, but just watch this very routine, very normal play from the Warriors' Saturday win against the Sixers. It won't make any year-end highlight lists, but it's ridiculously beautiful in its simplicity—fast, efficient, perfect. It's basically the platonic ideal of human movement. I know I sound like a nerd basketblogger now, but seriously, watch as things happen in a rapid-fire sequence, as though each player has made the decision ten minutes in advance. It's more choreography than basketball:
And that's probably the ninth-coolest thing that happened in that game. So watch the Warriors, everyone. Especially watch them on Thursday, when they travel to Boston to play the best team in the east. Kyrie Irving will be wearing his supervillain mask.
The Farewell Superlatives Tour of the Week: Butch Jones
I've made fun of Butch Jones in this space before, but unfortunately, Tennessee has fired him. Goodbye, Butch! If you ever get a new job at a big enough school, please let me know—I would be more than happy to make fun of you again.