Courses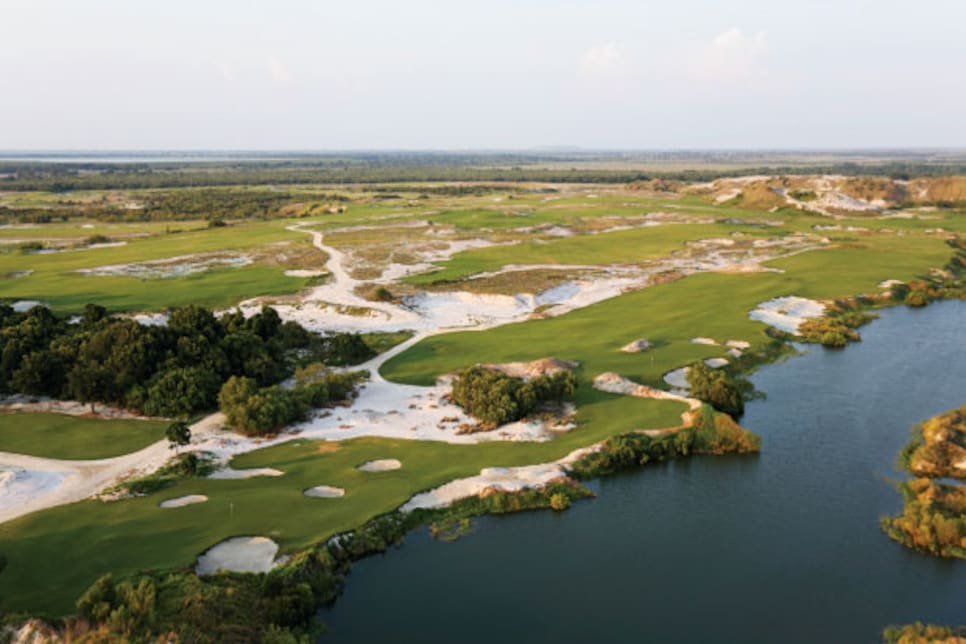 Even popular Streamsong Resort offers partial loops.
in Florida, the new 36-hole complex. With one course by Tom Doak and another by Ben Crenshaw and Bill Coore, Streamsong's linksy layouts have been called the "Bandon of the East," "amazing" and "must play," all while still in diapers.
So here's what got us. Of the thousands of places in America now offering deals on "partial" rounds—fewer than 18 holes—you'd think Streamsong would be the last. Why should it offer anything but bust-out retail? It's enjoying astounding buzz, it's relatively affordable, and it has 36 holes of inventory to fill.
But like a growing number of courses nationwide, Streamsong is offering partial loops of six or 12 holes that fit tight schedules, give golfers on-course practice time, or simply serve as samplers of a facility's course or courses. Streamsong has two six-hole options—the sixth holes of the Red and Blue courses come back to the clubhouse, but the ninths do not—and has created scorecards, par (24) and a standard fee ($40) for each six-hole loop. They fit arrivers who can't wait till the next morning to play, or departers who can't quite say goodbye.
"We thought it would be great for people who wake up in New York, fly down and have maybe an hour and a half before dark. We didn't try to do anything special—it just kind of happened," says Scott Wilson, PGA director of golf. "The other day we had a group of 12 ladies from Sarasota, and they wanted to play more than 18, but not two rounds. They played 18, six more and had dinner."
Fitting golfers' schedules rather than offering only a standard 18-hole round is now common. In Centreville, Mich., the Island Hills Golf Club
offers loops of five, seven, nine or 12 holes that cater to busy millennials, parents and kids. El Macero Country Club
, near Sacramento, managed by Troon Golf, created two five-hole loops and two four-hole loops for juniors and beginner groups. "But the biggest benefit," says general manager Rich Riffle, "has been for the guys who come out after work—mostly health-care and financial-industry people—and hit balls and then play four or five holes. The loops are perfect for that." They're also perfect for the monthly Sunday-afternoon Family Golf Loop, when oversize holes are cut into five holes. The loops helped with initial tee-time sales and retention.
in Brooklyn, N.Y., a Robert Trent Jones beauty managed by American Golf, you can play an early-bird nine-hole round seven days a week, but general manager Mike Giordano is contemplating even shorter rounds, too. "We're thinking Loop and Soup during January, February and March," he says. Marine Park's nine-hole women's-beginner program—lessons and then nine holes—is popular. Giordano plans shorter loops for this group as well. "We're really seeing that women want to get to know the game. These are ways to do it." For frequent golfers who just come to hit balls, adding a practice round of four or five holes makes sense, too, he says. "Listen," Giordano says, "you have to have a plan to play 18—it's five hours. But an hour and a half, not really. Sometimes you can just do it. So we're trying to be available whether you have an hour, an hour and a half, or two hours."
These promotions—and ours—have gotten the attention of the nongolf media, too. Time magazine for one. "Golf is sending an unusual message for a business: Consume less! Buy half our product," Sean Gregory wrote. Why? Because "18 is a sit-down dinner, and we live in a fast-food age...The message: Half a round ain't half bad."