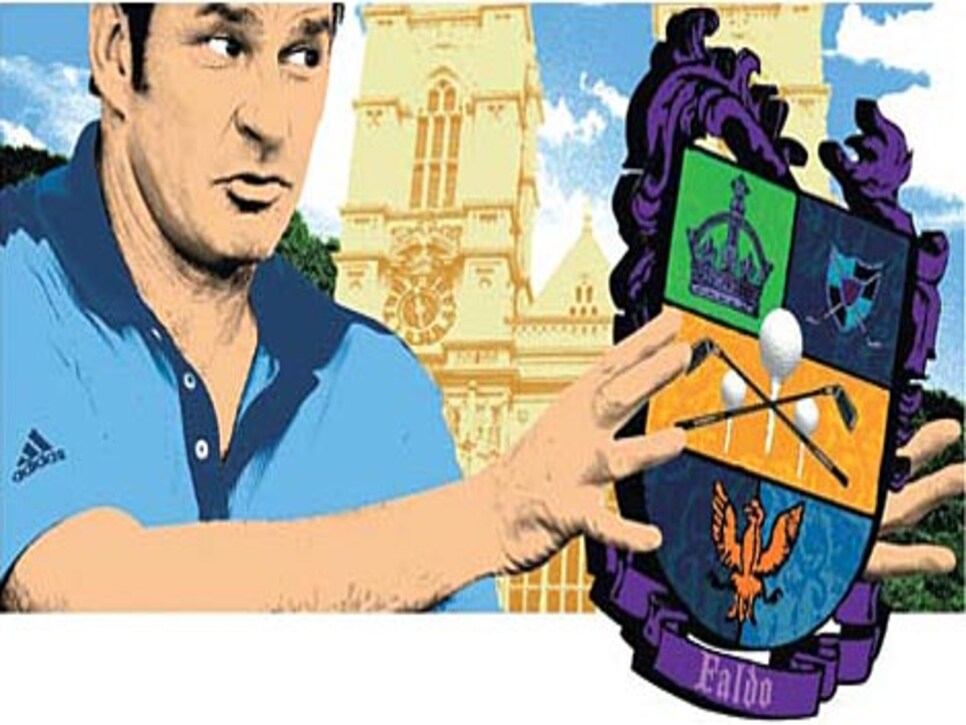 After being knighted by Queen Elizabeth II, Sir__Nick Faldo__ told me he was looking forward to visiting Westminster Abbey in London and a room he said dates to the 13th century called the Club of Knights. "It'll be a fun trip to take with my mom and dad," he said. "I can even design my own coat of arms." Faldo joins Sir Henry Cotton as the only golfers to be knighted. Faldo's friends Elton John and British talk-show host Michael Parkinson have also been knighted. Nick was honored for his six major-championship victories and his work developing the game in England through his Faldo Series and junior academy. ...
Lucas Glover's hometown of Greenville, S.C., planned to honor the U.S. Open Champion with Lucas Glover Day after he returned from the British Open. Glover said he'd also take the U.S. Open trophy to Sea Island (Ga.) Golf Club, otherwise known as "the hang" because several tour pros, including Glover, Davis Love III,Jonathan Byrd,Brandt Snedeker and Zach Johnson, practice there or call it home. ...
Defending FedEx Cup champion__Vijay Singh__, who wore the Stanford Financial logo, remained loyal to financier__Allen Stanford__, offering to cosign for Stanford's bail bond after he was arrested and pleaded not guilty to federal fraud charges. Still, Singh skipped the St. Jude (formerly Stanford St. Jude) Championship in June to take his son, Qass, on a trip to prepare for college and has since stopped wearing the logo. ...
Caddie__Billy Foster__ planned to walk the 90 miles from Loch Lomond to Turnberry in Scotland carrying a Darren Clarke-logoed golf bag before the British Open as part of a fund-raiser in honor of Clarke's late wife,Heather, who died of breast cancer in 2006. ...
Among those who called golfer__Ken Green__ after his leg was amputated as a result of an RV crash was amputee Heather Mills, ex-wife of__Paul McCartney__. ...
Not only did__Brian Gay__'s second win in 2009 move him closer to making the U.S. Presidents Cup team Oct. 8-11, it helped him get the go-ahead from wife__Kimberly__ to buy a Chaparral deck boat.
Tim Rosaforte, a Senior Writer for Golf Digest and Golf World, appears on Golf Channel's "Golf Central" and NBC's coverage of the Players, U.S. Open and Presidents Cup.
IT HAPPENED ONE SEPTEMBER
Playing at Torphin Hill Golf Club in Edinburgh, Scotland, William Ingle starts his recreational round with a 1, 2, 3, 4 and 5.
Walter Hagen wins the first of four straight PGA Championships (he won five total). His career match-play record in the PGA: 40-10.
U.S. captain Ben Hogan insists the grooves be dulled on the irons of two British players. They comply, and the U.S. wins the Ryder Cup, 7-5.
Ann Gregory is the first black woman to play in a national championship, the U.S. Women's Amateur. She loses her first match, 2 and 1.
The first Ryder Cup between Europe and the U.S. is played. Previously, America's opponent was Great Britain & Ireland. The U.S. wins, 17-11.
At the Solheim Cup, Annika Sorenstam tells teammates to imagine U.S. player Dottie Pepper's face on a punching bag. The Euros lose, 16-12.