Legends
University of Rhode Island establishes scholarship named in former Golf Digest writer Tim Rosaforte's honor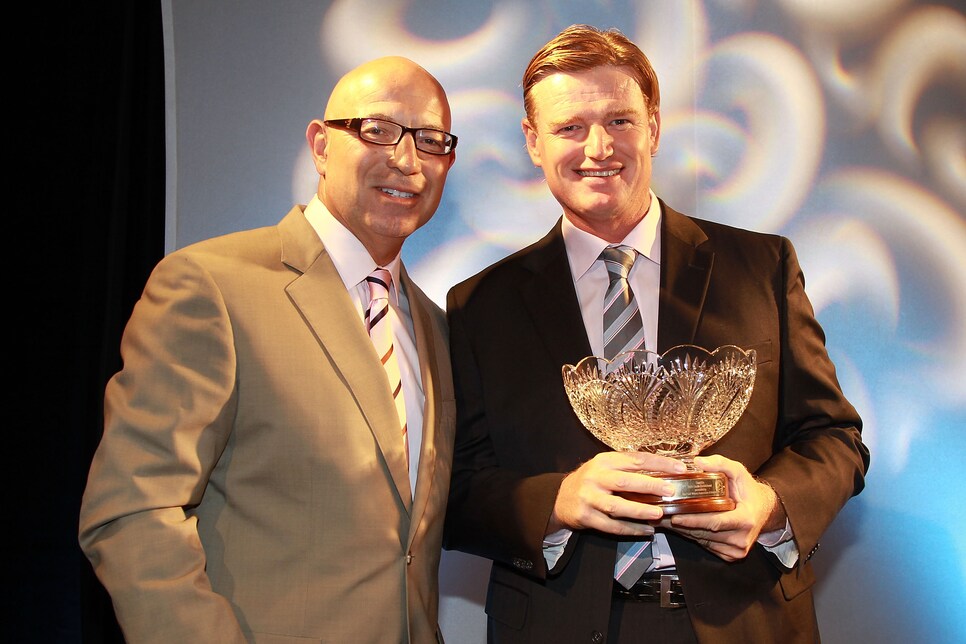 Earlier this month, the University of Rhode Island formally announced the creation of an endowed scholarship in the field of neuroscience. The scholarship is named in honor of noted journalist and former Golf Digest and Golf World writer Tim Rosaforte, who graduated from URI in 1977.
Rosaforte, now 65, was diagnosed with early onset Alzheimer's last October. He had retired from covering golf the previous December, but his absence was most notable last November at the belated 2020 Masters, the first time Rosaforte had missed covering the tournament since 1983.
"I've been going to the Masters for a long time," Rosaforte told the Palm Beach Post last November. "I'll miss the tournament and the golf writers award dinner, which I have emceed a lot. Nothing lasts forever. It's time for me to take a break."
The legendary golf insider began his career at the Tampa Times in 1977 before moving to the Sun-Sentinel, the Palm Beach Post, Sports Illustrated and, eventually, Golf Digest/Golf World. Simultaneous to writing, Rosaforte began a broadcasting career in which he worked at Golf Channel from 2007 until his retirement.
Rosaforte earned a bachelor's degree in journalism at URI, where he also made the dean's list and played linebacker and on special teams for the football team his senior year.
At last month's Memorial, Rosaforte was awarded the tournament's Golf Journalism award for his career's work. It was then that his alma mater officially announced the Tim Rosaforte '77 Endowed Scholarship in Neuroscience, which will support students in URI's Interdisciplinary Neuroscience Program. The program develops researchers, clinicians, and entrepreneurs who investigate the physiological basis of thought and behavior. It will also allow students to work with faculty exploring interventions for brain disorders such as Alzheimer's and Parkinson's, ALS, ADHD, communication disorders, epilepsy, schizophrenia, and more.
"Tim is someone I am proud to know," said Thomas M. Ryan, the former CEO of CVS and URI alum who is now on the school's Board of Trustees. "He is a great friend to those who know him personally and a highly regarded figure in the golf community. This scholarship represents promise for the future of neuroscience as well as an opportunity for Tim's many friends to show their support."
Last October, Rosaforte was also honored by the PGA of America when he was awarded a lifetime membership into the association, becoming the first journalist to receive the honor.
The URI scholarship's fund has initially received contributions from Rosaforte's peers, family and friends, and is open to anyone who wishes to support this cause. You can learn more by going to urifae.org/rosaforte.