The Loop
Tim Rosaforte receives 2014 PGA Lifetime Achievement Award in Journalism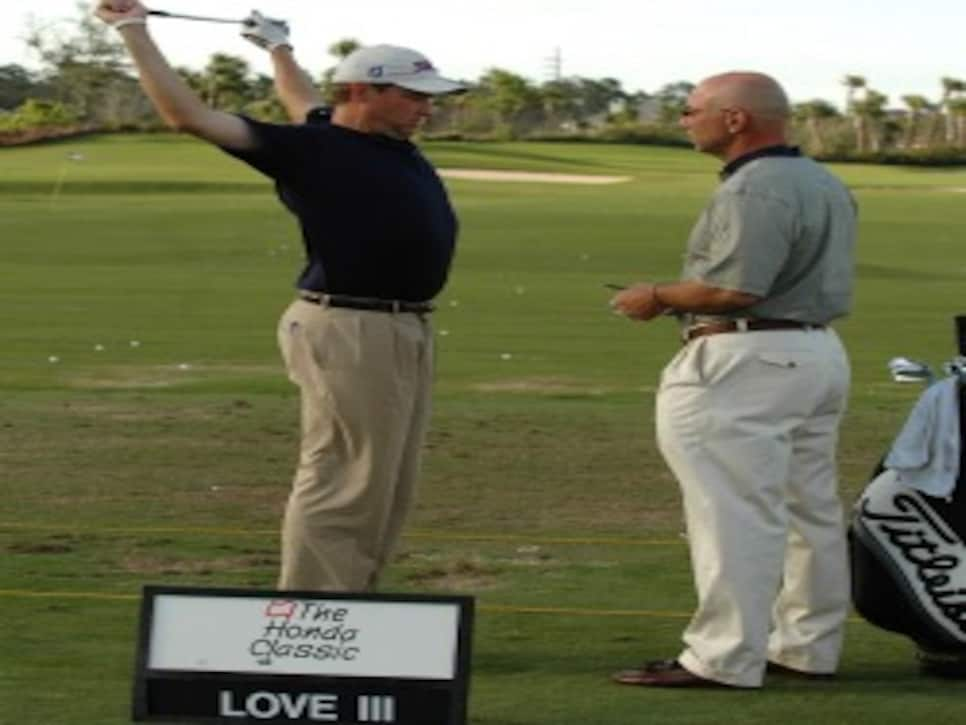 Golf Digest and Golf World senior writer Tim Rosaforte was named winner of the 2014 PGA Lifetime Achievement Award in Journalism on Saturday, marking the fourth time in five years a Golf Digest/Golf World staffer garnered the honor given by the PGA of America. Golf Digest Editor-in-Chief Jerry Tarde received the award in 2011 followed by Golf World's Editor-in-Chief, Jaime Diaz, in 2012. Golf Digest contributing editor Dave Kindred won the award in 2010.
Rosaforte, who also works as an analyst for Golf Channel/NBC Sports, said: "I'd like to think I haven't peaked yet and thanks to Golf Digest and Golf Channel, I have platforms to continue writing and reporting on television at the two most respected voices in golf media.
"It's all about telling a story, whether it's 15 seconds on TV or in 2,000 printed words. I've found the two careers complement each other."
Rosaforte joined Golf Digest from Sports Illustrated in 1996 and has since won numerous awards for his various feature stories, projects and columns.
Golf Digest/Golf World & Golf Channel/NBC Reporter Tim Rosaforte Named Recipient of 2014 PGA Lifetime Achievement Award in Journalism
PALM BEACH GARDENS, Fla. - Tim Rosaforte of Jupiter, Fla., who successfully transferred his unique insider coverage of professional golf from print to television, has been named the recipient of the 2014 PGA Lifetime Achievement Award in Journalism. Rosaforte, 58, a senior writer for Golf World/Golf Digest and insider/analyst for Golf Channel/NBC, will be honored April 9, at the 42nd Golf Writers Association of America (GWAA) Annual Spring Dinner and Awards ceremony in Augusta, Ga. "Tim Rosaforte is one of the most knowledgeable and trusted sources in all of golf. It is no mistake that he always seems to have the story first," said PGA of America president Ted Bishop. "His attention to detail when reporting makes him one of the most credible people in sports. No one delivers the close-up insight on the various personalities in golf like Tim, and it is with great pleasure that we recognize him with the 2014 PGA Lifetime Achievement Award in Journalism." Rosaforte is the 25th recipient of the PGA Lifetime Achievement Award in Journalism, which honors members of the media for their steadfast promotion of golf, both locally and nationally. "I'd like to think I haven't peaked yet and thanks to Golf Digest and Golf Channel, I have platforms to continue writing and reporting on television at the two most respected voices in golf media," said Rosaforte, a native of Brewster, N.Y. "It's all about telling a story, whether it's 15 seconds on TV or in 2,000 printed words. I've found the two careers complement each other." The son of a mechanic for the highway department in Bedford, N.Y., Rosaforte received discarded wooden clubs from his father and later took lessons at age 6 from a caddie with an inspirational name, Billy Graham. Rosaforte excelled in football and baseball in high school and attended the University of Bridgeport (Conn.) before transferring his junior year to the University of Rhode Island, where he started his senior season as an outside linebacker and on special teams. He was a two-time member of the dean's list and graduated with a degree in journalism in 1977. Rosaforte credited Wilbur Doctor, a former Providence (R.I.) Journal editor turned University of Rhode Island professor, who was "as blunt as any position coach in football," for "turning me around in my attempt to build a writing career." Rosaforte's journalism career began with the former Tampa Times in 1977, where he was mentored by Tampa Tribune Sports Editor Tom McEwen. "Tom recommended that I start playing golf to help my work because, he said, 'You can learn far more about someone in a span of five hours on a course,' " Rosaforte said. "That was an epiphany for me." Rosaforte began to find his stride as a reporter, working from 1981-87 at the Sun-Sentinel in Fort Lauderdale, Fla.; the Palm Beach Post in West Palm Beach, Fla., from 1987-93; and on to Sports Illustrated from 1994-96. While at Sports Illustrated, Rosaforte served as president of the GWAA. Rosaforte joined Golf Digest in 1996, and has since blended his work between the parent magazine and as a senior writer for Golf World. In 2003, Rosaforte was named co-host of the USA Network's "PGA Tour Sunday," providing early-round coverage of Tour events, the Masters and the Ryder Cup. In 2007, Rosaforte joined Golf Channel, and is a contributor to NBC's PGA Tour coverage. Rosaforte has won more than 40 writing awards, including a GWAA "Grand Slam" for first-place magazine coverage in features, columns, event coverage and special projects. By his count, Rosaforte has covered 124 major championships, and missed only one Ryder Cup since 1983. Rosaforte has written five books: "The PGA Tour" (1990); "Heartbreak Hill: Anatomy of a Ryder Cup" (1996); "Tiger Woods: The Makings of a Champion" (1997); "World Golf Hall of Fame Yearbook" (with Jaime Diaz, 1998); and "Raising the Bar: The Championship Years of Tiger Woods" (2000). Rosaforte and his wife, Genevieve, live in Jupiter, Fla., and are parents of daughters, Genna and Molly. __PGA Lifetime Achievement Award in Journalism Recipients__1991 Dick Taylor1992 Herbert Warren Wind1993 Jim Murray1994 Frank Chirkinian/Bob Green1995 Dan Jenkins1996 Furman Bisher1997 Jack Whitaker1998 Dave Anderson1999 Ken Venturi2000 Jim McKay2001 Kaye Kessler2002 Nick Seitz2003 Renton Laidlaw2004 Bob Verdi2005 Al Barkow2006 Ron Green Sr.2007 Jack Berry2008 Marino Parascenzo2009 Art Spander2010 Dave Kindred2011 Jerry Tarde2012 Jaime Diaz2013 John Hopkins2014 Tim Rosaforte