News
Tim Finchem returns to the PGA Tour to pay tribute to Arnold Palmer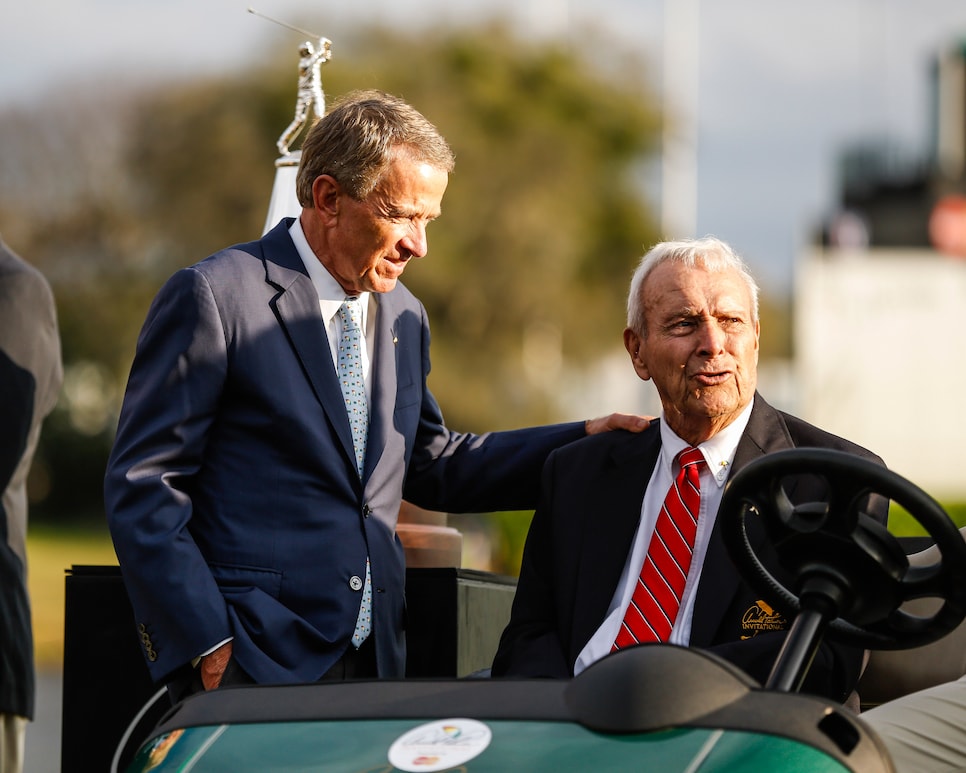 ORLANDO – The first Arnold Palmer Invitational without Arnold Palmer has begun at Bay Hill Club & Lodge, a day that seemed inconceivable even though it was inevitable. Plans were put in place for this moment long ago. That includes renaming this PGA Tour event in honor of its legendary host in 2007, only the second player, after Byron Nelson, to assume a tournament marquee.
Tim Finchem was recently thinking of that occasion. The former PGA Tour commissioner sat next to Palmer when the name change was announced during a press conference at Bay Hill. It was one of the many moments he shared with the popular icon that runs through his mind without warning, even six months after Palmer died of heart complications at age 87.
"It hits me almost every day," Finchem said in a recent telephone interview. "Arnold Palmer is gone. And I think, 'Arnold Palmer can't be gone. He's Arnold Palmer. He's invincible.' It's just hard to wrap your head around that. I don't want to say that you would ever take Arnold Palmer for granted, but to think about him not being here anymore, it's a thought ... you just didn't want to go there."
Perhaps it might surprise some that Palmer's death hit Finchem so hard. The fact, though, that the tour boss was among those asked to speak at Palmer's Oct. 4 memorial service in Latrobe, Pa., said plenty about their relationship. Theirs was a complicated but warm bond, even if they did occasionally joust over golf and tournament business.
Several tour employees said that it took days before Finchem could even talk about Palmer without choking up.
One of Finchem's favorite Arnie stories was among those Palmer shared in his book, A Life Well Played, published in October, just a few weeks after Palmer's death. Finchem had introduced Palmer to a young up-and-coming player at Bay Hill early during tournament week one year. The ever-gracious Palmer couldn't have been more warm and welcoming, but he did make a point, gently but firmly, to suggest he would like to see the young man clean-shaven when he next sees him.
And, of course, Finchem crossed paths with the player the next day, and he was clean-shaven.
"There are so many things I remember him saying to me, so many little pieces of wisdom," Finchem said. "The conversations we had were special, as you can imagine they would be. He was always full of such good advice. It's difficult to think about the fact you won't have those conversations anymore."
Finchem likened losing Palmer to the death of his father, Harold, nine years ago. It was that heart-breaking to the usually stone-faced golf leader who seldom showed his warm side.
"I don't know how to characterize it other than I feel very much the way I felt when my dad passed," he continued. "When people get to a certain age, you understand that there is an inevitability to what's happening to them, but that still doesn't prepare you properly. There's a hole there, and that hole is always going to be there. A piece of you is missing, and you go on learning to live with that piece of you no longer there."
Finchem, who turns 70 in April, stepped down as commissioner in December to make way for Jay Monahan, but he will visit Bay Hill on Sunday for the trophy presentation with no official role. He just wants to be there. He senses that he needs to be there.
"I planned last fall to go no matter what," Finchem said. "It was an easy decision. I don't know how I'm going to feel about it, but the feeling so far is not what I expected. Things are just going to be different for all of us who loved Arnold Palmer."
And they always will be different. That's what makes it so hard.