The Loop
Tim Clark isn't as scared about ditching his long putter as he used to be
KAPALUA, Hawaii -- Tim Clark is preparing as best he can for an expected bout of separation anxiety dictated by the much-debated anchoring ban that goes into effect next Jan. 1. "I don't want to think about it until I have to think about it. But I'm thinking about it anyways," Clark said with a chuckle Wednesday at Kapalua Resort in Maui, where he is among 34 players entered in the Hyundai Tournament of Champions, the PGA Tour's first event of the new year. A two-time winner on the PGA Tour, Clark is among a cadre of professional golfers who use a putter that is longer than standard length (34-35 inches). In his case, Clark for 17 years has wielded a "broomstick" style putter similar to the one Adam Scott used to win the 2013 Masters Tournament. But whether it's a long putter that Clark or Scott grasp to their sternums or the mid-length "belly" putter that Keegan Bradley, Fred Couples and a host of others buttress with their stomachs, any putting style that requires the club be "anchored" to the body will be outlawed by the U.S. Golf Association and R&A in 2016. The diminutive South African admits that the ruling, handed down in May 2013, adversely affected his play initially, but he rebounded last year with a victory in the RBC Canadian Open to qualify for this week's winner's only event. He nearly added a second title in November at the WGC-HSBC Champions in Shanghai, China, but lost to reigning Masters champion Bubba Watson in a playoff. "It did affect my game at the start, but then I decided I just had to go out and play some golf and stop worrying about it," Clark said. "Go out and just be a better putter."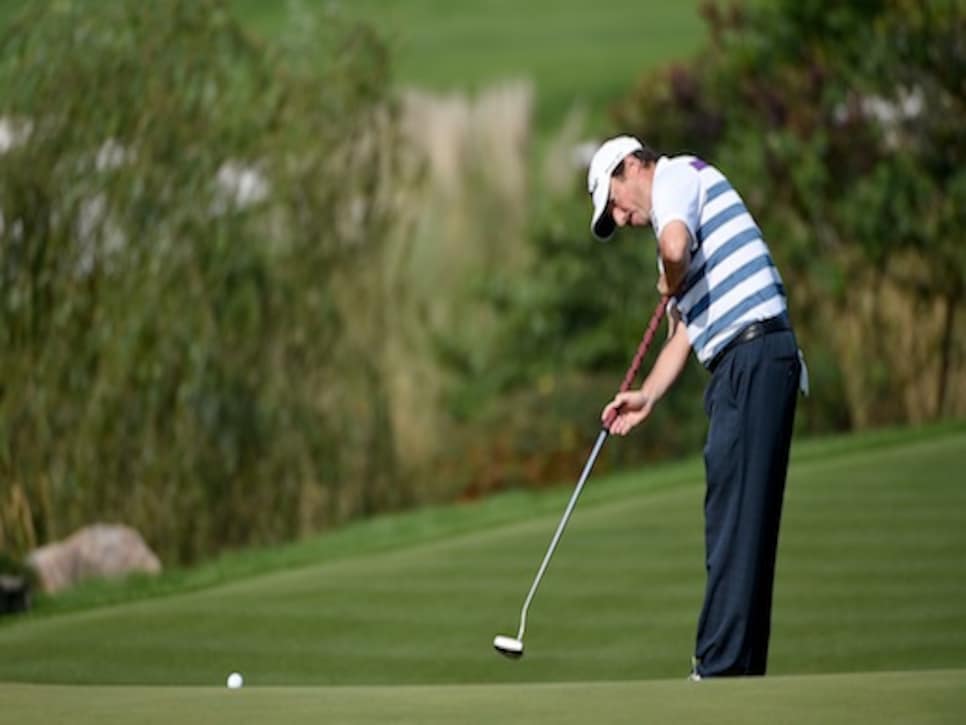 A video posted by Luke Kerr-Dineen (@lukekerrdineen) on Apr 4, 2014 at 12:07pm PDT
"I've got some pretty good ideas," Clark said, grinning, "but I'm not going to tell you just in case they try to ban those." "I think I've got a pretty good handle on it. I'm not as concerned as I was maybe the start of last year because I've figured something out now and I'll be fine. But I'm not going to spend my time practicing it now while I'm trying to play tournaments this year with what I've used … I've been putting with the same style for 17 years." And therein lies perhaps his biggest challenge. Clark has been putting for nearly two decades with his left thumb pointed towards the sky and against his body instead of down, as his thumbs are positioned when he grips every other club in his bag. That style is too ingrained for him to change, he said, so any new putter will have to enable him to use a similar style. "But whatever you end up doing," he interjected, "it still comes down to confidence and mindset. It's not what kind of club you use. It's the work you put in and the confidence you have in what you're doing." He could be right. Or, perhaps, he'll have to talk himself into being right.