The Loop
Tiger's Return: The Now-It-Counts Edition
AUGUSTA, Ga. -- The first shot of the rest of Tiger Woods' life was struck here moments ago, and in some ways, it had all the feel of the thousands of shots that came before.
Woods took three, slow, measured practice swings, looked twice down the target line then laid into a drive that whistled through the air before settling safely in the fairway. For a moment, Woods even offered the trademark club-twirl that had defined his reign as golf's most dominant champion.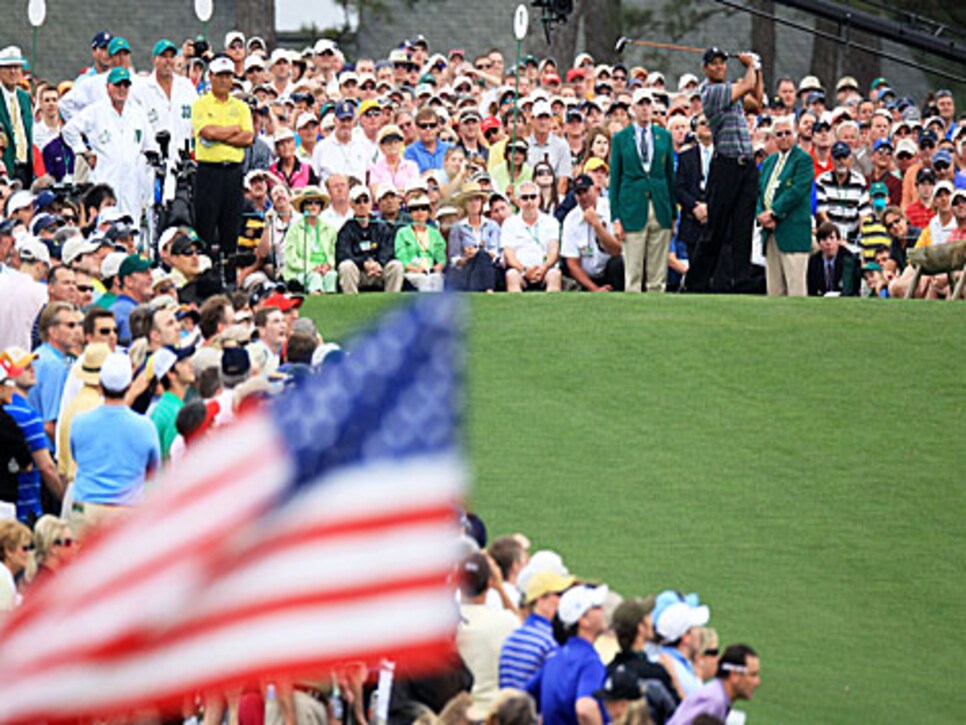 What was different, though, was everything else. When Woods made his way from the practice  green to the tee, a roar went up before he was even visible. Another roar came when he arrived on the tee, only this time, he turned in each direction and smiled -- an expression that seemed a mixture of gratitude and relief.
It's far too early to tell what the sequence meant for Woods in his first round, in his quest for a fifth green jacket, or more generally, in his pursuit of Jack Nicklaus' 18 major championships. But it did say plenty about how golf feels about having him back.
__Update, 2:30 p.m.:__So much for early nerves. After two early pars, Woods birdies the third hole and is now one under through four holes.
Update, 4:25 p.m.: After making his first bogey on No. 7, Woods makes the first eagle of the day on No. 8 after he hits a 3-iron from 244 yards to 10 feet.
Update, 4:40 p.m.: Woods hits his tee shot left, but ropes a hook from the rough all the way to the back portion of the ninth green, where the hole is cut. He drains the 15-footer for birdie to shoot a 3-under 33 on the front nine.
Update, 5:00 p.m.: Woods makes second bogey of the day after failing to get up-and-down from in front of the 10th green.
Update, 5:55 p.m.: Woods reaches the par-5 13th in two. He lips out a 20-footer for eagle, but makes the tap-in for birdie to get back to 3-under.
Update, 6:15 p.m.: Woods pulls his approach left on No. 14 and fails to get up-and-down. His third bogey of the day drops him back to 2-under.
Update, 6:30 p.m.: Woods hits his second shot to 10 feet on the par-5 15th hole. He drains the eagle putt to move to 4-under. It also marks the first time he's ever had two eagles in the same round at Augusta National.
Update, 6:55 p.m.: Woods make's back-to-back routine pars at 16 and 17. He heads to No. 18 at 4-under.
Update, 7:20 p.m.: Woods hits a wedge to six feet on the closing hole, but fails to convert the birdie try. Still, the par gives him a round of 4-under 68, his best-ever opening round at Augusta National by two shots.