The Loop
Tiger's 'process' doesn't guarantee progress
AUGUSTA, Ga. -- There are certain buzzwords coaches like to use to nudge their students through the changes they are working on. Right now, those words are the crutch upon which Tiger Woods leans as he waits for great play to return. He says his swing change is "a process" and calls the state of his game "a work in progress." What's not clear after 54 holes of the Masters is exactly where in the process he is or how much progress has been made. At times it all seems close. Other times, not so much.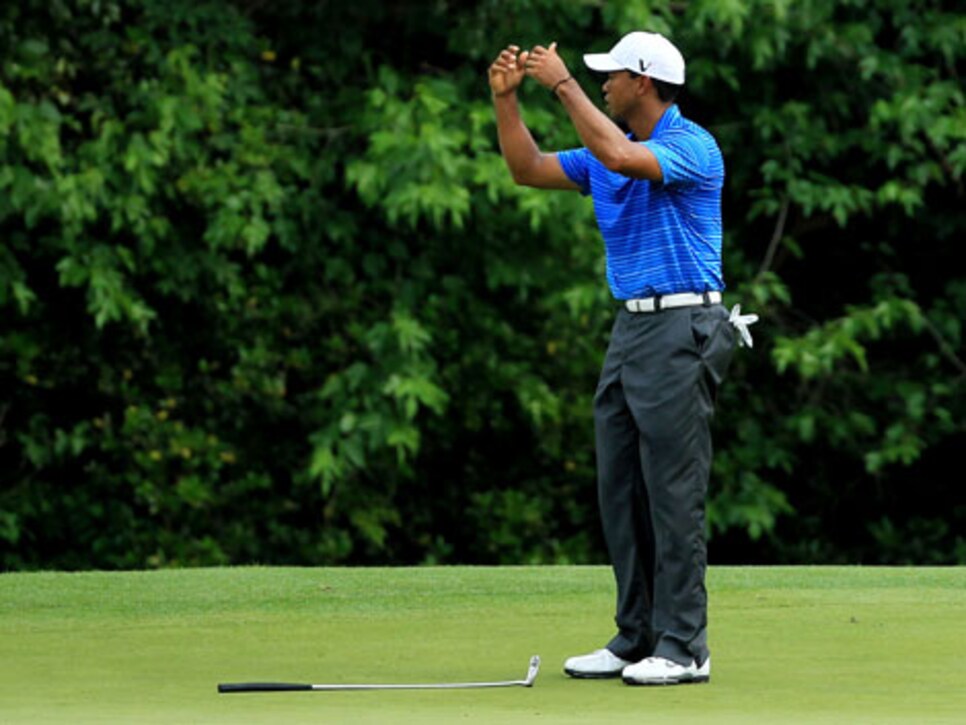 Tiger Woods reacts to a missed putt on the fifth green. (Photo by David Cannon/Getty Images)
This much is clear: Woods is swinging better than he was when he closed with a 75 earlier this year in both the Farmer's Insurance Open and the Omega Dubai Desert Classic. Certainly, he has had no horrendous swings this week like the 122-yard snap-hook he hit at the Cadillac Championship or the 188-yard pop-up drive he had there. Still, consistency has been an occasional thing for Woods and once again he failed to build Saturday upon the foundation of a great round laid down Friday.
This much is also clear: Before Tiger ever started on his latest swing change at the PGA Championship last August, and even before his altercation with a fire hydrant on Nov. 27, 2009, the putts that he had rolled in so routinely since he burst on the scene as a teenage amateur started to find their way around the hole instead of into it. The problems Saturday for Woods occurred on and around the greens not on his way to them, and that has been the case for longer than he is willing to admit.
After making seven birdies over the final 11 holes Friday, Woods made only two in the third round on his way to a 74, leaving him five-under par and seven strokes behind leader Rory McIlroy. In the second round, Woods used only 26 putts. In the third round, he needed 33 -- including a two-foot miss on No. 11, a four-foot miss on No. 15 and a six-foot miss on the final hole.
"I swung the club well all day," Woods said in a brief scrum with reporters after his disappointing finish to a disappointing day. "That wasn't the problem. I just didn't make anything on the greens." Woods began the round three strokes out of the lead and ended it seven back.  He is, however, only three strokes out of second place, and when asked if he can still win, he replied, "absolutely." But that will require a major meltdown by McIlroy, and the 21-year-old from Northern Ireland is not playing like that is going to happen.
For most of Saturday, Woods was swinging with the best rhythm and tempo he has had in a long time, but the touch with the putter was off enough to create the sort of doubt that leads to tentative strokes on the slick Augusta National greens. And once you start down that road, the misses come in bunches. And as Woods grew frustrated with his putting, he began to make out-of-balance swings, including poor tee shots on Nos. 15, 16 and 17.
At last year's U.S. Open, Woods followed a 66 in the third round with a 75 on Sunday; and in the British Open he backed up an opening-round 67 with a 73 on a difficult windy day. Now, in this Masters, he followed a hopeful 66 in the second round with a discouraging 74. If part of the process is to put together a complete round, he has mastered that, as he displayed on Friday. Now he has to figure out how to put together a complete tournament. That will need to include putting better.
One of the challenges of repairing a golf swing is remaining patient, and Woods had many challenges to his patience Saturday. Things got off to an unfortunate start when he drove into a divot on No. 1, but it was really the short game and not ill fortune that did in Woods. He missed a nine-foot par putt on the first hole after a mediocre chip, a 10-foot birdie try on No. 2 after another ordinary chip, bogeyed No. 4 after a poor chip and let a chip on the par-5 eighth hole get away from him and roll 30-feet past the hole, settling for par.
"I missed a few putts out there and on top of that had a couple of little unforced errors," Woods said. "And I should have capitalized more on a couple holes -- 8 and 15 and 2 as well," he said, naming the three par-5 holes he failed to birdie. "It was a tough start," he said. "Again, just a lot of patience."
Tiger, it seems, is trapped in his own version of Groundhog Day right now: He shows a glimmer of hope; follows that with a disappointing performance and then is asked questions to which he has no answers -- other than coach speak.  "I'm hitting beautiful putts," he said, sounding like he was trying to convince himself of something observation doesn't seem to support.
"I got to go out there and put together a good round tomorrow and see what happens," Woods said before disappearing with his agent and spokesman. Really, what else can he say? What else can he believe? It's a process. It's a work in progress. And right now Tiger Woods is trying to make belief and performance sync up. But the real question in this: Where in the process is the putter right now?