The Loop
Tiger's performance anxiety
It may at first seem like a fool's errand to suggest that Tiger Woods -- the man who once won a U.S. Open on one leg and came from seven back with seven holes to play to win the 2000 AT&T at Pebble Beach -- may have become a semi-choke artist, but a look at the statistics perhaps suggests otherwise.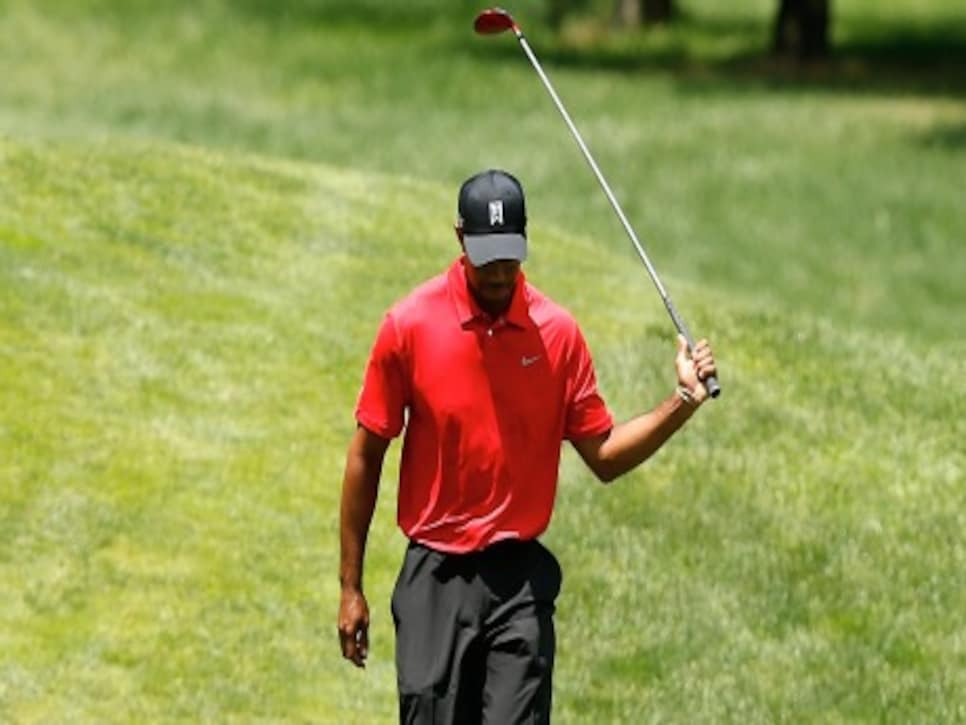 He barely made the cut and shot the worst nine hole round (44) en route to his second-worst 18-hole round (79) of his professional career.
Even in the four events he's won this year, Tiger has stumbled to victory.
His back nine score in the final rounds of the tournaments he's won averages 37 -- almost three strokes higher than his average of those rounds' front nine (33.75). Take the last four holes of the four tournaments he's won this year, and you'll find that Tiger's played the combined 16 holes in 5-over-par with one double, five bogeys, eight pars and just two birdies. With many pundits suggesting that a major championship victory is the only thing standing between Woods and the completion of his 'comeback,' it makes sense to look at how he's performed on the biggest stage, but the story is pretty similar. Woods' nearly five years without a major is the longest stretch of his career without a major win, and since his 2008 victory at the U.S. Open, he blew his first-ever 54-hole lead in a major (2009 PGA) and recorded two missed cuts (2009 British Open, 2011 PGA). In the 2012 U.S. Open, Woods dropped from a tie for the lead to T21 after finishing 75-73 and, of course, his debacle at this year's Masters dropped him out of contention, after dunking it in the water led to a triple bogey 8 on the 15th hole of the second round.
Related: Nicklaus supports Tiger ruling And it makes sense why: despite our common assumptions to the contrary, Tiger, at the heart of it, is boringly human. Golf Digest's Max Adler captured this in our July 2011 issue, describing Woods' vicious first-tee nerves, which predate any of his successes or subsequent failings. His first shot at the 2003 British Open, for instance, finished in the deep rough 30 yards right, leading to a triple-bogey. In 2010, he hooked his first shot in the final round of the Masters so badly that it crossed the 9th fairway. "I've never seem him hit a shot on the practice tee that resembles some of those bad shots on the first tee," his then-swing coach Hank Haney told Golf Digest, a thought echoed by Nick Faldo: "He's become notorious for that, hasn't he?" Tiger enthusiasts will point out that Woods has, historically, bounced back extremely well after disappointing showings. In 2005, after finishing T53 at The Players, Woods won the Masters in his next start. The next year, after shooting consecutive 76s to miss his first cut in a major as a pro, he won the next two majors, and finished T2 in the two after that.
Related: Are we seeing the return of Tiger? But this time is different: Tiger has never been in a major drought like this before, he's battling another swing change, and the lurking expectations of surpassing Jack's record only grows bigger.
He's come back before, but the question now is whether he can overcome all this to do it again.