The Loop
Tiger's partner for Thursday? We know who it won't be
DUBLIN, Ohio -- A mystery in the run-up to Thursday's start of the Presidents Cup at Muirfield Village Golf Club here is really no mystery at all, to hear the respective captains tell it.
Who will partner with whom? "If you go out and look at our [practice round] pairings you can probably figure it out," Couples said. "It's not going to be too difficult."
It isn't quite that easy. Tiger Woods, for instance, played with both Jason Dufner and Matt Kuchar in a practice round on Tuesday. There, too, is the fact that "everyone wants to play with Tiger," Couples said.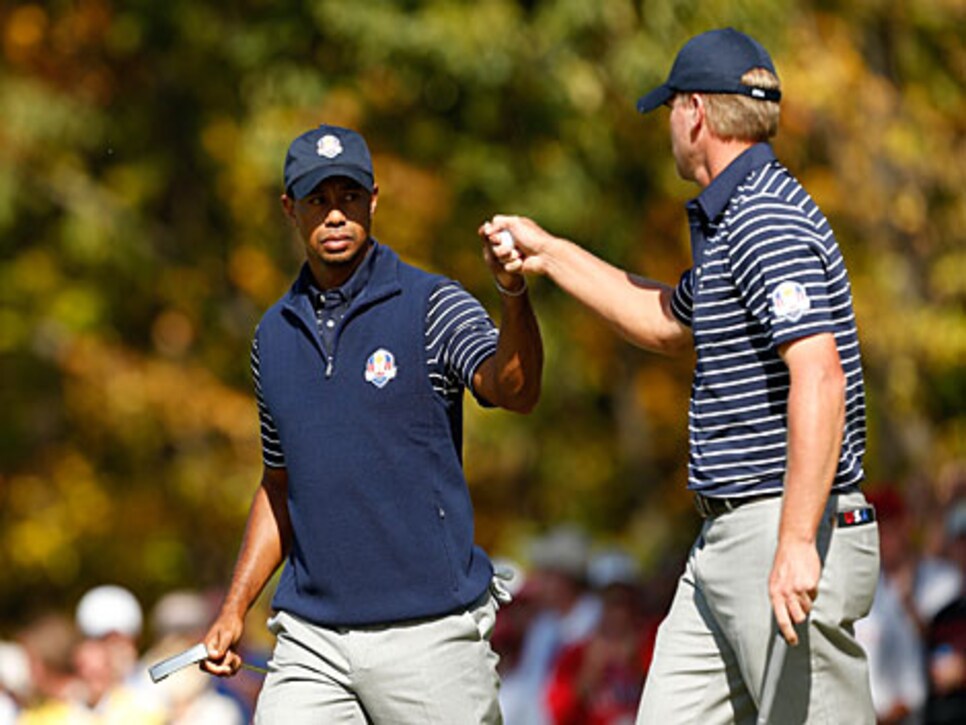 Everyone? "Phil [Mickelson] probably won't." Woods and Mickelson, arch rivals, partnered together in two matches at the 2004 Ryder Cup and lost both.
Couples said that Steve Stricker "will probably play with him a little bit." The last time the Presidents Cup was in the U.S., in 2009, they were 4-0 playing together.
"I have consistency in Steve Stricker, Phil Mickelson and Tiger and pretty much whatever they say is going to happen," Couples said. "They have been on 50 teams, probably, amongst the three of them."
Mickelson is likely to pair with Keegan Bradley. The duo went 3-0 playing together in the Ryder Cup last year.
For his part, International captain Nick Price also seems willing to let his players decide for themselves, at least to some degree. "I got a lot of good feedback from the guys on that," he said. "They were pretty sure about who they wanted to play with, which made my job a lot easier."
Price has six South Africans on his team, and presumably there are combinations of players already comfortable playing with one another. Price, meanwhile, paired South African Ernie Els with countryman Brendan de Jonge in the practice round on Tuesday.
"I think that Ernie's a wonderful calming influence on Brendan," Price said. "He [de Jonge] and Marc [Leishman], maybe [being captain's] picks, might be a little nervous and apprehensive, so my thinking was putting them with some of the more experienced guys."
The pairings for Thursday's foursomes will be announced on Wednesday.