The Loop
Tiger's long road to his next major begins with a promising first step
AUGUSTA, GA. - Sometimes it's easy to forget how far Tiger Woods had fallen. Not just from perennial No. 1 to No. 58 in the world ranking, but also from revered icon to ridiculed punch line.
That he has climbed all the way back to the top of golf is a testament to what has always been his strongest attribute -- an overwhelming burning desire to be the best.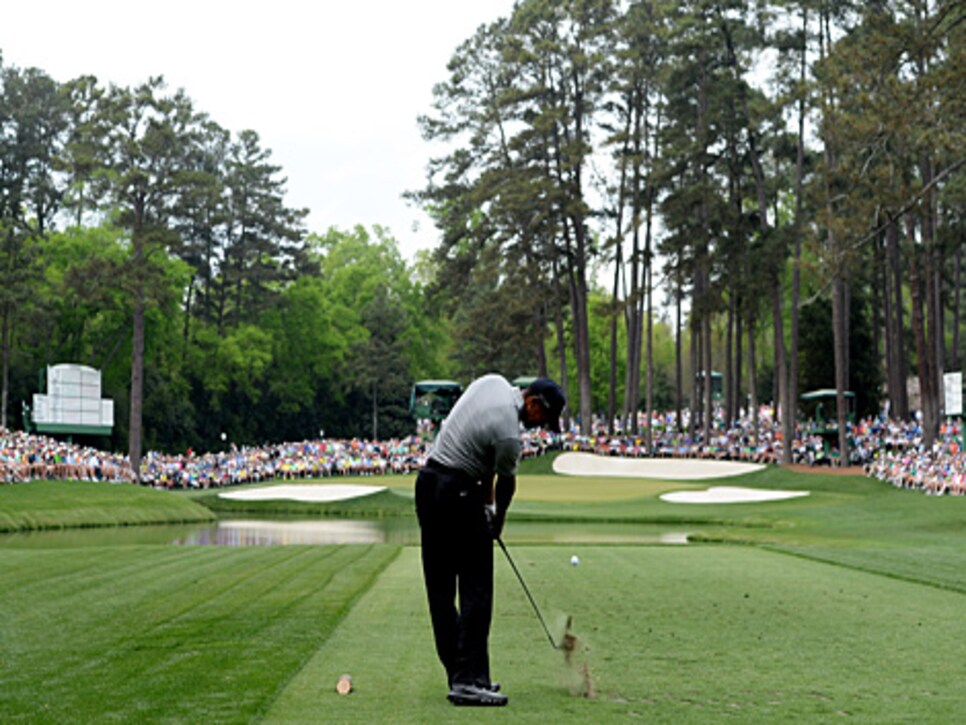 That Tiger has won back the majority of the fans -- even those who aren't sure they like him are sure they love watching the magical golf he is capable of playing -- is a testimony to his determined toughness.
That Woods is once again the best player in the world is beyond dispute. The question before the court is how close he is to being his former self. And the jury is still out on that.
For the ninth time since he last slipped on a green jacket, Tiger teed it up on Thursday at Augusta National. And for the first time since the 2009 Masters -- the Masters before his world unraveled -- Woods began play with a relative sense of normalcy surrounding his life.
Not only was his mother, Kultida, in his gallery, escorted arm-in-arm by Nike founder Phil Knight, who remained a loyal Tiger supporter throughout the scandal, but he was also watched by skier Lindsey Vonn, his new love interest, and former New York City mayor Rudy Giuliani.
Vonn, who sported a brace after ripping up her right knee in competition, was not able to walk all of the steeply contoured Augusta National course. But she walked the first few holes, popped out to see Tiger again at No. 9 and was there at No. 18 when he finished off a 70.
Woods played an unspectacular but highly efficient round of golf. He hit a solid nine of 14 fairways and 13 of 18 greens, taking 30 putts -- which is not great -- but avoided the dreaded three-putt.
Three of the four times Woods has won here, he opened with a 70. And the Woods roadmap to a major victory has always been to position himself nicely the first two days, go low to take the lead in round three then protect that lead on Sunday.
"It's a good start," Woods said. " Some years some guys shot 65 starting out here. But right now I'm only four back and I'm right there."
Asked if it was important to begin the tournament with an under-par round, Woods said: "Absolutely, it was benign. Especially starting out. The wind picked up in the middle part of the round. Got a little bit swirly there at Amen Corner, as usual. But overall I think the biggest challenge today was just the speed of the greens. They just weren't quite there. They looked it, but just weren't quite putting it."
On Tuesday, Woods used the word "balance" to describe how his life is different now than it was in the days, months and years after the Nov. 27, 2009 car crash that began his startling decline.
That seems to be true by every measuring stick. He is both physically and emotionally much more balanced. His swing is more fluid, absent now of that going-for-another-gear grunt move that led to wild shots.
And he also seems to have his emotions under greater control. After appearing impatient and at times angry on the golf course, he now goes with the flow better, although he will never be Mr. Roger's when he has a golf club in his hand.
When it comes to the fans, my observation is that about one-third have forgiven him or never had a problem with what he did to begin with; about one-third will never forgive him or never liked him to begin with; and one-third don't necessarily embrace the man but they love to see great golf and will cheer his successes.
That all puts him in a much better place and makes that feeling of being in balance easier to achieve. While galleries were wary when Woods first returned after the scandal, now he has the majority of them on his side -- especially when he is playing well.
The question everyone wants to know is whether or not Woods can get the five major championships he needs to break the all-time record of 18 held by Jack Nicklaus. This Masters is an important step on that road.
A victory here and the conversation changes, with the pursuit of the Nicklaus record seemingly once again within reach. Another empty trip to the well not only makes the hill high but also the questions harder.
Since winning 14 of his first 46 majors as a professional, Woods has gone 0-for-14. But the more troubling number for Woods is that in seven of those 14 winless majors, Woods has finished in the top six.
Simply put: Woods has given himself an opportunity to win on many occasions over the last five years, but he has not been able to close out the deal. And that's startling from one of the best finishers the game has even known.
Once again, Woods has done was he needs to do on Thursday in a major championship. We've seen that before during this major drought. Now he needs to show us he can close the deal on the weekend. That's when the long road back will be complete.