The Loop
Tiger's friend and foe: Advantage Rory
It has become increasingly difficult to hang with Rory McIlroy these days, notwithstanding the curious and cozy relationship that apparently has permitted Tiger Woods to do so, at least away from a leader board.
McIlroy, 23, won the BMW Championship on Sunday, his second straight victory and third in four starts, including the PGA Championship. This is Tiger terrain -- young and dominant.
When Woods was both, others basked in his reflected glory, in and out of golf, from Mark O'Meara to Costner and Jordan, or Marko, Kev and MJ, as Tiger called them. Tiger now gives the appearance, at least, of being similarly smitten with the player who is auditioning for the role of his heir apparent. Maybe they're not BFFs, but Tiger and McIlroy obviously enjoy one another's company, which is wholly out of character for one of them.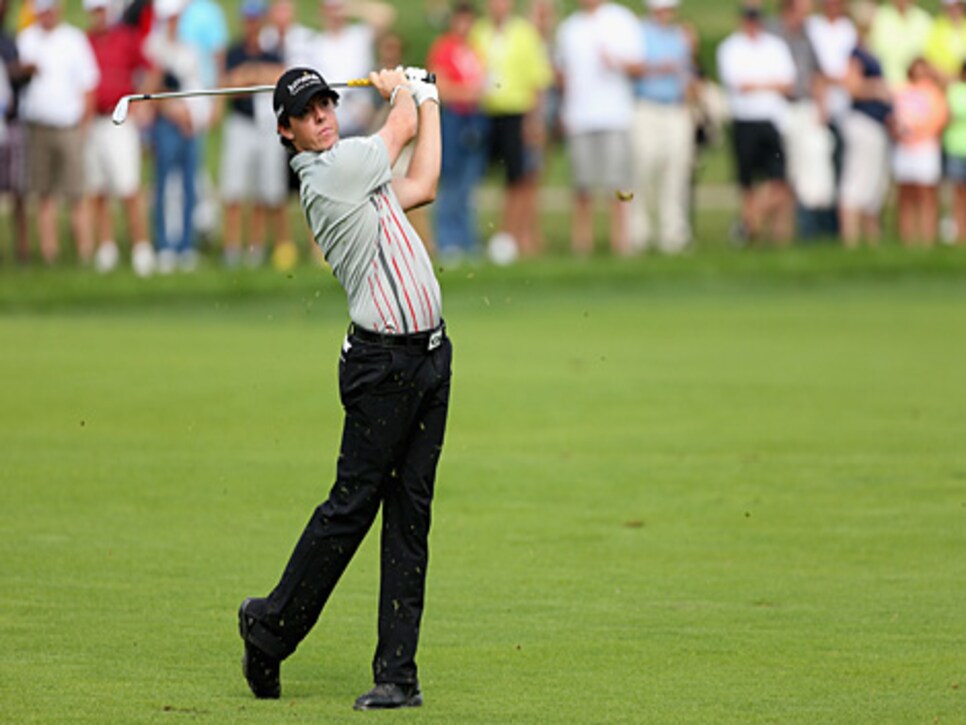 McIlroy, for his part, is an amiable superstar, one who exudes warmth and connects with people for reasons beyond his impressive skill. His love interest, tennis star Caroline Wozniacki, even calls McIlroy "the curly one," as she did via Twitter when he won the Deutsche Bank Championship a week earlier. He doesn't seem to mind.
The public display of affection has never been part of Tiger's repertoire, and when it came to any who were viable threats to his supremacy, the notion that he was capable of warmth towards them was a foreign one.
It is possible that Woods, at 36, has matured and we'll even concede that he has. But if he has mellowed as a result, it can't be in his competitive interest to have done so. Woods always internalized the competition, taking personally whatever threat it posed and responding in the best way he knew how, by burying it on the golf course.
Recall that when Stephen Ames suggested Woods, as a result of his errant driving, was vulnerable at the Accenture Match Play Championship in 2006, this was Tiger's response in the wake of their match: "Nine and eight," he said, citing the score.
Now here comes a young talent, the best since Tiger was 23, already a winner of two major championships, and Woods befriends him, meanwhile finishing T-4 at the BMW Championship and third at the Deutsche Bank Championship a week earlier, three and two strokes behind McIlroy.
The temper tantrum that has been part of Woods' repertoire and even served a useful purpose, incentive to re-double his efforts at winning, seems to have gone missing. He was uncharacteristically talkative after his latest failure, even lauding McIlroy with words that others once routinely used in describing him: "He's putting on a show out there."
Then again, maybe this is the new world order in golf. McIlroy's three most recent victories have come against the best players in the world. At one point on Sunday at Crooked Stick outside Indianapolis, he was tied with Lee Westwood, Phil Mickelson and Vijay Singh, with Dustin Johnson and Tiger, among others, in close pursuit.
"It's great to win events like this when the quality of the fields are so good," McIlroy said.
He, too, won this one without his A game, as Woods often did. It was a great show that failed to reach its full potential only because Tiger was unable to fulfill his obligation, increasingly the case, as it were.
Woods has become an enigma. He is still one of the best players in the world (now No. 2 in the World Ranking, behind McIlroy), yet he seems somewhat out of kilter. A man who preferred keeping his friends separate from his foes, now is chasing one who is both.