The Loop
Tiger's Course Design In Dubai Is In Trouble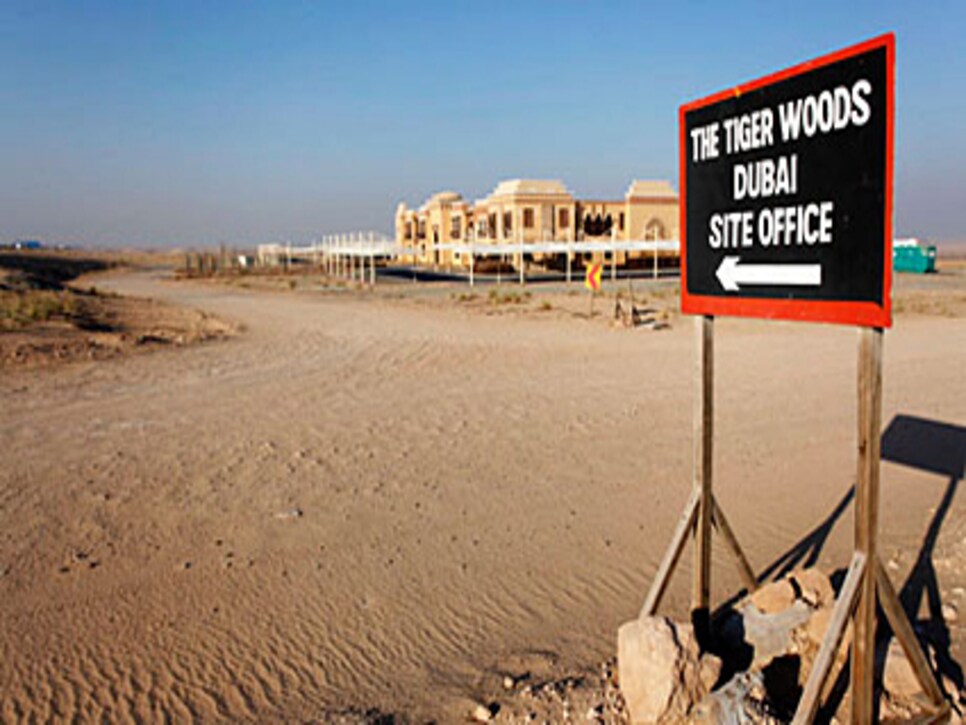 The digital supplement to Golf World provides this update:__
__ __It seems increasingly likely that Al Ruwaya GC at Tiger Woods Dubai—supposed to be the golfer's debut effort at course design—will never be completed. Original plans for the project included molding more than 20 million square meters of desert brush into an 18-hole championship layout dotted by three million square meters of water hazards and 11,000 transplanted trees—all at a price tag of $1.1 billion. ____
____Then the world's economy collapsed, with the real-estate market in Dubai particularly hard hit. A report published by the British newspaper The Guardian last week described the course as one-third finished (six holes completed, 12 more "outlined"), but with virtually no work done since Woods' last visit there in November 2009, shortly before his infamous SUV accident. A spokesman for the project told The Guardian it takes one million gallons of water every month to keep alive what has been completed of the course so far. ____
__Given that situation, the only options for the project seem to be to turn it into a facility for the uber-rich—who, as the story points out, are in much shorter supply these days—or "abandon it to nature." The fate of the project remains uncertain. "No comment," an IMG spokesman told the newspaper, prompting this response from a member of the Al Ruwaya staff: "They better make a decision soon, because we are struggling to keep the desert at bay."
Tiger has officially missed the great design boom in America. And unless he wants to spend a lot of time in China in the next few years, he'll miss it over there as well. So here's the question: What is Tiger's future as a course architect?
Being a man of the people and of public golf, at least as a kid, I see Tiger becoming an expert on renovating failed private and resort courses. The guy who says his favorite course in the world is the Old Course at St. Andrews could make an extended living out of stripping down what once was inaccessible, shortening them, and turning courses that were too hard and too expensive to being cheap and fun for the masses.
What is Golf World Monday?
It's 12-plus pages each week, with four sections:
--A weekly list of the "10 Things We Can't Stop Talking About."--A column on the weekend's most burning topic by Senior Writer Tim Rosaforte.--A overview of the weekend's results—who won and how.--An equipment section.
Interested in receiving Golf World Monday?