The Loop
Tiger Woods withdraws from Dubai Desert Classic due to back spasms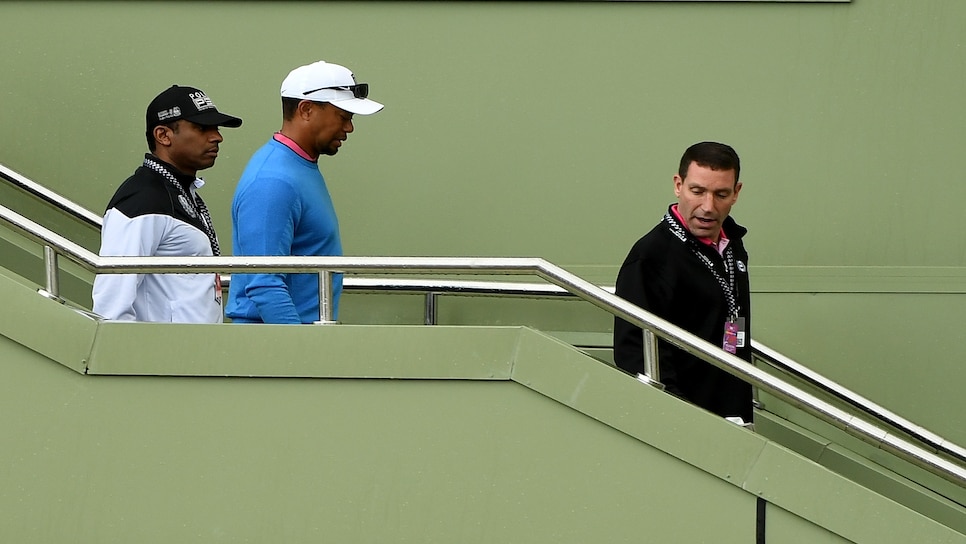 DUBAI, U.A.E. — Especially for those who watched his stiff and ungainly gait and swings during an opening-round 77 at the Dubai Desert Classic, Tiger Woods' subsequent withdrawal came as no real surprise. Citing a "back spasm" that laid him low after dinner on Thursday evening, the 14-time major champion pulled out of the event one hour before he was due to tee off in the second round. So it is that, only one week after his return to the PGA Tour from a 17-month long absence following back surgery, the future of the 41-year-old Woods is again in doubt.
"He felt OK coming off the golf course yesterday," said Woods' manager, Mark Steinberg of Excel Sports. "He wasn't in pain. At dinner last night he was OK. Then he went into a spasm in his lower back after dinner. He tried to work it out last night, but didn't really do that. He had treatment started pretty early this morning, lasting three hours. But they can't get the spasm worked out. It's not the nerve pain that has kept him out for so long. It's a back spasm. He just can't get it to calm down."
Still, walking and swinging slowly during his birdie-free opening round, Woods' range of motion was clearly restricted, although he would later claim to have been "in no pain at all."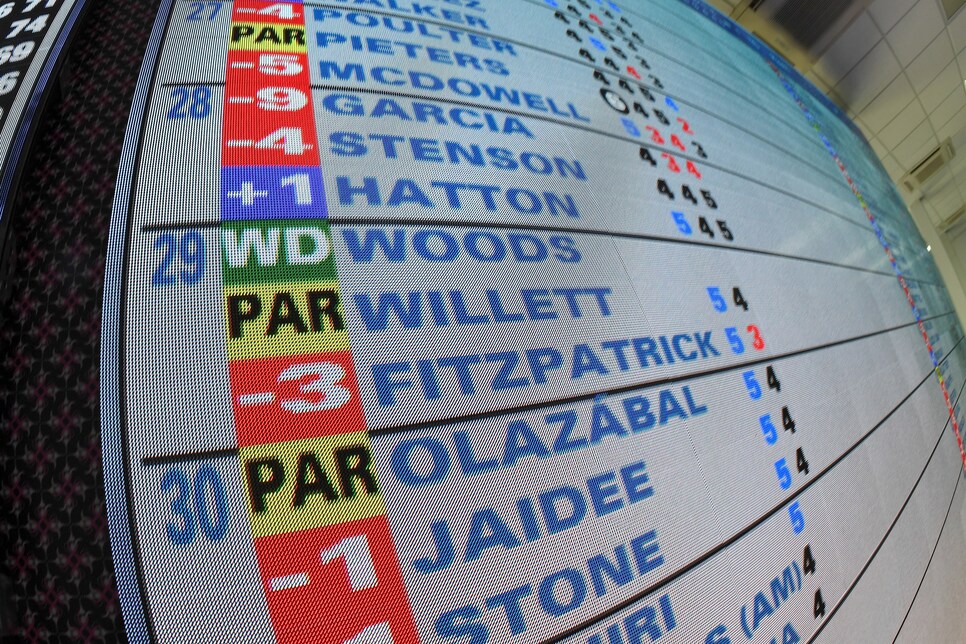 "The simplest thing is I just play away from pain," Woods said. "Whether my swing looks classic, rhythmical or it may look unorthodox, I don't care. As long as I don't feel that nerve pain.
"Anyone in here who has ever had nerve pain in their back or anywhere in their spine, it's like hitting your funny bone a thousand times a day. It's just not fun. I would much rather not have to go through that again."
From thousands of miles away, one of Woods' closest friends wondered himself if there might be something hampering Woods.
"It doesn't seem like he has a lot of fire, and that's what kind of bothers me. Maybe he's still hurting a little."
"Age is cruel and injury is even crueler," said former PGA Tour player Brandel Chamblee on the Golf Channel. "And if you are in your 40s and dealing with pain and trying to change your golf swing, that is the trifecta of issues that will put anyone's game in triage. I look at Tiger and think he looks like an old man. He looks like the oldest 41-year-old man in the history of the game.
"I saw him getting out of a bunker on the first hole, and he was standing very stiff and upright. He looked like he was walking around protecting an issue that he wasn't speaking to. His swing looks a lot slower than it used to. There is no vitality to his golf swing."
The bright spot in the otherwise inconsistent comeback for Woods to competitive golf since first playing in December at the unofficial Hero World Challenge had been that the 14-time major champion appeared healthy. So much so, that Woods announced in January an ambitious start to 2017 in which he would play four times in five weeks, starting at the Farmers Insurance Open, where he missed the cut after rounds of 76-72, but seemed healthy and in good spirits.
Woods is next scheduled to play two weeks from now at the Genesis Open in Los Angeles, then again at the Honda Classic in Florida before the first major of the year, the Masters at Augusta National. Whether he does or not clearly remains to be seen.