The Loop
Tiger Woods withdraws from Bridgestone Invitational, status for rest of year uncertain
AKRON, Ohio -- It's too soon to know if Tiger Woods' season is over, but the pain on his face Sunday after withdrawing from the WGC-Bridgestone Invitational suggested that it's a distinct possibility.
In just his third start following his return from back surgery, Woods withdrew after eight holes at Firestone CC, citing lower back injury. After blasting a 315-yard tee shot on the par-4 ninth hole, Woods winced and grabbed his lower back. He walked slowly off the tee and minutes later gingerly sat in a golf cart, his day complete.
"It's just the whole lower back. I don't know what happened," Woods told a PGA Tour official before exiting the grounds.
Asked if he had any indication he would be ready in time to compete in this week's PGA Championship, Woods replied, "I don't know. Just trying to get out of here."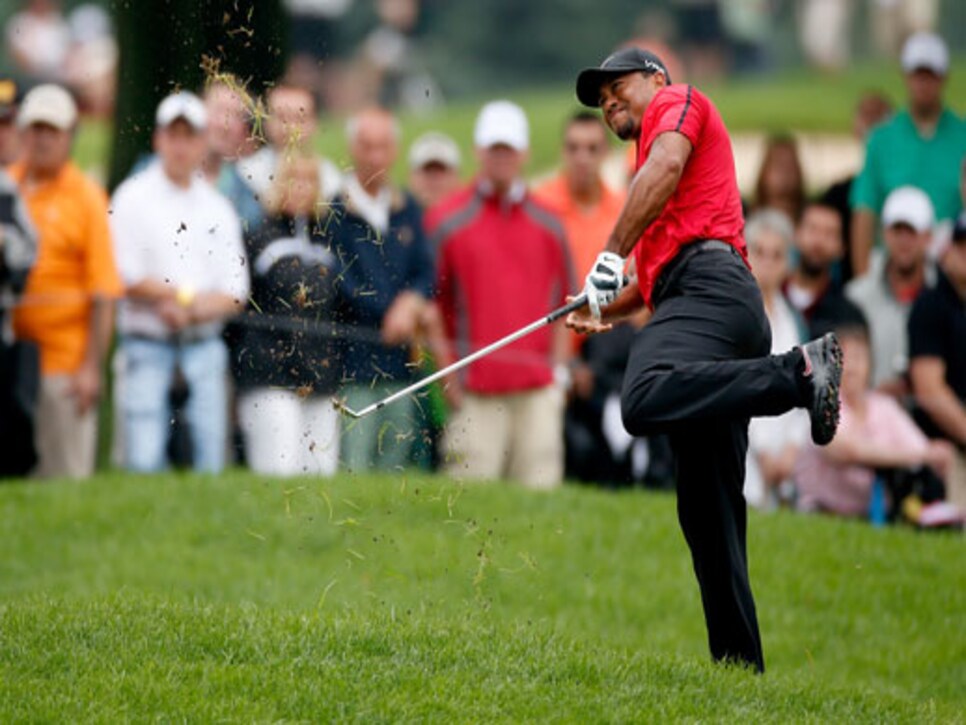 Woods cited this shot on the second hole as the cause of his latest injury.
Woods was 3 over par on the day and 4 over for the tournament when he withdrew from an event he has won a record eight times, including a seven-stroke victory last year.
His day started promisingly with a 10-foot birdie on the opening hole, but trouble reared up when he lost his drive to the right on the par-5 second. The ball plugged just above the bunker, and after taking a free drop, he was forced to take an awkward swing with just his right leg planted at impact. His momentum forced him to jump down backwards into the bunker and run through it.
Though he appeared unhurt, Woods said that sequence was the source of his injury. "It happened on the 2nd hole when I hit my second shot. I fell back into the bunker. I just jarred it, and it's been spasming ever since," he said.
Paired with Masters champion Bubba Watson, Woods hit a series of poor shots thereafter, including a fat 8-iron into the water at the par-4 third that led to a bogey. At the par-3 fifth, he chunked his tee shot a mere 147 yards, leaving him 65 yards to the hole, though he saved par with an eight-foot putt.
He bogeyed the sixth after needing three to reach the green from the right rough, and then he double-bogeyed the par-3 seventh after another poor tee shot into the left bunker. He skulled his second into the fairway in front of the green, chipped to 11 feet and two-putted.
Although he made par after driving into the right rough at No. 8, he had only one more swing in him before withdrawing. He was driving to his courtesy car and appeared in obvious anguish getting out of a golf cart. He leaned on the back of his Cadillac Escalade to steady himself, walked gingerly, and had trouble lifting his legs to removed his golf shoes.
"I've never had back problems, so I'm guessing it's pretty painful," Watson said. "Again, he hit some shots that we're not used to seeing Tiger hit, even when he's coming back from an injury like this. We don't see shots like that. . . . I told him when I shook his hand, I said, I'm praying for you. Hope everything turns out good. Hope to see you next week."
If Woods plays next week, he'll be paired with Phil Mickelson and Padraig Harrington at Valhalla on Thursday and Friday.
"I hope he's able to play next week," Mickelson said. "I hope it's a muscle and nothing serious because I'm really looking forward to playing with him.  We rarely get paired together."
Woods, who first exhibited back problems during last year's FedExCup playoffs, withdrew earlier this year at the Honda Classic after 13 holes of the final round with back spasms, and though he completed the WGC-Cadillac Championship the following week, he was forced to undergo a microdiscectomy March 31 that kept him on the sidelines until early July at the Quicken Loans National at Congressional CC. He missed the cut but managed to complete 72 holes two weeks later at the Open Championship at Royal Liverpool where he opened with a 3-under 69 before eventually falling back to 69th place with rounds of 78-73-75.
Winner of 79 PGA Tour titles, including 14 majors, Woods trailed Sergio Garcia by 15 strokes entering the final round at Firestone's South Course.
Prior to Sunday's final round he appeared in good spirits on the driving range, joking about the weather -- heavy rain caused a delay of 75 minutes -- and reveling in a one-liner he had delivered after Saturday's third-round 72. Asked what his best hole of the day might have been, he replied, "the 19th."
"That was one of my better answers, wasn't it?"
No answers will be forthcoming on his status until Woods gets his back examined, but if he were to forego the PGA Championship at Valhalla GC in Louisville, Ky. -- where he won the 2000 PGA -- it would mark the first time in his career in which he missed three of four majors in a year.
Since winning the 2008 U.S. Open at Torrey Pines despite a bum left knee and micro-fractures in his left shin, Woods has missed six of 25 majors and has battled through a series of injuries to his back, neck elbow and Achilles. His best finish is 2nd in the 2009 PGA at Hazeltine when Y.E. Yang rallied from two shots back to defeat him, the first time he had ever lost a 54-hole lead in a major.
Woods's chances of qualifying for the FedEx Cup Playoffs already were poor, and nothing short of a victory at the PGA would enable him to advance to the Barclays two weeks hence. His latest injury also makes him a long shot to be selected for the U.S. Ryder Cup team as a captain's pick. Tom Watson said at the British Open that he would consider picking Woods if he were healthy and playing well.
He met neither of those qualifications at Firestone.