The Loop
Tiger Woods' withdrawal reaction ranges from 'bummed' to 'doesn't look very good'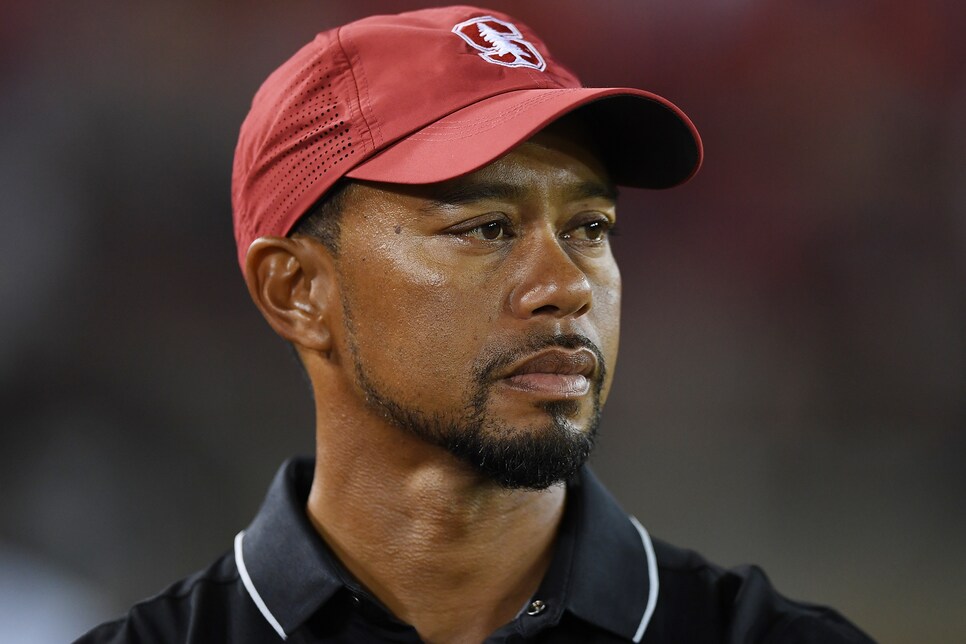 NAPA, Calif. — All along, Tiger Woods' return to the PGA Tour at the Safeway Open here this week hinged on the words, "hope to play," that gave way to general euphoria when he removed the caveat on Friday.
Yet only three days after officially committing to play the Safeway, three days before he was to play his first competive round since the Wyndham Championship in August 2015, Woods announced he was withdrawing, citing the state of his game.
"Bummed. Bummed," PGA Tour rookie Ollie Schneiderjans said on the range at the Silverado Resort on Monday. "A lot of guys were looking forward to having him back. It's good for golf. It's good for every tournament he comes to. Brings a whole 'nother level of excitement for the players and the fans. Really changes the entire event when he comes. Definitely bummed that he's not going to be here."
That Woods so abruptly changed his mind, however, was not necessarily good optics.
"I was surprised, since he committed on Friday," Carl Pettersson said. "So I don't know what's going on, but it doesn't look very good. I haven't seen him since he played last, in Greensboro. I don't really know what to say. But he committed on Friday. I don't know the full story, but to me it doesn't look very good."
The tournament website, meanwhile, featured Woods in its banner, with the words, "See Tiger, Daily Tickets Only $30." Now the banner says, "See Phil, Daily Tickets only $30." There were reports of fans requesting refunds.
"A lot of my friends say I'm the world's luckiest guesser," Silverado Resort owner and tournament host Johnny Miller told Tim Rosaforte of Golf Digest. "I just had a feeling. Everybody in the world was texting me, offering me congratulations [on Tiger playing Silverado]. I wrote back, 'I'll believe he's coming when he tees off first thing Thursday morning on the first tee.' My gut is that he wanted to come, but the hoopla, even on the Golf Channel the last couple days, he must be looking at that thinking, 'Oh, my gosh. What am I getting into? I'd like to be home, taking my kids to school, running my restaurant, nothing like having to posting a score.'
"He's got to suck up the pressure of it all, the tension, and go back in there and mix it up. It's hard to do, because once you get away from the tour, life can be so sweet when you're not so judgmental. The hardest thing about golf is the score. The greatest thing about golf is the score. If you post the scores you win. It's the greatness of golf. Frank Sinatra at 70 probably couldn't sing a lick, but he didn't have to post a score."
Woods, incidentally, was in Northern California when he withdrew. He attended the Stanford-Washington State game in Palo Alto, south of San Francisco, on Saturday night. Then he headed to Pebble Beach for a Tiger Woods Foundation event.
"He is playing today down at Pebble Beach and plans to continue his progression with certain aspects of his game," Woods' friend Notah Begay III said on Golf Channel. "I just think it might be the in-between shots; as we all know it is not just a succession of full shots that are required on the PGA Tour. You have to have the feel shots, the in-between shots. Just not having had enough time to get the reps in prior would be my guess based upon my conversations with Tiger."
Another friend, Charles Howell III, called it, unfortunate. "I was excited to see him come back and play. I think everybody was. But it does show how much people were looking forward to him playing. Even golfers, as fans, like to see him play golf."
Of course in sports, one man's bad news is another's good news. When Woods withdrew, Max Homa was the first alternate who gained entry into the field. He heard the news from a tour official while making the turn at the Safeway Open Monday qualifier in Monterey.
"I thought he was kidding," Homa said. "I was hoping he was kidding, But when I got the news I was pretty happy. Obviously, I'm super happy it's me, but it's a real bummer that he couldn't make it. I think everybody wants him to come on back."