The Loop
Tiger Woods Watch: Live updates from Day 3 at Hero World Challenge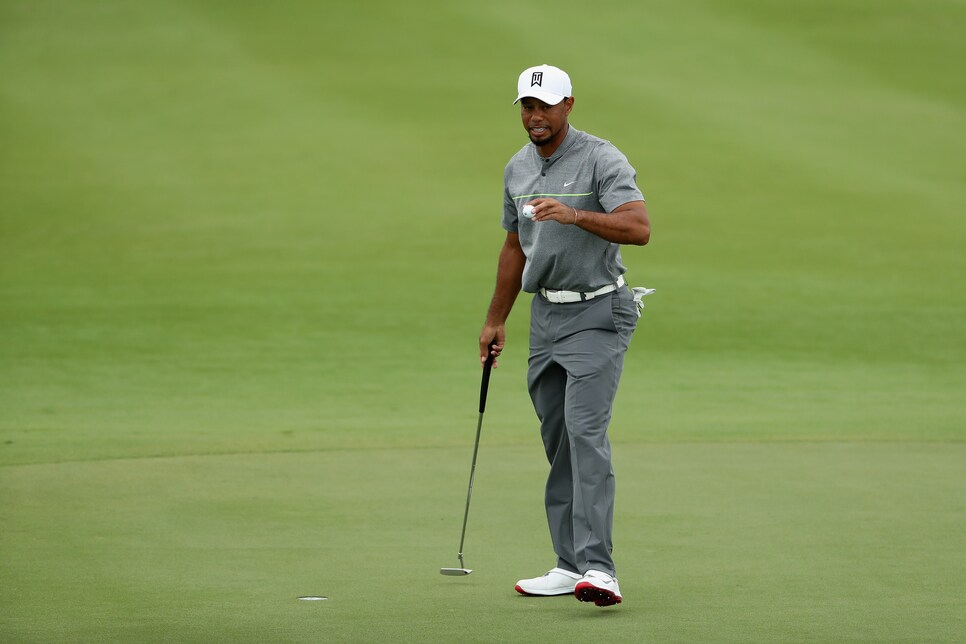 If Thursday was filled with curiosity, Friday showcased Tiger Woods' return is more than a novelty act. Following an up-and-down opening act, the 14-time major winner turned in a bogey-free 65 in Round 2, a score that sent shockwaves throughout the sports world. Woods was able to minimize the wildness off the tee that hampered Day 1, finding eight fairways and 14 greens. Moreover, a return to his Scotty Cameron putter has revived his short game, aggressively daring the hole early and often.
Before you head to Vegas and place a Masters wager on Tiger, it should be noted that Albany Golf Club will never be confused with a major championship venue. Conversely, in a field of 17 of the world's best players, only two posted better scores than Woods on Friday.
Through two days, Woods has illustrated moments of glory's past, yet the true litmus test is sustainability. Will the 40 year old hit a wall this weekend, or does he have enough juice to keep the momentum rolling? The Golf Digest team is here to cover every move with a collection of updates, highlights, and color from our man in the Bahamas, Brian Wacker. Here's the latest from Saturday at the Hero World Challenge:
Unlike yesterday, Woods will have a playing partner, as Rickie Fowler is set to join the fun.
As for those kill-joys that kept reminding us that there was no breeze in the Bahamas on Friday, that might not be the case on Saturday.
Besides his play, look for another narrative to surface multiple times today. Tiger's comments about his Scotty Cameron putter -- when asked Friday when he picked up his old Newport 2, he replied the day after Nike exited equipment -- likely will garner traction.
As Brian Wacker pointed out, the wind is definitely blowing at Albany. The Morning Drive crew is projecting modest scores today.
Looks like Tigermania has even caught the president-elect's attention.
See that Tiger-Masters mention in the intro? Vegas has already acted accordingly:
Woods arrives to the first tee. Sends a missile that splits the fairway. Better yet, no incidents with the ensuing club twirl.
With a little pitch left, Woods sticks it within a few feet. Has a short birdie attempt on No. 1.
After tapping in for bird, Tiger's tee shot on the par-3 second stops within feet of the pin. Starting to think this guy might be pretty good at golf.
Woods rips another drive on the No. 3, a good 40 yards ahead of Fowler. His second shot falls just short of the 570-plus par 5.
Remember those rumors about the (rhymes with chips)? Me neither; Tiger puts eagle pitch to tap-in range. Looking at third-straight bird.
After finding the fairway on No. 4, Woods comes up just short of the green, and ball funnels to a small valley to the left. Delicate up-and-down to come.
Though he leaves his third shot eight feet or so from the hole, Woods has no issue sinking the par, staying at three under for his round.
First mistake of the day on the fifth, as Woods leaves his tee shot at the 180-yard par 3 short right into a bunker.
Of course, he proceeds to hole the sand shot. Moves to four under through five.
Tiger can't keep up the mojo from the fifth. Following a nice drive and second shot, he misses badly from 100 yards out and proceeds to three-putt. Nothing pretty to see here.
On the drivable par-4 seventh, Woods' tee ball finds a greenside bunker. Tiger shows his magic at the fifth was no aberration, knocking it to seven-eight feet from the beach. Woods sinks the bird to wipe out the birdie at No. 6.
Woods has a nice tee shot on the par-3 eighth, birdie putt from 20 feet just misses to the right. Five birdies, one bogey through eight.
Drive on the 600-yard par 5 goes left, but bounces out of the brush and into the waste bunker. Hits his second shot somewhat fat, leaving more than he desired left for his approach.
Tiger's third finds the green, yet it doesn't classify as a pin-seeker. Birdie putt doesn't turn, giving Woods a five. He makes the turn in 32; he posted 33s during the tournament's first two rounds.

Front-nine observations: despite heavy wind, Woods has kept his drives in the short stuff, a sentiment that couldn't be said Thursday and Friday; while his irons aren't as sharp, chalk that up to said breezes; he's attacking every putt like he's going to make it, something that was notably absent in his final rounds in 2015.
Finds the fairway on No. 10, his fifth fairway in seven tries. Nice approach, runs the birdie putt a few feet back, but converts the comebacker.
Another fairway at the 11th, but his approach on the par 5 gets tangled in the wind to finish in the bunker. Not the greatest of sand shots. Not that it matters; Woods finds the jar, his sixth birdie of the day.
Tee shot on the par-3 12th trickles into the fringe; Tiger leaves it a few feet short, cleans it up for a three. Has his second bad drive of the afternoon, going left into a waste bunker on the 13th. Hits a clean approach shot that comes up just short. Fairly straightforward up-and-down awaits...
...except that he three-putts (technically two since the first came from off the green). It's Tiger's second bogey of the day, drops him to four under on the round, 10 under for the tournament.
Somewhat concerning, as Tiger's suddenly losing drives to both sides. When he was wild on Friday, the mis-hits were consistently to the left.
Woods makes his second bogey in as many holes. His approach misses the green to the right, and though he has a creative punch-and-run chip from a swale, he misses a six-footer for par.
Tiger's officially leaking oil. Hangs drive on the par-5 15th to the right, again finding a waste bunker. He gets it up the fairway, and his approach leaves about 15 feet or so for birdie. Tiger's flat stick has officially gone cold though, as he heads to the 16th with a par.
That's four consecutive fairways missed, as Woods' tee shot on No. 16 goes in...drum roll please...a waste bunker. Could be hitting a wall, and starting to show frustration.
The second shot lands in a greenside trap. Tiger executes a nice bunker play, putting his third within feet. Definitely needed that morale boost.
For what it's worth, Rickie Fowler has played lights-out. Six under through 16 holes, smacks a nice tee shot at the par-3 17th...The sand shot settles Woods down, as he finds the green on No. 17 as well, although he's looking at a long putt for bird.
About that long putt? Woods' putter wakes up, sinking a 30-foot for bomb. It's his seventh birdie of the day.
Tiger's again wayward off the tee, finding his umpteenth waste bunker. The results are not pretty, sending his second shot left into the water. As good as Tiger look through 11 holes, he's been out of sorts for the past 90 minutes.
Woods' pitch to the green skirts by the hole, leaving 15 feet for bogey. He misses the putt, doubling the 18th for the second time in three days. The final result for Tiger is a two-under 70. The finish leaves Woods understandably upset. Keeping everything in perspective though, it was a day that illustrated more positives than negatives, showing Woods can still compete with the world's best.