The Loop
Tiger Woods Watch: Live updates from Day 1 at the Hero World Challenge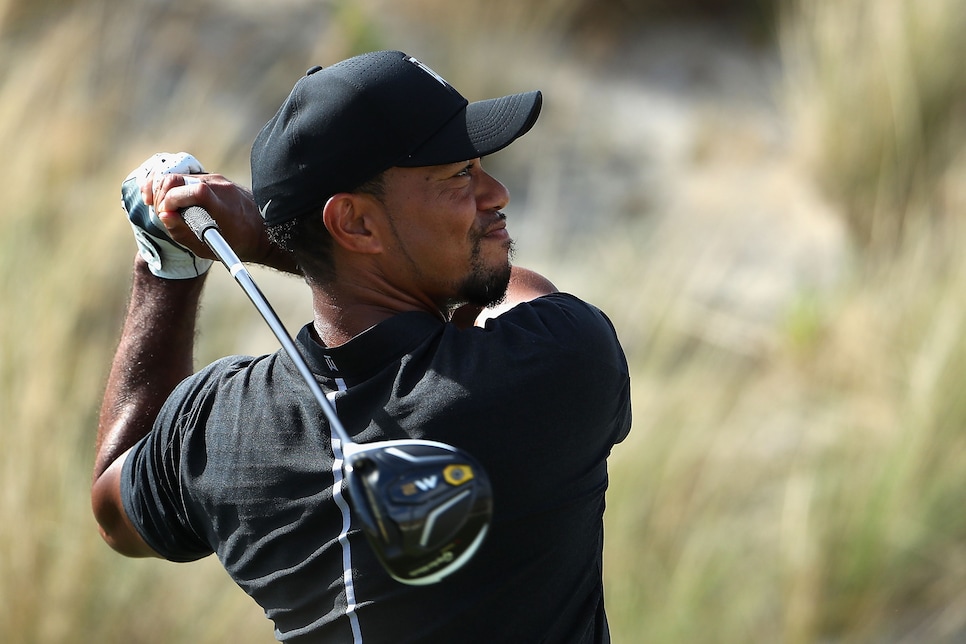 Hello (again), world. Today is the day Tiger Woods finally makes his latest comeback, and yes, this is the most excited we've ever been about a pro tournament in December. Expectations should be low for a man playing competitively for the first time in 15 months (even if that man is a 14-time major winner), but Woods has already gotten fans in a tizzy this week with some comments ("I can hit all the shots now, on call") and a pair of eagles on the front nine of Albany Golf Club during Wednesday's pro-am. But now he plays for real on Thursday in a noon tee time with Patrick Reed, and we will try to keep you updated on his every move from the Bahamas -- short of his bathroom breaks -- with observations and tweets, largely from our man on the ground, Brian Wacker. Here's the latest from Day 1 at the Hero World Challenge:
Approximately two hours before his tee time, Tiger Woods tweets how fired up he is for the first round:
A pre-round tweet from Tiger? And personally signed? Yeah, this is definitely a big day.
About 45 minutes to his tee time, Woods shows up on the practice green. Looking good in all black!
Then Tiger teed up at 12:01 and. . . pulled his first shot into the left rough. If you bet on him missing the fairway on his opening tee shot (yes, that was an actual bet), congratulations. But at least he got that out of the way. As Woods walked off the tee, he took his sunglasses from caddie Joe LaCava and put them on. Again, we are going to try to cover his every movement.
At 12:13, Woods tapped in for a 2-putt par to complete his opening hole. He hit a nice approach shot to the front of the green, but was strong on his birdie attempt. And in case you're wondering, par was a heavy favorite for the outcome of his first hole.
And here's video of Woods' entire opening hole:
Another two-putt par on the 174-yard par-3 second. As far as we know, there were no betting lines for this.
On the par-5 third hole, one of two holes Woods eagled on Wednesday, he mashed a draw down the middle. And yes, he liked it:
Woods bounced his second shot through the green, and then chipped... to tap-in range. That's right, mark down the time and date: On Dec. 1 at 12:34, Tiger Woods makes the first birdie of his latest comeback. Here's a look:
Woods showed off his short game again with a pitch to tap-in range on No. 4 to save par. He settled for another par on No. 5 after hitting his tee shot to about 10 feet on the short par 3.
Then on the par-5 sixth, Woods missed the green badly with his second shot, but again, called on his short game:
Woods knocked in a five-footer for birdie to get to two under through six. He's currently one off Matt Kuchar's early lead.
But Woods wasn't done making birdies on the front nine. He hit a sand wedge to five feet on No. 7 to set up another, then nearly aced the par-3 eighth hole. Four under through eight holes. Even the most optimistic of Tiger fans couldn't have seen this coming.
Seriously, is this really happening?
1:55 p.m.: Our first reality check. Woods hits a bad drive, punches out and then misses the green on the par-5 ninth. Facing a difficult chip from a downslope to an elevated green with water behind, Woods chunked his first attempt.
He recovered to get up and down for bogey. Even with his first dropped shot, Woods made the turn in three-under 33. Not too shabby.
Woods bogeyed his next par 5, No. 11, as well. This time, it was an errant second shot that ended in a shrub. Woods took a drop in a bunker and hit a great third shot, but missed the par putt from 10 feet.
He missed from a similar distance on No. 12 for birdie after a crisp 5-iron from 195 yards.
But then, Tiger and Scotty combined to do this to save par on No. 14!
It was a mini-fist pump, but it counts. Now the comeback is really official.
On No. 15, Woods gave himself a 10-foot eagle opportunity. Again, he blew his first putt past the hole, but he converted the comebacker to get back to three under.
But disaster finally struck on No. 16 -- and from the middle of the fairway:
Woods had to hack out his third shot, then after a sloppy pitch, he two-putted for a double bogey to drop back to one under.
And then disaster struck again. Woods found the water off the 18th tee and made another double bogey, forcing him to settle for a 73. At the beginning of the day, that wouldn't have seemed like a decent score, but it would be hard not to be disappointed after getting to four under at one point.