News
Tiger Woods turns back the clock, briefly leads alone for first time since 2013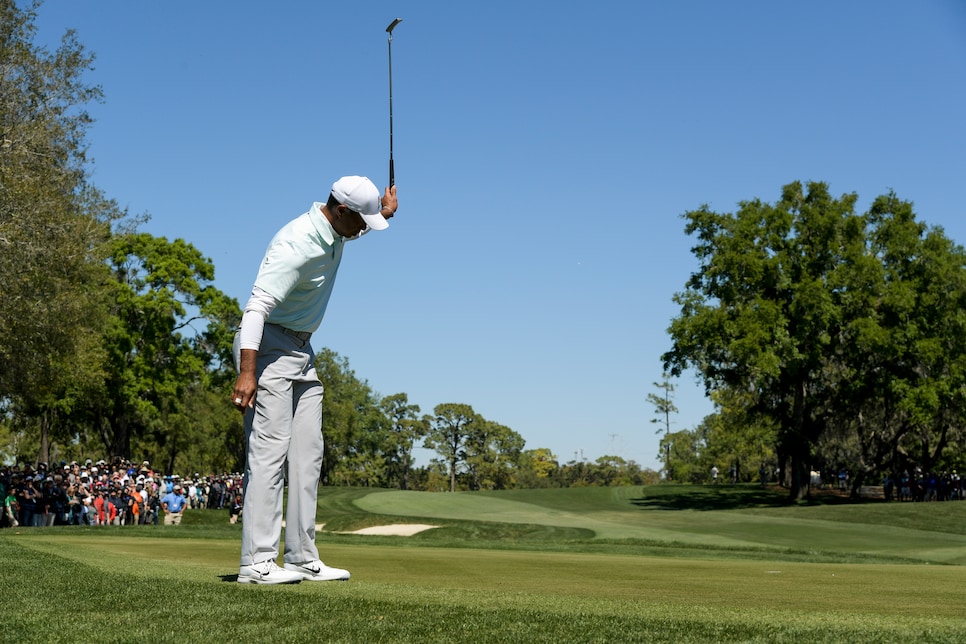 PALM HARBOR, Fla. -- Brandt Snedeker said he could see this coming from Tiger Woods.
Paul Casey said it felt like the old days.
At 9:48 am EST on Friday, Woods, playing the 394-yard par-4 second on the Copperhead Course at Innisbrook (his 11th hole of the day) rolled in a 12-foot putt for his third birdie of the morning and a share of the lead.
Two holes later, he hammered a drive 342 yards that was heading left but bounced off the cart path and back into the fairway on the uphill par 5 and got up and down from a greenside bunker for another to move in front by himself. It was the first time that Woods held a solo lead since the final round of the 2013 WGC-Bridgestone Invitational, which he won by seven.
Woods bogeyed his final hole -- his approach shot with a wedge sailing wide right and landing in a woman's bag -- to shoot 68 and drop back into a tie for the lead before ending the day two back of leader Corey Conners at the Valspar Championship, but this indeed looked nostalgic.
Never mind that he dusted his playing partners, the last two winners of the Open Championship Jordan Spieth and Henrik Stenson, by nine and 10 strokes, respectively, over two days.
"I saw his old iron game back," said Snedeker, who was paired with Woods for a couple of rounds two weeks ago at the Honda Classic. "When Tiger was in his prime his iron game was the best I've ever seen, and I saw him hit some shots at the Honda that I haven't seen anybody hit out here except for him."
Through two rounds at Innisbrook, he has looked even sharper.
On his third hole of the day, Woods stuffed his approach to five feet on the par-4 12th to set up an easy birdie. One hole later, his tee shot on the 187-yard par-3 over water stopped six feet right of the hole and he made that one, too.
Even on the few occasions Woods was off line, he made the kind of brilliant recovery shots that have been a hallmark of his career, escaping the trees and making par on his first hole of the day after pulling his tee shot left and into the trees, and lashing an iron out of the thick rough right of 18 to pin high just off the green right from where he would get up and down again.
"I felt like I was playing well at Honda and just a matter of cleaning up a few holes and a few shots here and there and I had a shot with a few holes to go and so I just tried to continue what I was doing," Woods said. "What I was doing it worked, little changes I made from L.A. worked, and I'm especially feeling more comfortable this week than I was at Honda with the changes I made. I hit it well today."
The atmosphere was just as electric, too.
Despite temperatures in the mid-40s and an early morning tee time, the gallery was already a few deep by the time Woods put a tee in the ground. When he neared the turn, the gallery was thick all the way up the 18th.
"The roars are a little louder, and there's certainly an energy about the gallery that you don't have anywhere else," said Spieth, who compared the energy around it to that of a major championship.
There was online, too, with the PGA Tour's live coverage on its website crashing as Woods climbed the leaderboard.
Even Woods' competitors found themselves rooting for him.
"I want him to play brilliant golf," Casey said. "I want him to win again because I want these kids to see what we dealt with for a long, long time.
"I want to win this week, but if I don't I want Tiger to win this week."
For Woods' part, he is still tempering his expectations, as he should be given some areas of his game that still need a little tidying up (see: that closing bogey, among a few other loose shots).
"I thought I had a shot at Honda with a few holes to go and instead of making birdies coming in I made some mistakes," he said. "But to play myself into contention this early into it, was nice."