News
Tiger Woods tripped up by Bear Trap and his putter, but still tied for 11th in Honda Classic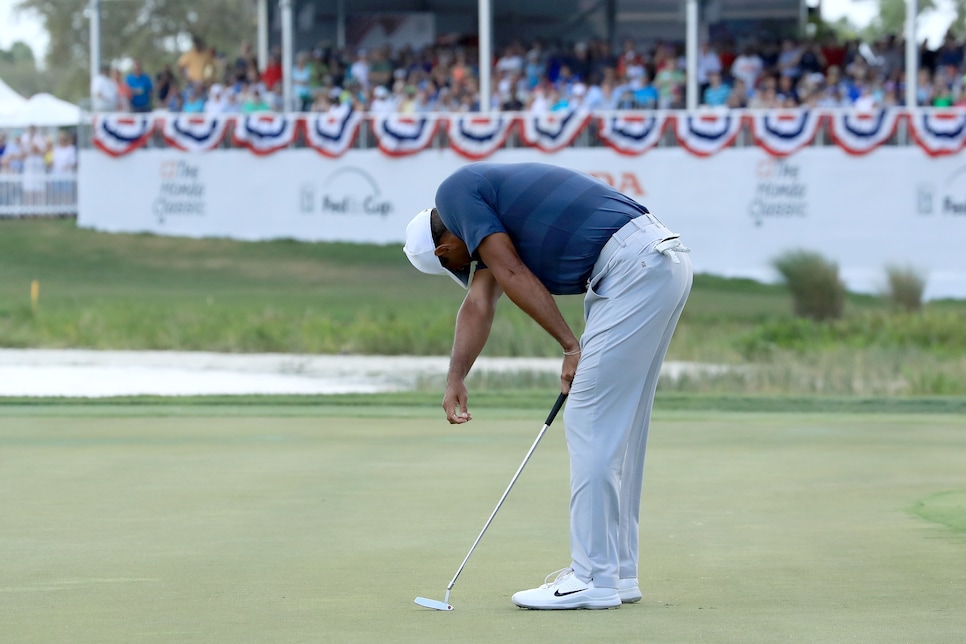 David Cannon/Getty Images
PALM BEACH GARDENS, Fla. — The Bear Trap got Tiger Woods again.
The 15th through 17th at PGA National's Champion Course have been tough on everyone this week during the Honda Classic, playing as the second, sixth and third toughest holes on the course, respectively. Woods has struggled there, too, playing that stretch in a combined five over, with two more bogeys coming during Saturday's third round.
On the 184-yard 15th, Woods pulled his tee shot way left and into the rough. With sand short and water long, his pitch came up short in the rough before he got up and down.
At the 179-yard 17th, Woods sent it over the green and a bunker, again putting himself in a precarious position. He pitched to 20 feet and missed the par putt.
They were his only blemishes on a day when Woods posted a one-under 69, a round that could have gone so much better given how well Woods controlled his ball from tee to green.
"This is probably the highest score I could have shot today," said Woods, who ended the day tied for 11th, seven strokes off the lead of Luke List heading into Sunday. "I really, really hit it good."
Statistically, it was the best Woods has performed all week.
Playing just his ninth round of the year, he hit nine of 14 fairways and 13 of 18 greens in regulation, the most he has hit all week. Woods' proximity to the hole was also at its best at 26 feet, 8 inches and through 54 holes he ranks second in the field in that category.
On 14 holes Saturday he had a look at birdie. Only one of those attempts was from outside 25 feet.
"I gave myself plenty of looks," Woods said. "I just didn't make anything, and I finally made a nice par putt at 12 and made a nice one at 13."
Those were the only putts he made outside of 10 feet all day.
Still, there was plenty to be pleased about.
This is only Woods' third start of the year, and there have been improvements along the way. His 69 on Saturday was his first round in the 60s on tour since the third round of the 2015 Wyndham Championship, more than 900 days ago.
"I can't be that annoyed because I played really well," Woods said. "I wish I'd made a few more putts. I hit good putts. I just didn't get anything going on that front nine but I was hanging in there. I was grinding."
Going into Sunday he's also hanging around enough to at least have a shot at contending.
Seven strokes isn't as big a deficit at PGA National as it is at some venues given the course's propensity to yield some big numbers.
"I've got a shot going into [Sunday]," Woods said. "My job is to go out and post a number. I'll be far enough ahead that these guys will still have three or four holes to go when I'm done and hopefully I'll be hopefully my number will be good enough."