The Loop
Tiger Woods tours NYC, Justin Thomas rules Malaysia, and Paulina Gretzky pole dances in Vegas
Welcome to another edition of The Grind, where we always accept the results of a golf tournament. But yes, it's a lot easier when we're on the winning side. Fortunately, that was the case this past week at Golf Digest's annual Seitz Cup, which divides our staff up by age. After captaining Team Millenial(ish) to a heartbreaking loss last year, I was lucky enough to be asked back. This time, I (and co-captain Joel Beall) got the job done (we made six pairings). So basically, I'm Golf Digest's version of Davis Love III.
And no, I didn't spend the rest of the day directing airplanes where to go. Regardless of the outcome, it was a fun day that featured some decent golf (there's nothing like playing a scramble to help the ego), high drama (Ashley Mayo sank the winning putt on the final hole), and plenty of great chili. So really, everyone won. OK, thanks for indulging me. I have so little. Here's what else the golf world was talking about.
Justin Thomas: Keeping the millennial train rolling, the 23-year-old successfully defended his title at the CIMB Classic by racking up an impressive 29 birdies. Thomas now owns a silly 65.875 scoring average in eight rounds at the event and has a perfect record in two Malaysia starts. Rumor has it he's started a petition to move the PGA Tour's headquarters from Ponte Vedra Beach to Kuala Lumpur.
Guess all that lifting hasn't hurt his golf game.
Padraig Harrington: Few wins in 2016 were as popular as Paddy's triumph at the Portugal Masters. With a Sunday 65, Harrington nipped Andy Sullivan, who he vice captained at the Ryder Cup just three weeks ago, and picked up his first European Tour title since winning the 2008 British Open and PGA Championship. Look at what he got to celebrate with after!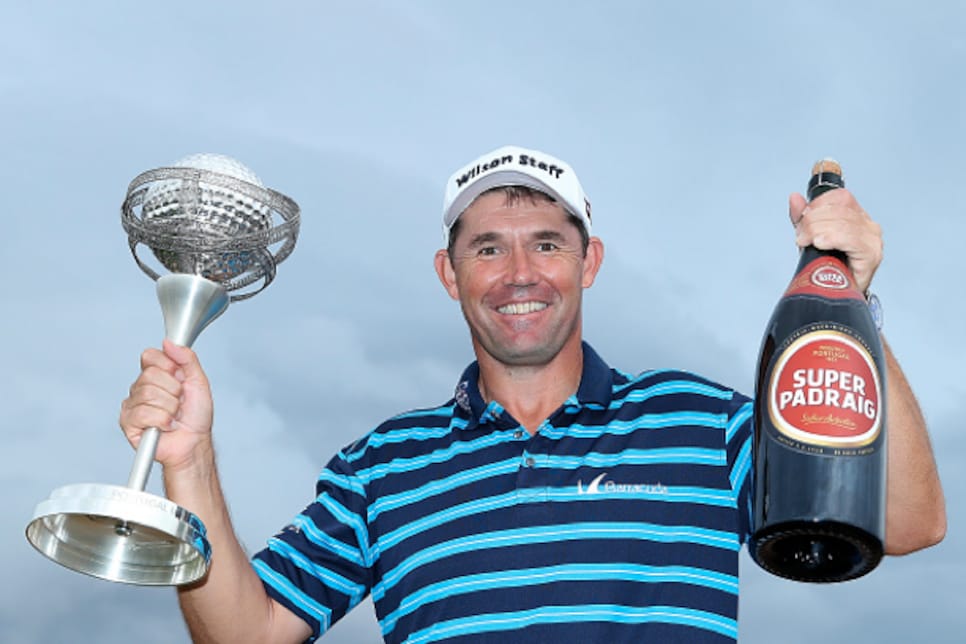 Speaking of PGA champs. . .
Jason Dufner's jumper: Check out the 2013 PGA champ putting away the 1995 PGA champ in a game of P-A-R with ease by shooting from deep in the corner.
Duf might not be the longest hitter on the course, but he's got some serious range on the court. We might have to see a three-point contest between him and Harold Varner III.
Hall of Fame Class of 2017: Congrats to Davis Love III, Ian Woosnam, Lorena Ochoa, Meg Mallon and Henry Longhurst. This fantastic fivesome will be officially inducted into the World Golf Hall of Fame at next year's Presidents Cup. And a special shout out to Ochoa, who is the only millennial of the bunch. Although comparing what she and I have accomplished at age 34 is a bit depressing. Moving on. . .
Pythons on the course: Not just snakes, but pythons. LARGE pythons. Check out this terrifying serpent that was caught before the second round of the CIMB Classic.
I would have WD'd on the spot.
Anirban Lahiri's luck: A week after that crazy finish in an Asian Tour event (seven birdies to end regulation before finding a water hazard with a layup on the first playoff hole), Lahiri seemed poised to win his first PGA Tour title. Then he had a tee shot get stuck in a tree, made a quadruple bogey, and lost by four shots. Maybe a giant snake ate it.
Tiger's media tour: It wasn't that Woods' interviews with Charlie Rose and Stephen Colbert were bad, just that they were a sad reminder that his only public appearances these days don't involve golf (and that he spends most of his days playing video games). On the plus side, since the announcement of his new brand, TGR: Tiger Woods Ventures, Woods has looked more dapper than ever before. In other words, he must finally be letting someone else dress him.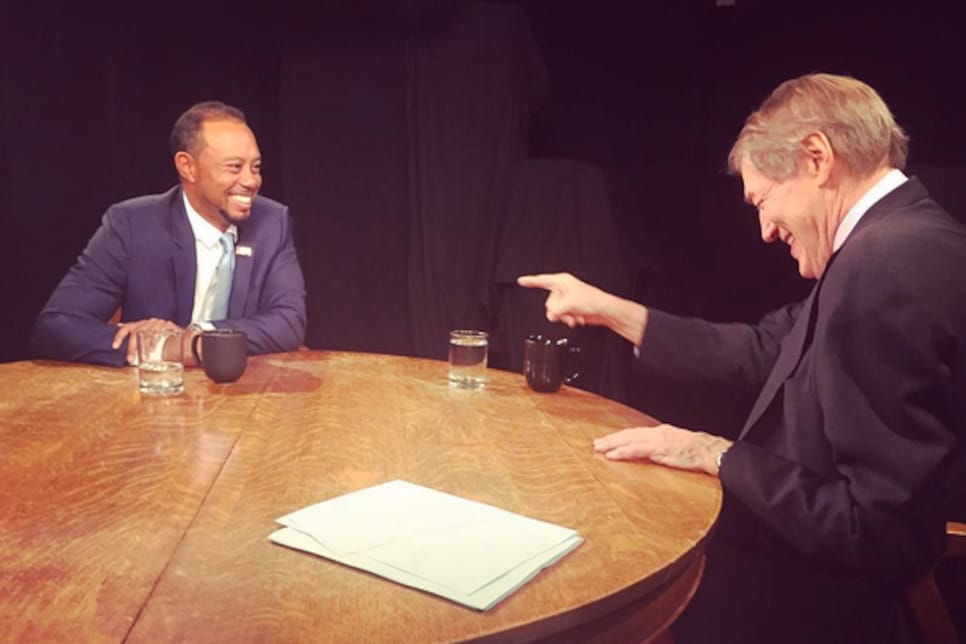 The PGA Tour heads from Malaysia to Shanghai for the WGC-HSBC Champions, aka the Super Bowl of acronym-titled golf tournaments – or the SBATGT for short. The Sanderson Farms Championship will also take place in Mississippi. That's the one with the rooster trophy.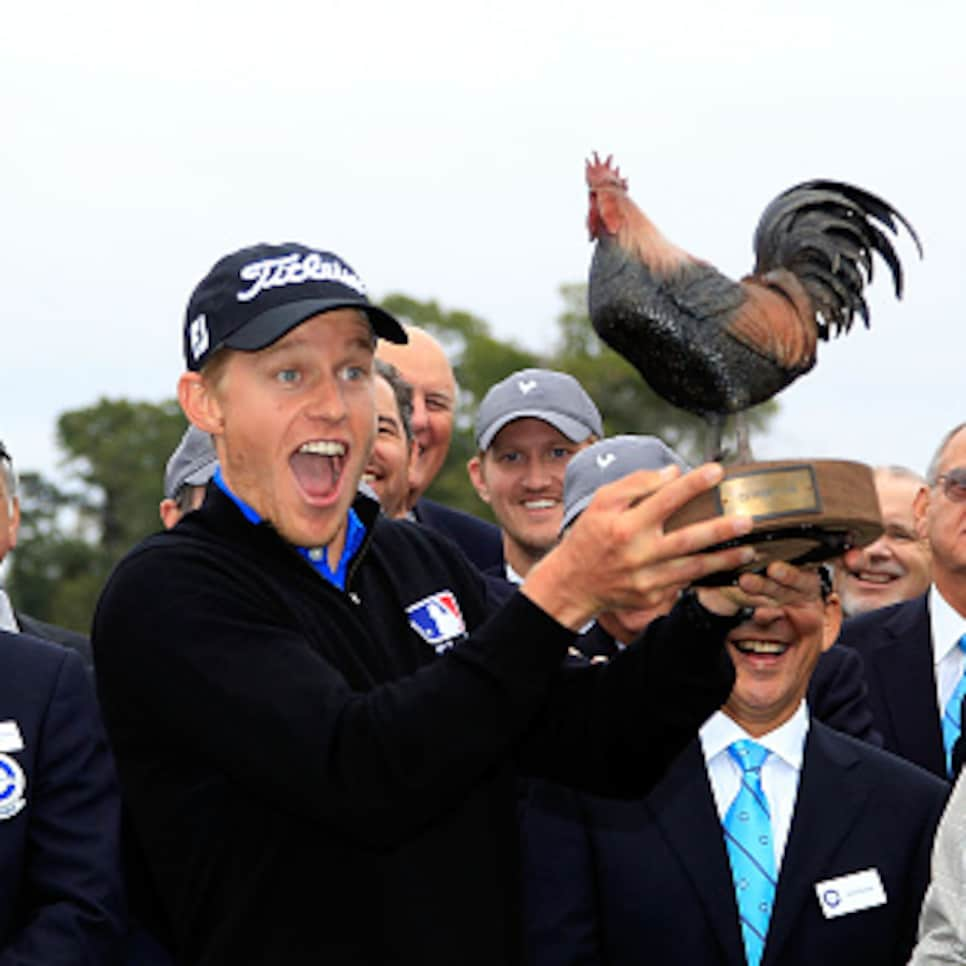 Random tournament fact: Rory McIlroy is testing out a TaylorMade M2 driver in Shanghai. Judging by these ridiculous TrackMan stats, this potential equipment switch will NOT hurt him off the tee.
RANDOM PROP BETS OF THE WEEK
-- Old Tom Morris envisioned the day of 330-yard carries: 1 MILLION-to-1 odds
-- Rory will needle Dustin Johnson about losing the FedEx Cup: 10 MILLION-to-1 odds
-- Rory and DJ will hit it longer than anyone who played in the Seitz Cup: LOCK
Gary Player, meet Yao Ming.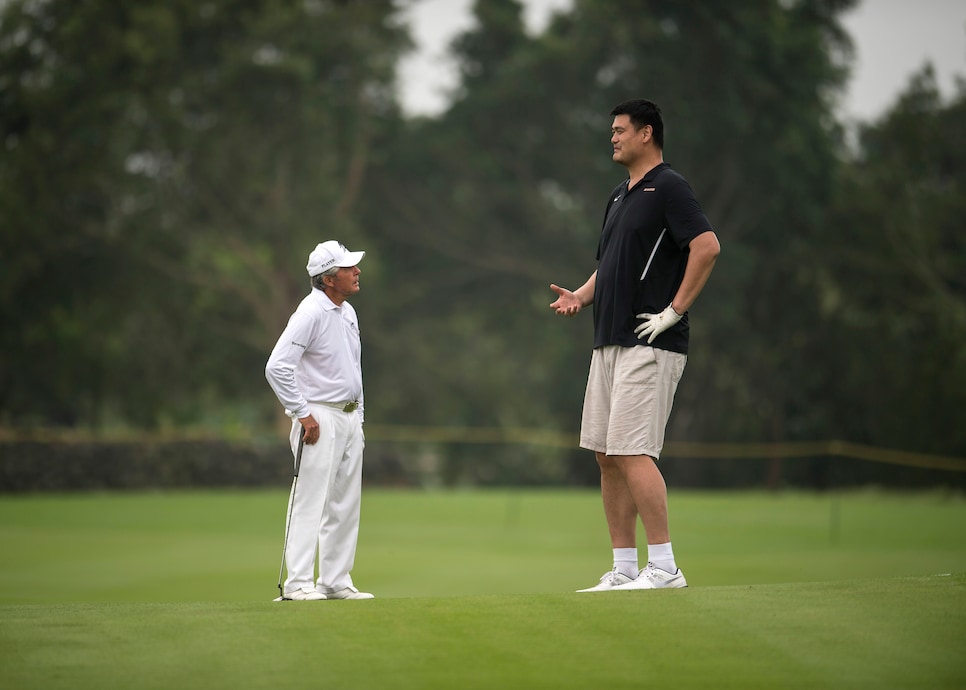 Amazing. Are we sure Yao is only 7-foot-6? Has anyone measured him lately?
We've got two involving the European Tour. First, this "Bottle Smash" challenge (SPOILER ALERT: Thomas Pieters is really good at this):
And then Pablo Larrazabal giving his putter a pep talk/ultimatum by issuing it "one more chance":
I'm going to start trying that.
Padraig Harrington's caddie, Ronan Flood, pokes fun at his boss's bad approach shot on the final hole in Portugal:
It's fun to win, isn't it?
"I've accepted I'm going to get more." -- Tiger Woods on whether he'll get to 18 majors. OK then.
THIS WEEK IN PAULINA GRETZKY-DUSTIN JOHNSON PUBLIC DISPLAYS OF AFFECTION
After chilling in Cabo, the lovebirds partied in Vegas. That included DJ showing off his swing at Topgolf. Imagine randomly being in a hitting bay while he's launching missiles?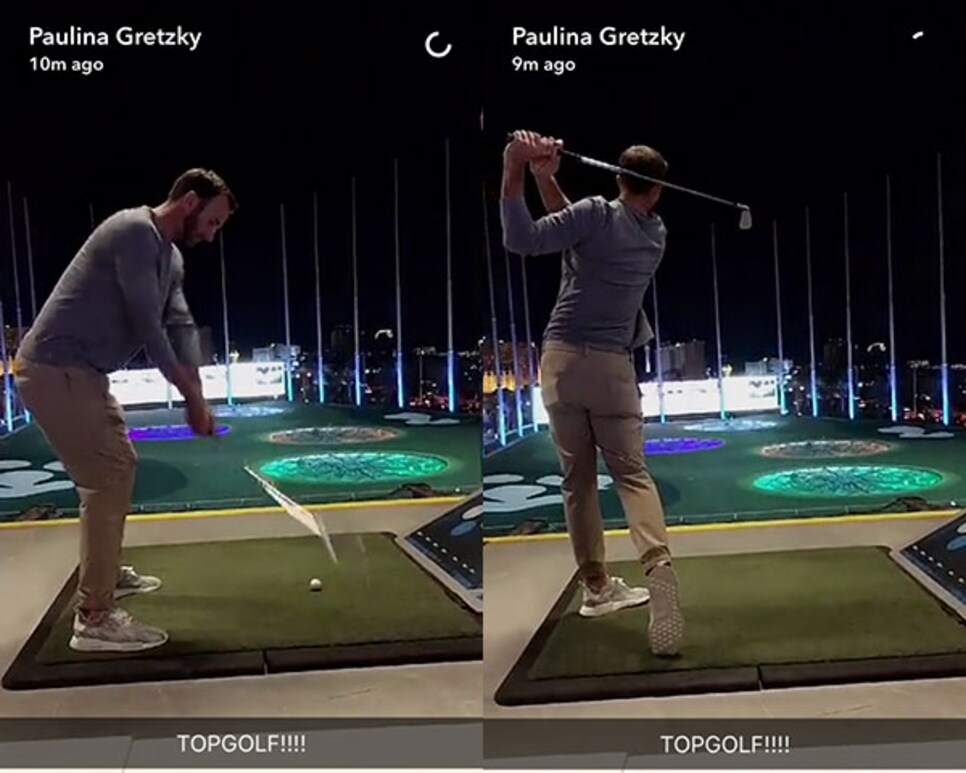 He looks ready for the WGC-HSBC/SBATGT! And Paulina showed off her dance moves at a nightclub:
THIS WEEK IN DANIEL BERGER-TORI SLATER PUBLIC DISPLAYS
Daniel Berger will also be in Asia this week, and he wanted to let girlfriend Tori Slater know how much he'll miss her.
As Justin Thomas said in the comments, "AWWWWWWW."
And it looks like Tori's been keeping herself busy with photo shoots involving cars.
William McGirt is only playing in the Sanderson Farms pro-am this week because he's not allowed to play in the tournament instead of a WGC event. We're sure there's a good reason for this rule, but we're talking about William McGirt playing in the Sanderson Farms Championship. C'mon. . . . Florian Fritsch's fear of flying allowed him to drive to only 12 events this year, but he still kept his European Tour card. Good thing gas is pretty cheap these days. . . . Minjee Lee, 20, won her third career LPGA Tour title at the Blue Bay LPGA. More millennial pride! . . . And finally, another millennial, Madelene Sagstrom stopped by the Golf Digest offices in NYC to talk about having the most dominant 2016 (Three wins and 12 top 10s in 15 starts on the Symetra Tour) of any golfer. Here she is carrying around her LPGA Tour card (Hey, I would too) -- and a rare podcast action shot of us talking!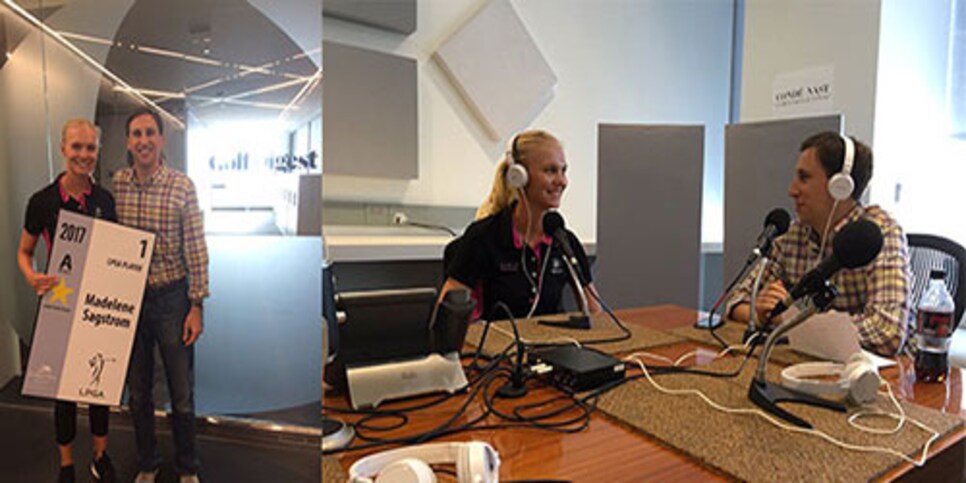 RANDOM QUESTIONS TO PONDER
Would Florian Fritsch fly to the U.S. to play in a major?
Could Gary Player bench press Yao Ming?
Is Tiger Woods playing Call of Duty right now?