The Loop
Tiger Woods' topsy-turvy week, Bubba Watson's big announcement, Paige Spiranac's pro debut, and Paulina Gretzky basks in the Bahamas
Welcome to another edition of The Grind, where we're still trying to recover from the emotional wringer that was last week. First, Tiger Woods was done. Then Tiger Woods was not done. Tiger shocked everyone and opened up about his life. But Tiger offered few details about his injury. Tiger took a trial run in the TV booth -- but he did it wearing his Sunday red as if he was still in player mode. Hmm. What are we supposed to think?! Fortunately, there are a lot of other things happening in golf as we enter the holiday season. Here's what else -- OK, including Tiger -- has us talking.
Bubba Watson: After initially turning down an invite to play in this event, Watson got back into the field with Jason Day's withdrawal -- and he took full advantage. Watson shot 25 under for four days to win by three. With the win, Watson stayed at No. 4, but he's now within striking range of the Big Three. Afterward, Watson said that if he ever got to No. 1, he'd walk away from the game. If that happens, can he trade backs with Tiger?
Michelle Wie the photographer: The 2015 season wasn't great for Wie on the course, but off it, she may have found her calling behind the camera. Check out her photo blog to see for yourself. And here's a recent photo shoot she did with friend and Hawaiian model Meg Akim.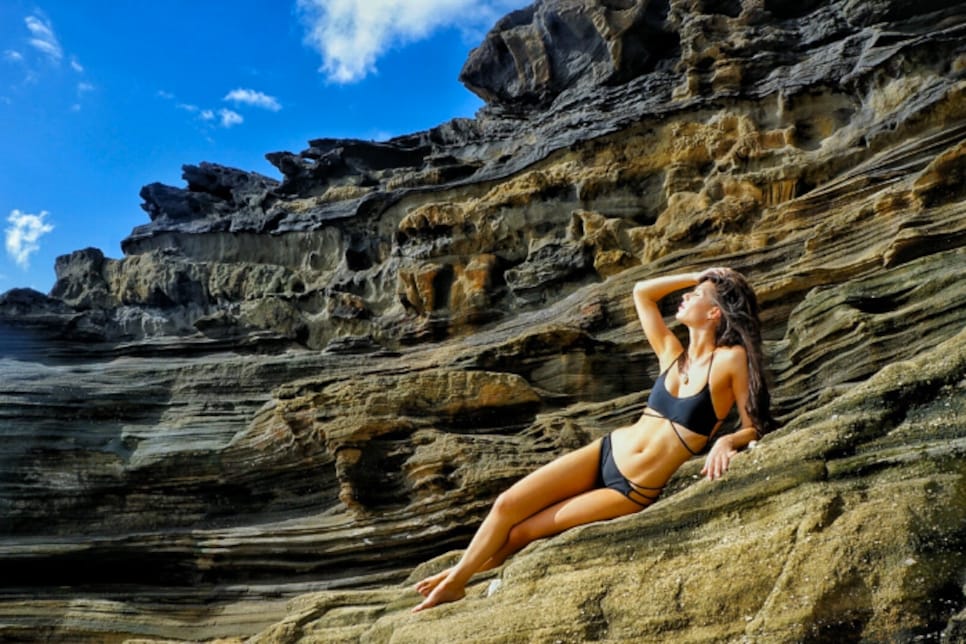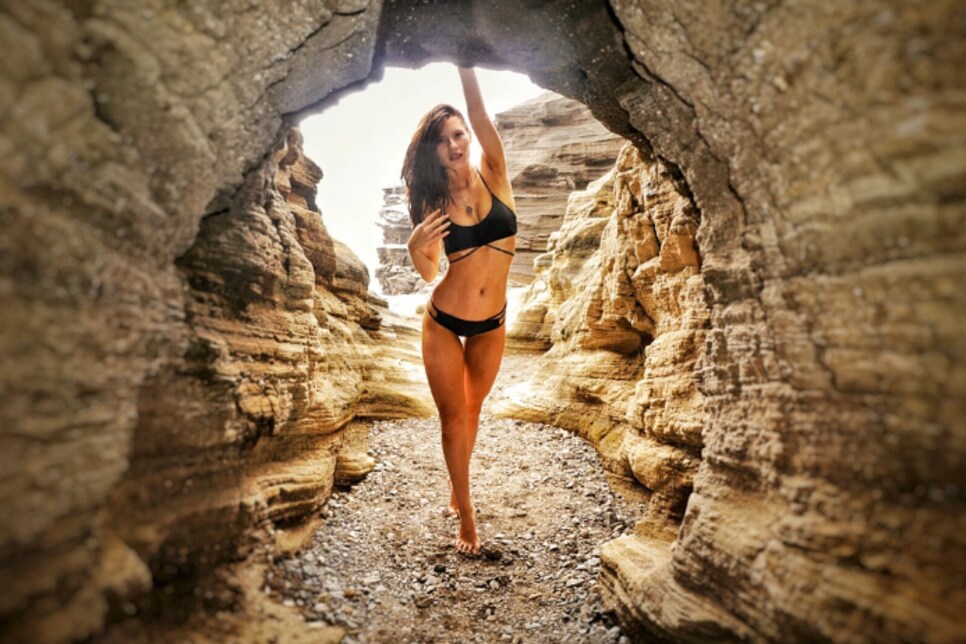 Tell us that's not some SI Swimsuit Issue-quality stuff right there.
Tiger Woods the father: If you're a Tiger Woods fan, the most positive thing to come out of last week is that he humanized himself with arguably the most revealing interview of his life -- and people really seemed to dig it. Woods opened up about being best friends with his ex-wife in the best interest of his children and talked at length about choosing his kids over golf. "Now I know what my dad felt like when we'd go out there and play nine holes in the dark," he said. We also enjoyed hearing Tiger Woods the announcer and we hope that's the next phase of his career -- just not yet.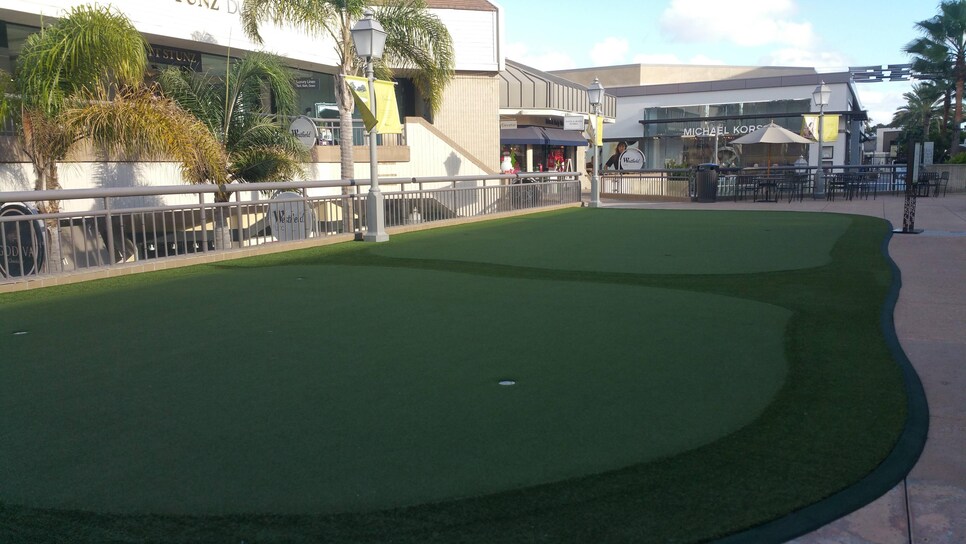 Man, I wish this existed where I live. . . I mean, I know a lot of guys who would appreciate such a distraction when dragged on shopping trips this time of the year.
Tiger Woods the golfer: Sure, Woods claimed he hasn't given up, but anytime you start hearing athletes say things like "Anything else is gravy" or "It's been a good run," you have to wonder if this is it. Also, having no timetable for a return to competition is one thing, but having no timetable for when you can start rehabbing? Yikes.
Sergio Garcia's win: Sorry to rain on Sergio's parade here, but we're not impressed with his win at the Ho Tram Open. Here's a guy who skipped the first two events of the FedEx Cup Playoffs and ditched the European Tour's finale, but he went to Vietnam to play? That's weak, $ergio.
Anirban Lahiri's putting: The week started so promising with a seat at the Tiger Woods press conference (For what reason, we still can't figure out), but Lahiri struggled on the course, particularly on the greens. Lahiri finished tied for last in the field of 18, and gave this great quote after a second-round 70. "If my mother putted for me, she would have shot 65."
Stealing range balls: The latest such theft occurred in New Zealand where more than 3,000 golf balls were taken in the middle of the night. It produced this sad, but slightly amusing photo of the range's manager, who discovered the theft when he went to pick up the balls and could only come up with this: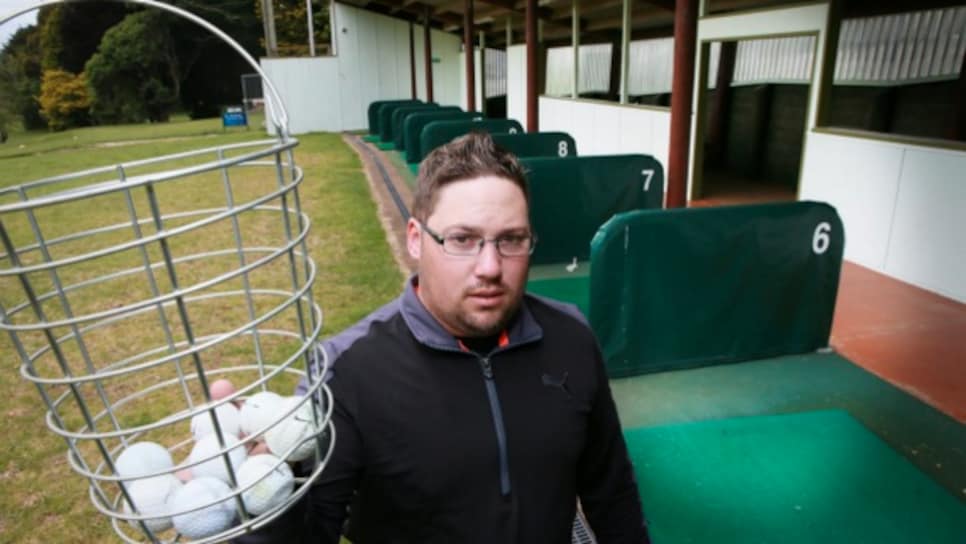 But seriously, who steals range balls? Unless you plan on opening up a rival driving range, these painted rocks with dimples are essentially worthless.
With all due respect to the Franklin Templeton Shootout, the most talked about golf event this week is arguably on the Ladies European Tour, where Instagram sensation Paige Spiranac will make her major pro tour debut at the Dubai Ladies Masters.
Random fact: This is the first time the Ladies European Tour has ever had the biggest golf event of the week.
RANDOM PROP BETS OF THE WEEK
-- Tiger Woods will win a major in 2016: 1 MILLION-to-1 odds
-- Tiger Woods will work as a TV analyst at a major in 2016: 5-to-1 odds
-- The cameras will love Paige no matter how she plays: LOCK
We may not have been impressed with Sergio's win in Vietnam, but we were by his James Bond-like entrance to the event. A helicopter-tux combo is pretty badass: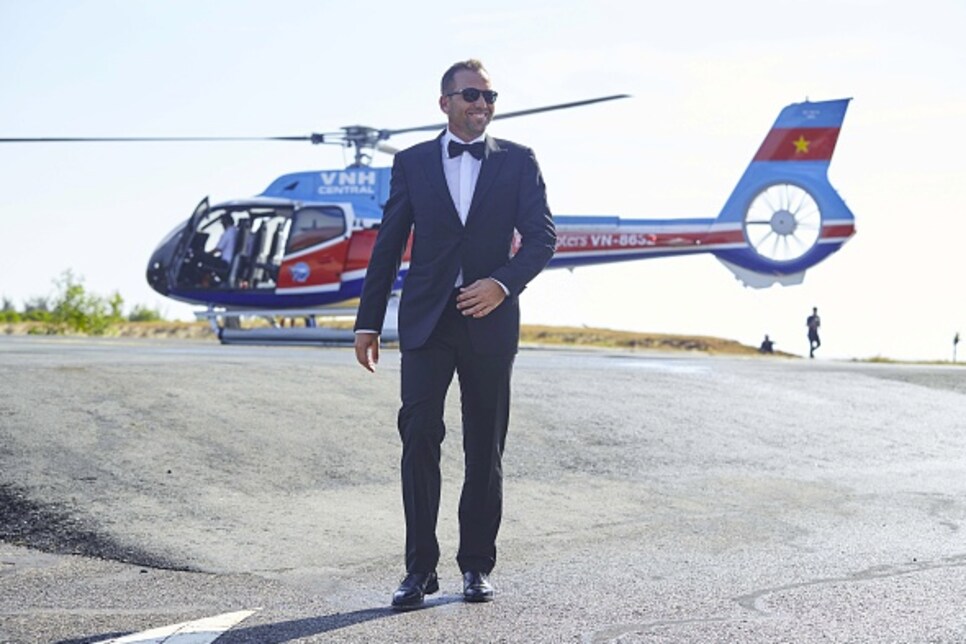 Before Bubba really got cooking in the Bahamas, he voiced screamed his displeasure over a "mud ball" on Thursday -- directly at the ground. This is both obnoxious and hysterical at the same time.
THIS WEEK IN NATALIE GULBIS MAKING US FEEL BAD WITH HER TRAINING
Impressive. Of course, the key to good fitness is having a good workout outfit. Here's Natalie showing off a new one:
THIS WEEK IN PAIGE SPIRANAC BEING PAIGE SPIRANAC
As we mentioned, Paige is making her professional major tour debut this week at the Dubai Ladies Masters. Here she is flying in style to Dubai:
Here she is approaching the finishing hole with the Dubai skyline in the background:
And here she is taking her weekly mirror selfie in a tight dress -- only this time, in Dubai:
THIS WEEK IN DUSTIN JOHNSON-PAULINA GRETZKY PUBLIC DISPLAYS OF AFFECTION
THIS WEEK IN LUKE DONALD-DIANE DONALD PUBLIC DISPLAYS OF AFFECTION
Going out in Miami and New York in the same week? Guys, we need to step up our game.
"I beat them all. I beat them all." -- Tiger Woods when asked about how he fared against the age-related accomplishments of Jack Nicklaus that hung on his bedroom wall growing up.
THIS WEEK IN TOUR PROS BEING TOUR PROS
Jason Day doesn't always go to Detroit Lions games, but when he does, he prefers to watch from the sidelines: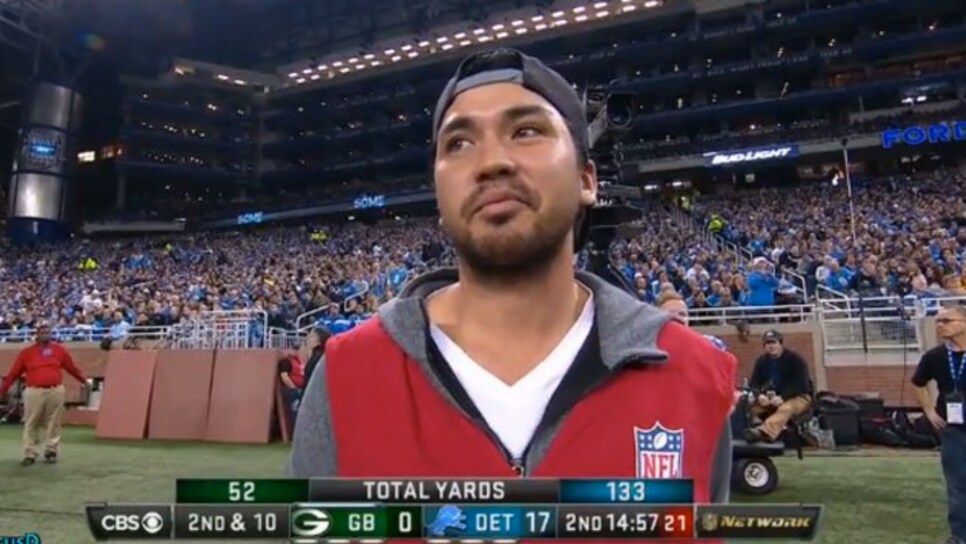 Either he used his celebrity status to secure that vantage point for Lions-Packers, or he tricked everyone with that NFL sweatshirt by posing as an employee. In any event, we just hope he stayed for the end of the game. . .
Nick Faldo topped Johnny Miller in Golf Digest's latest TV survey. It's got to be the accent, Johnny. It's got to. . . . Marc Leishman won the Nedbank Challenge by six shots for his first European Tour title. Of course, the Aussie would have liked to have had that momentous occasion happen at St. Andrews a few months back. . . . Speaking of winning by wide margins, Simin Feng won LPGA Q School by seven shots. Feng is 20 and has been working with David Leadbetter like a certain teen World No. 1. Look out, LPGA. . . . Also earning her LPGA Tour card (again) was Cheyenne Woods. Tiger's niece had a rough rookie season on the LPGA, but her Tiger-like five birdies over her final six holes showed potential for her to perform a lot better in year No. 2. . . . Henrik Stenson led for two days in South Africa before finishing runner-up for a sixth time in his last 20 starts. We're going to start referring to him as Swedish Furyk. . . . Another week, another glorious crock-pot recipe discovered by my wife, Michelle. This time, for a fantastic bolognese sauce:
Everyone's New Year's resolution should be to incorporate more crock pot into their lives.
RANDOM QUESTIONS TO PONDER
Has anyone checked on Johnny Miller lately?
How many bathing suits does Paulina own?
What am I getting for Christmas?