News
Tiger Woods Thursday live blog: Woods cards first-round even-par 71 at Quail Hollow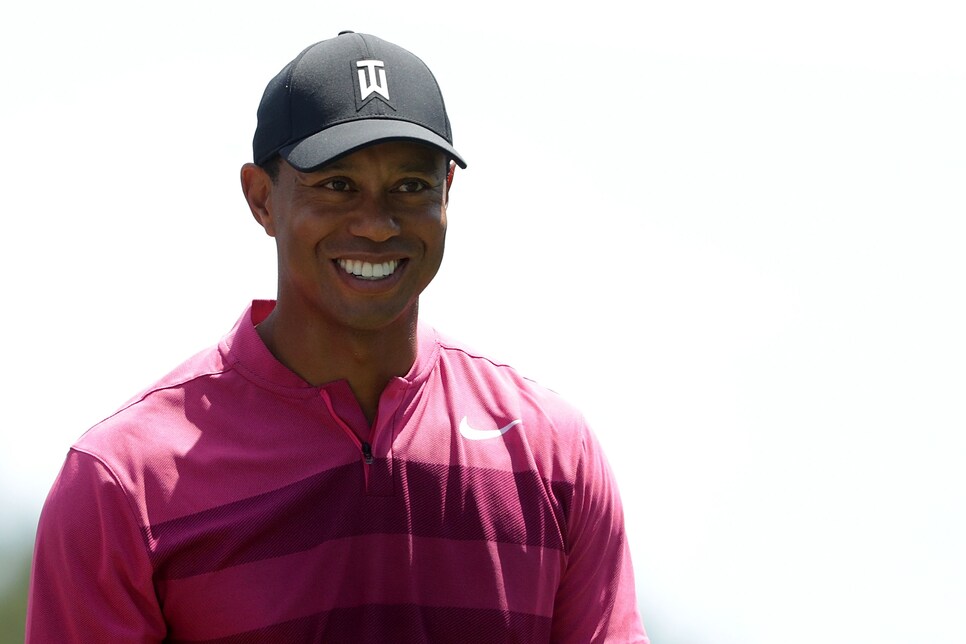 After a quiet, post-Masters stretch of PGA Tour events, this week's Wells Fargo Championship represents a much-needed jolt of electricity as we head into the second half of the season. Much of that is due to the return of Tiger Woods, who is making his first start since the season's first major at Quail Hollow, marking the first time he'll play in the event since 2012, when he missed the cut.
Prior to his 2012 start, and another missed cut in 2010, Woods' record in Charlotte is actually quite strong, including a victory in 2007, a T-3 in 2004 and a solo fourth in 2009. But the golf course is much different since the last time Woods has seen it, and should present quite the challenge for the 14-time major winner. He's also going up against one of the better fields in recent memory at this event, featuring 14 of the top-25 players in the world.
Woods tees off on Thursday at 12:50 p.m. ET alongside Patrick Reed and Brooks Koepka.
6:00 p.m.: Tiger tried to turn his driver right to left at the 18th, but it hung out to the right and found a fairway bunker. No problem though, as Woods hits the shot of the day, sticking one to nine feet. Unfortunately, his birdie effort slid past the hole on the low side, and he settles for another par and an even-par 71. It could have been worse, but it also could have been much better. Typical, grind-it-out round from Woods with plenty of missed opportunities along the way. He's still in a decent spot, sitting just four off the lead. Woods goes off No. 10 tomorrow at 7:40 a.m. ET. Check back at golfdigest.com in the morning to follow his second round.
5:42 p.m.: Woof. Tiger's birdie putt from just off the green comes up woefully short, but he saves par from 17 feet. Huge putt to stay at even with one to play.
5:35 p.m.: Tiger tried to play a draw at the par-3 17th, but it didn't draw enough, and his ball just trickles off the right side of the green. Lengthy putt coming up.
5:30 p.m.: Tiger went after his birdie putt, but it missed on the high side and it rolled by about four or five feet, which proved to be a testy distance as he hammered his par putt and it lipped out. Bogey drops him back to even par with two to play.
5:22 p.m.: Woods' drive actually hung up in the second cut, and he hits a high draw into the green with an 8-iron, leaving him a very makable birdie putt to get to two under.
5:17 p.m.: Tiger cranks a 350-yard drive into the left rough at No. 16, leaving him a 174-yard shot into the green.
5:09 p.m.: Never a doubt ! Woods displays some short-game wizardry and gets up-and-down for birdie to get back to one under.
4:50 p.m.: Tiger's drive finds the fairway at the 15th. Going for the par 5 in two, Woods' approach goes right, finishing in the rough. Will have another tricky up-and-down ahead.
4:40 p.m.: Yuck. After putting his tee shot at the par-4 14th in the front bunker, Woods makes a nice bunker shot to three feet. Unfortunately for Woods, he lips out the birdie try to remain at even par.
4:15 p.m.: Tiger's tee shot on the par-3 13th finds the green, but a long birdie putt remains. Makes a nice two-putt for par, with two birdie opportunities ahead at the 14th and 15th.
4:07 p.m.: Tiger bounces back at the 12th, flagging his approach. He'll have short work left to get back into red figures.
Alas, he doesn't challenge the cup with his birdie try, walking off with a disappointing par. He remains four back.
3:50 p.m.: Tiger finds his fourth bunker off the tee, quite the statement given Quail Hollow's relative wide open confines. He does execute a nice shot from the sand, leaving himself 30 feet or so for birdie. Tiger's unable to convert, but nothing wrong with par after that tee shot.
3:44 p.m.: Par 5s have killed Tiger this year (89th in par 5 scoring). This won't help, as Woods makes 6 at the 10th. That's essentially giving 1.5 shots to the field.
3:25 p.m.: Bit of trouble at the 10th, as Tiger's drive fails to carry a bunker on the left side. Woods is again forced to lay up at a par 5, but hits a terrible third, coming up well short. On the second-easiest hole at Quail Hollow, Woods has work left to leave with par.
3:15 p.m.: Tiger's second shot lands pin high, bouncing a few feet back but remaining on the green. Will have 15-20 feet for his third consecutive birdie.
The attempt just rolls to the right, with Woods cleaning it up for par. Overall, a nice one-under 34 on the tougher side at Quail Hollow.
3:07 p.m.: At the tight dogleg ninth, Tiger safely keeps his tee shot on the right side, and in the fairway. He'll have a somewhat long way in, but is in good position.
2:55 p.m.: And he drops the hammer! Woods finds the hole from way downtown, the ball falling dead center into the cup. That's back-to-back birds for Woods, who is now one under and three back of the leaders.
2:50 p.m.: Tiger finds the fairway at the eighth, but, from 100 yards out, fails to do much with the approach. He'll have 30 feet or so to get into red figures.
2:35 p.m.: Woods' tee shot at the seventh finds the bunker, and after a few minutes of deliberation, elects to lay up. It proves to be the prudent move, as his approach settles eight feet from the pin.
Woods converts the putt, making birdie to get back to even for the round.
2:27 p.m.: At the par-3, Woods' drive comes up short once again, this time in a greenside bunker. After blasting one out to a couple feet he rolls in another par. Good opportunity to get back to even par coming up at the 546-yard par-5 seventh.
2:13 p.m.: After smoking a 312-yard 3-wood down the fifth fairway, Woods hits his best approach yet, putting one to 12 feet. But he couldn't convert, and walks away with another par to stay at one over. This group is in serious need of some energy, combining for zero birdies so far.
1:54 p.m.: Woods' tee shot at the fourth came up woefully short, and his lengthy birdie putt came up seven feet short of the hole. He missed the next, leading to a bogey and dropping him to one over through four.
1:39 p.m.: Despite finally getting to hit one from the short stuff, Woods' approach ended up about 27 feet from the hole, leaving him a long, right-to-left look at birdie. Speed was good, but he missed about three feet on the high side and tapped in for another par. We'll see if he can get a more makeable look at the 167-yard par-3 fourth.
1:26 p.m.: Woods goes driver at No. 3 and hits the fairway for the first time today. He'll have 164 yards left into the green.
1:20 p.m.: Woods motors his birdie putt about three feet past the hole but drains the comebacker for par to stay at even.
1:14 p.m.: After missing the fairway left with an iron off the tee at the 452-yard par-4 second, Woods plays another solid approach shot, knocking it about 23 feet below the hole and leaving himself a good look at birdie. So far, so good.
1:04 p.m.: Woods' birdie effort comes up just a tad short and he cleans it up for his four. Pars are looking good today, with almost 50 players currently over par.
12:56 p.m.: From close to 200 yards out Woods hits a beauty right over the pin, coming to rest inside 15 feet. Big-time shot.
12:52 p.m.: We're off and running and Tiger stripes one down the middle, but it appears he hit it too good as it just trickles into a fairway bunker. Tough break, but good sign with the driver off the first tee.