Instruction
Tiger Woods teaches you his favorite shots in exclusive video series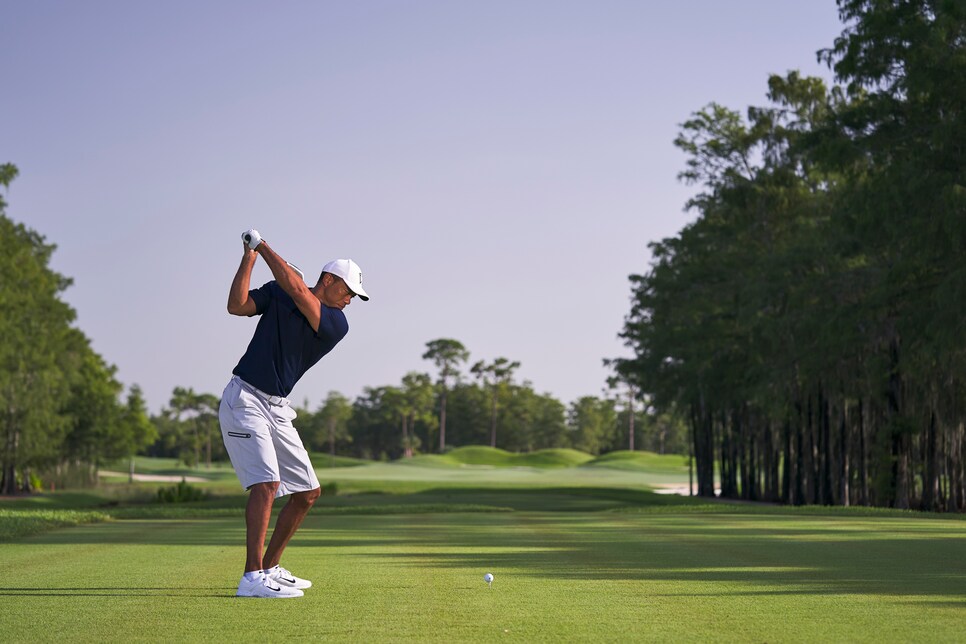 Photo by Jensen Larson / @jensenlarson
If you've watched any golf on TV in the past 20 years, you probably have a picture in your mind of some ridiculous shot that Tiger Woods pulled off. Maybe it's a shot he hits all the time, like his 3-iron stinger off the tee, or a singular feat, like the chip-in on 16 at the 2005 Masters. Tiger has busted the game's highlight reels, but how he hits those shots has remained mostly a mystery. Now, in one video series, he shares his best advice on shotmaking, and it's available to you—for free.
In "My Game: Tiger Woods—Shotmaking Secrets," produced by Golf Digest and GOLFTV, Tiger takes you through his bag from the driver to the wedges. He explains his strategies, evaluates dozens of shots, and demonstrates his amazing skills. Topics include adding distance and control off the tee, shaping shots and changing trajectory, dialing in wedges, taking on crazy recoveries, and more.
Here's a sneak peek of what to expect:
In 10 wide-ranging episodes, these lessons put you inside the mind of golf's greatest shotmaker and give you a roadmap for developing your own game.

Watch Tiger break down, in full detail, the shotmaking process. Hear his self-talk, see the little adjustments he makes over the ball, and learn about his unique feels and swing thoughts. Also included in more than two hours of content are candid interviews, PGA Tour footage of Tiger's most famous shots, super slow-motion swing video and TopTracer flight graphics. In his most expansive program ever, Tiger shares his game like never before, teaching you his favorite shots.
Some excerpts from the series:
Tiger recalls how his father taught him to control trajectory:
"My dad had a very easy way of explaining it. If you want to hit it low, finish with your hands below your shoulders. If you want to hit it normal, stop at your head. If you want to hit it high, finish above your head."
From the episode "Driver Distance," Tiger explains how he sets up for a power draw:

"I'll drop by right foot back a little, more than I used to, to help me get more turn. That also allows me to hit the inside part of the ball and shape it from right to left."
Tiger discusses his keys for getting a wedge shot to stop at a front pin:

"To play a softer wedge, I put the ball up in my stance a bit. And I like to feel like my hands are under-cutting it a little, especially my right hand. I tend to connect all my shots with my right hand."
From "Playing Par 3s," Tiger tells what yardages he wants to know on the tee:

"Joey (Tiger's caddie, Joe LaCava) will always give me the number to the front, and then a carry—if there is a carry—and then the yardage to the hole. Then I'll ask if there's a backstop. Or, if it's on a top shelf, how many I have behind it."
Tiger on hitting an intentional hook to get back in play:

"For a big hook, I need a certain amount of loft. If I have too little loft, like a 3- or 4-iron, I can't shape it because I can't keep the ball in the air. And if I have a wedge, I can't hook it as much, either. So the sweet spot is somewhere between a 9-iron and a 5-iron."
In "Approach Shots," Tiger explains how to make a fairway wood land softly on the green:

"To hit a high shot with my 5-wood, I move the ball about one ball farther forward in my stance, and try to stay behind it a little longer on the downswing. And I really feel my hands swing past my body so I can get some serious speed."
Tiger reveals how he intensifies his focus during competitive rounds:

"Most of my feels are target-related, from the ball forward. I'm normally not good when I'm working on something in my backswing. When I get really target-oriented, that's when I play my best."
If you've been captivated over the years by Tiger's phenomenal shotmaking, now's your chance to see and hear his secrets. Tiger fans and golfers of all levels won't want to miss this program.