The Loop
Tiger Woods survives to play another day
MARANA, Ariz. -- Hey, getting dusted by Phil Mickelson at Pebble Beach is one thing but losing to a guy, Gonzalo Fernandez-Castano, who sounds like he ought to be back-up baritone in the Barber of Seville, is quite another, even if the shave and haircut were about to be delivered by someone who was the European Tour rookie of the year in '05, an ancient time when Tiger Woods was winning a green jacket and a claret jug to boot. So, he didn't.
Woods got down early, got up at the turn, made a couple of visits to the desert on the 10th and 11th to fall back again, then rallied to lead and, finally, preserved a 1 up victory with an astounding bunker shot to nine feet on the 18th, getting up and down from a place over a section of the last green no one -- no one -- gets up and down from.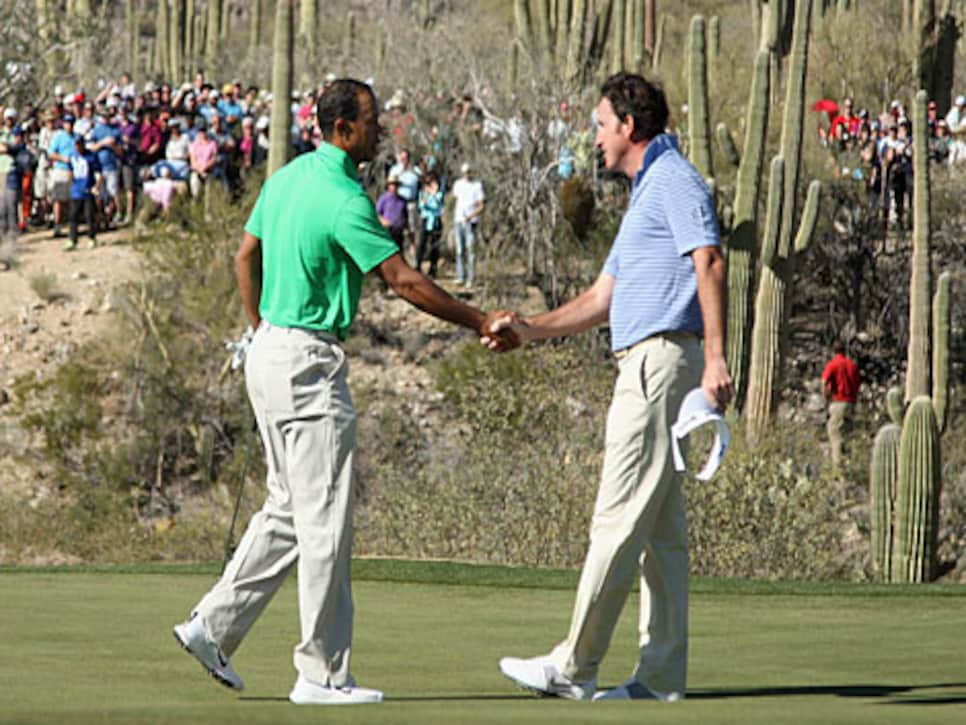 Photo: Andy Lyons/Getty Images
"Neither one of us really had our best stuff today," said Woods, who will take on Nick Watney in Thursday's second round. "There were huge swings in this match. It was just kind of surviving out there."
Fernandez-Castano birdied the first two to go quickly ahead. Woods, proving he was no Corey Pavin, played a left-handed shot out of the cactus on the second but couldn't match the Spaniard's birdie. He got a hole back with a par on the fifth, made a 52-footer for birdie on the seventh and hit his second on the par five eighth 14-feet past the pin to take a 1 up lead.
"I had a putt at nine to go 2 up at the turn and next thing you know I had big par putt at 12 not to go 2 down again," said Woods. "We both weren't really precise with our games. This golf course, if you're a little bit off, it can make you look like a fool."
Both players visited the desert on 10th with Fernandez-Castano winning the hole with a par. Trying to play short of the desert on the par five 11th, Woods hit his 5-wood second 280 yards straight into it and went 1 down again. "It's elevation, then you have wind on top of that. I hit numbers I don't ever hit," said Woods. "It's hard to believe it. It's just hard to trust that I'm going to hit the ball that far."
After a remarkable flop-chip from over the 14th halved that hole at par after the Spaniard missed his birdie putt, Woods drove the par four 15th for a winning birdie, squaring the match. Fernandez-Castano's bogey on the 16th gave Woods the lead coming to the last. The Spaniard had a 10-footer from above the hole for a birdie but it slid past and Woods converted.
"I think if there was one day to beat Tiger Woods, this was it," said Fernandez-Castano. "I didn't take the opportunity. I missed a few shots and, of course, you can't miss shots if you want to beat one of the greatest in history."