The Loop
With time running out, Woods shows no signs of straying from plan
LYTHAM & ST. ANNES, England -- He's won Grand Slam tournaments employing this sort of safety-first strategy before, of course. The Hoylake Open of 2006 springs to mind. En route to his third -- and most recent -- victory in the game's oldest championship, Tiger Woods used his driver only once during a 72-hole master class of superior ball striking. And this week is similar. So far, the longest club in his bag has made only five appearances, as the 14-time major champion has plotted his way around a sadly soft and almost becalmed Royal Lytham.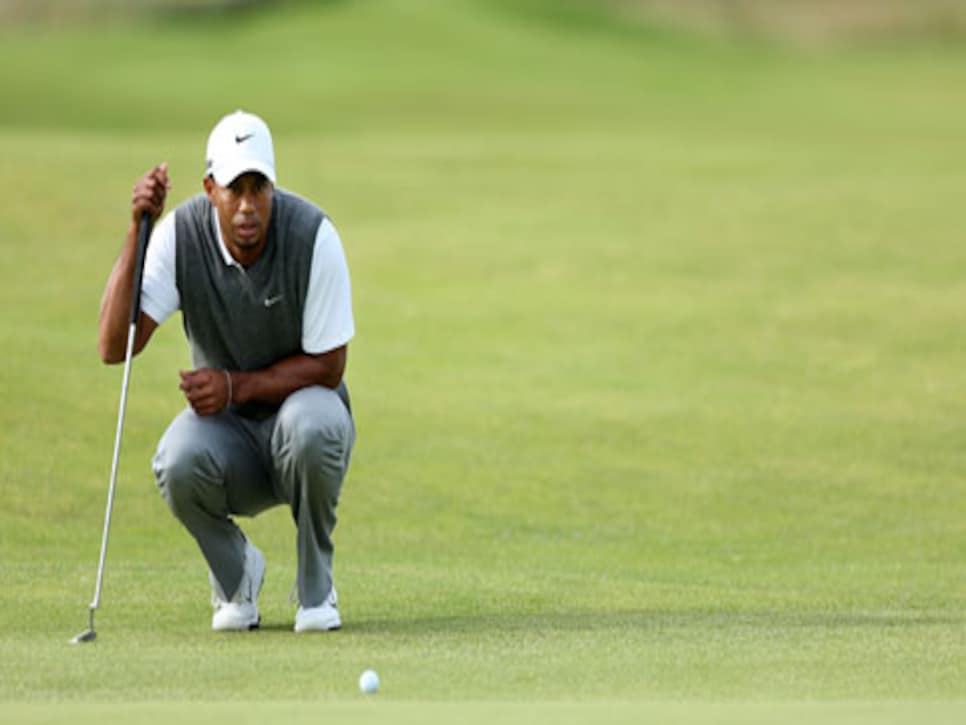 Which is fine. It would be difficult to criticize anyone who has played well enough to shoot six under par for 54-holes around a course of such quality and who has an obvious chance of victory over the final 18. Even if he does have no history of coming from behind to win any of the game's four most important events.
But, quite apart from the five-shot deficit and the two men between him and the leader, two other potential problems are looming over the Woods horizon.
First if Sunday's weather forecast is accurate -- admittedly a big 'if' based on previous predictions this week -- and the prevailing wind does blow with something resembling force, then Woods' notoriously unreliable driver will be forced into action, especially over Lytham's tough finishing holes. At the likes of 14, 15, 17 and 18, reaching the greens in regulation will be possible only after drives that are at least a little bit better than his average. Spraying into the rough will be fatal to that aim, even if he is hitting his approach shots from spots 50-yards ahead of his targets on days one through three.
And second, with those five shots to make up on a leader showing little if any signs of weakness, Woods may be forced into hitherto unfamiliar aggression in a late effort to catch a man who, ironically, employs Tiger's old swing, coach and caddie. Then again, it should not go unnoticed that Adam Scott is the first Australian in four years to lead going into the last round of any major championship. Greg Norman was the last to do so at the 2008 British Open. Before that, the last time it happened was Norman again at Augusta in 1996 -- and we all remember that result.
On the plus side, Woods' ball-striking has been impressive this week, definitely more Bay Hill 2012 than Pebble Beach; more Muirfield Village than Quail Hollow; and more Congressional than Greenbrier. He doesn't yet resemble the totally dominating figure of 2000, but those days, it can be argued, are gone forever. While his play tee-to-green remains sturdy enough, there is no doubt that Woods putted significantly better under coach Butch Harmon than he did under Hank Haney. And that trend has continued. His work on the greens while working with Haney was noticeably superior to now, under Sean Foley.
That's not to say Woods has become a bad putter. Because he has not. But he is no longer a man who makes more than his fair share of mid-range putts. In fact, he makes fewer than what would represent an equitable allocation. No longer does his ball run smoothly and aggressively at the hole with the impetus to take it maybe a foot past its target. Instead, too many putts tend to dribble up short of the cup and either left or right. The old aphorism, "never up, never in" has never been more apposite.
All of which is why Woods does not spread-eagle fields any more. The days of eight, ten and 12-shot wins are over and, almost certainly, gone forever. Those runaways are the product of short game superiority -- particularly putting -- not a long game that is even significantly better than the rest. At the top level of the game, it simply isn't possible to separate oneself through ball-striking alone.
Anyway, as far as Woods himself is concerned, all that matters is that the final round of this 141st Open represents a genuine chance to record a 15th major victory, a number only three less than Jack Nicklaus' record total. Certainly, he wasn't admitting defeat, or that his strategy so far has been in any way flawed.
"I've just got to execute my game plan," he said. "I know the forecast is one thing, but let's see what actually happens. Whether the wind blows or not, I've still got to go out there and post the round that I know I need to post. I don't know the number I will need; that depends on what happens and the conditions. But in either case, I just have to go out and execute my plan."