The Loop
Under pressure, Woods shows he still has work to do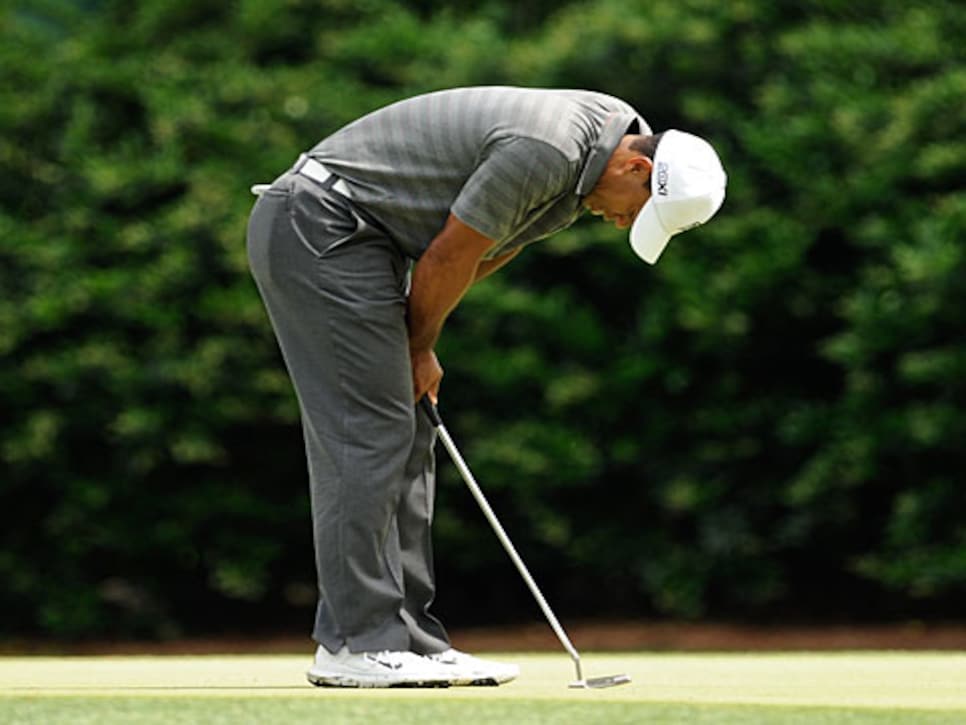 (Photo by Timothy A. Clary / Getty Images)
AUGUSTA, Ga. -- Part of the joy of Augusta National is how sound echoes through the trees here. Tiger Woods has known birdie cheers and the eagle roars. On Thursday, he heard the sounds of silence.
When Woods' drive on No. 1 hooked violently left and nailed a tree, bouncing further left and backward, the gallery groaned and then fell into an eerie silence -- an almost "What the hell was that?" silence 00 puzzled, confused, searching for an explanation. Hey, isn't this the guy who got it back when he won at Bay Hill two weeks ago?
On the par-5 second hole, Tiger was once again wild left and had to take a penalty drop for an unplayable lie and again needed a one-putt par. When he birdied No. 3, he had three consecutive one-putts and was one-under par when he could have been one over -- or worse. And then he seemed to right the ship.
A bogey on No. 7 dropped Woods back to even, but when he made birdies on Nos. 8 and 10 to get to two-under par, a number that was flirting with the lead, it appeared as if he was about to turn a 74 into a 68. At least that's what the old Tiger Woods would have done.
But then Tiger succumbed to a bugaboo that has bothered him since he returned to competition here in 2010 -- difficulty closing out a round. He birdied neither of the reachable par-5 holes on the back nine -- Nos. 13 and 15 -- and then closed bogey-bogey to reconvert that 68 into an even-par 72.
"Today I squeezed a lot out of that round," Woods said, somewhat accurately. "Didn't hit it very good at all. Warmed up bad, too, and it continued on the golf course." For long stretches he played well after the two horrible opening drives, but he never appeared comfortable enough with his game to go into full attack mode.
"I just felt my way around today," Woods said. "I really grinded, stayed very present. And you know, I know how to play this golf course. I think it's just understanding what I need to do."
Certainly, that was an admission that the final-round of the Arnold Palmer Invitational, were he ended his 30-month victory drought in PGA Tour events, was not a true test of the ability of his new Sean Foley swing to hold up under pressure. No one really applied pressure to Woods in that final round at Bay Hill, and it is under pressure that swings flaws are revealed. It is a time when there is a tendency to fall back on old habits.
"Same old motor pattern," Woods said. "Now I'm struggling with it all the way around with all the clubs. I need to go do some work." Asked it he had fallen back into his Hank Haney swing, a reference to the former instructor whose book about working with Woods, "The Big Miss" was released last week, Tiger said: "Yeah, the Hank backswing was the new downswing."
Like many of the rounds Woods has played over the last two and a half years, the score could have been better and it could have been worse. Like many of those rounds, this one was characterized by late mistakes.
In last year's Masters, Woods turned in 31 on Sunday to tie for the lead and then missed crucial -- and highly makeable -- putts on Nos. 12, 13 and 15 as he finished T-4. Since then he had chances to win in Australia, Abu Dhabi and Pebble Beach and failed to close before finally winning at Bay Hill.
"I made some bad swings," Woods said about his opening round. " That's fine. My commitment to each and every shot, what I was doing, my alignment, my setup, everything was something that I'm excited about and I can take some positives going into tomorrow about that."
With no one going particularly low in the first round, Woods is still very much in contention. Opening with an even-par round was part of the pattern of The Old Tiger: Open slow, post a low number on Saturday to take control and play Sunday with the lead as the greatest front-runner in the history of the game.
What we saw Thursday at Augusta National were just enough flaws in Woods' game to temper the cries of "He's back" screamed by many after the Arnold Palmer Invitational. In fact, it may be getting to a time when we will have to re-evaluate what we mean by saying Tiger is back.
The Woods of 2000 -- three majors, two in overwhelming fashion -- may never be seen again. That was maybe the best season in the history of golf. But a Tiger Light would still be better than almost everyone else playing the game right now.
One of Tiger's favorite words -- one of Foley's favorite words -- is "process." The question right now is exactly where Woods is in the process and when the re-emerging version of Tiger will start to slam the door at the end of rounds the way he used to. That guy is still missing.