Tiger Woods shows flashes of his old self, before reality kicks in
AUGUSTA, Ga. -- Tiger Woods, remember him? We saw him Sunday, first time in a while. Saw him in the 15th fairway with the Masters to be won. From 207 yards, that pond in front, he put up a 6-iron. Called it "a little softee." The moment he hit it, he knew. The moment he saw it in the sky, he knew for sure. Gave the stick that twirl, started walking after the shot, that swagger back, walking toward a moment that would help him remember the player he had been.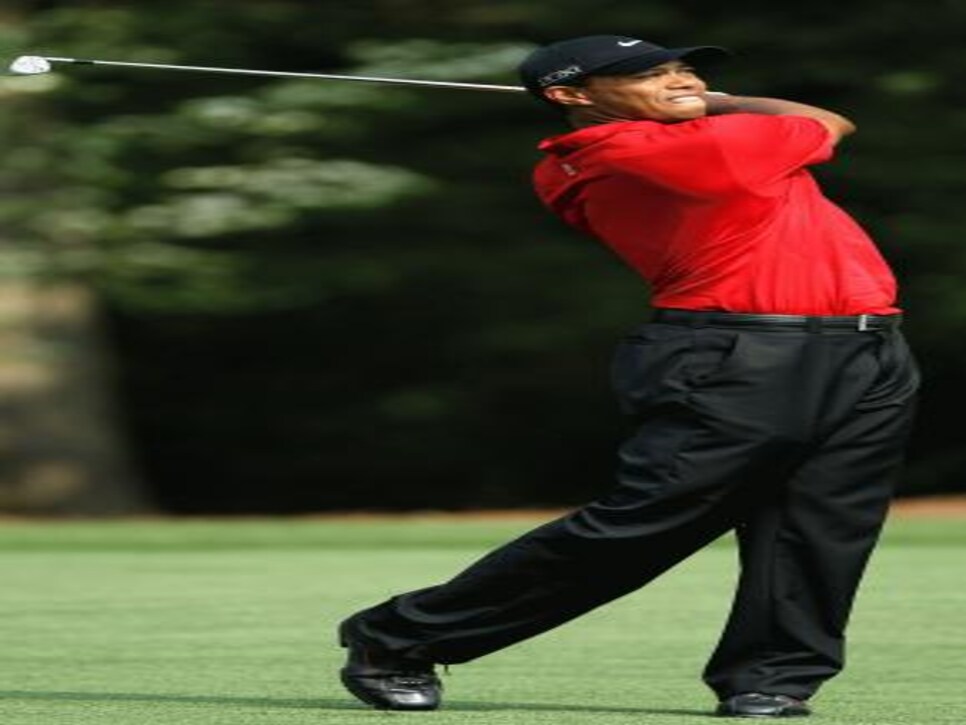 The softee came to earth, what, four feet from the cup? It would be an easy eagle. It would be his second eagle of the day. He'd set the place on fire already. Starting seven shots behind the leader, Rory McIlroy, Woods birdied the second hole, the third, the sixth, and the seventh before slashing a 3-wood up the hill to the par-5 eighth and knocking in a short one there for an eagle. Count 'em up: four birdies and an eagle in seven holes -- the kind of work Tiger Woods used to do.
He hadn't won a major since the U.S. Open of 2008, that one on a broken leg. He hadn't won anywhere since shortly before his marriage imploded in scandal. After a second-round 66 here that suggested possibilities, he dumped in a 74. It had become a dreary habit, the mediocre round following a good one, and it spoke of an inconsistency that was new to him. The more audacious of observers had begun to discount him as just another guy who might win, one of the 25 or so that might jump up each week. Oh, he was still counted better than most -- better than the Charl Schwartzels and Adam Scotts  -- but Woods had seemed ordinary long enough that we figured he was, in fact, ordinary.
Then came an extraordinary Sunday.
"Every hole it seemed like, he would have a big, massive roar, one after another," said Jason Day, the Australian prodigy, 23 years old, playing three groups ahead. "And then he eagled eight, which was amazing. I think he was five-under through nine holes. Is that correct?"
"Oh, man. That guy's a freak."
An eagle at the 15th would have made the freak the tournament leader and put him in position to win a major from behind for the first time. With that name on the board, who knows what happens to the Schwartzels and Scotts and Jason Days? Woods' game plan had been patience. Make something happen on the front side, go to the last, nervous-making nine holes with a chance to win. The five-under-par 31 on the front was built on solid ball-striking -- "I hit it good all day" -- and gave him, from the middle of the 15th fairway, a chance to serve notice on his return.
The 6-iron did that. My, my, he had the look again. It was his world again.
Except he did what he almost never did in that old world.
And he bent double in dismay.
Even missing the putt, though, was not a killing mistake. There were three holes to play and no one ever closed better than Tiger Woods with victory there for the taking. But this time he could do nothing more. He settled for par, par, par --  and a 67 the hard way, 31-36--67 -- and then had to hope the others came back to him.
Poor McIlroy did just that. But the Charl Schwartzels and Adam Scotts and Jason Days did the Old Tiger thing, birdies everywhere, 11 birdies among them on the last nine holes. Tiger had just the one at 15. Schwartzel finished with four in a row to win the tournament that Woods has won four times, last in 2005.