News
Tiger Woods shoots 70 in the Farmers Insurance Open, while describing his round as gross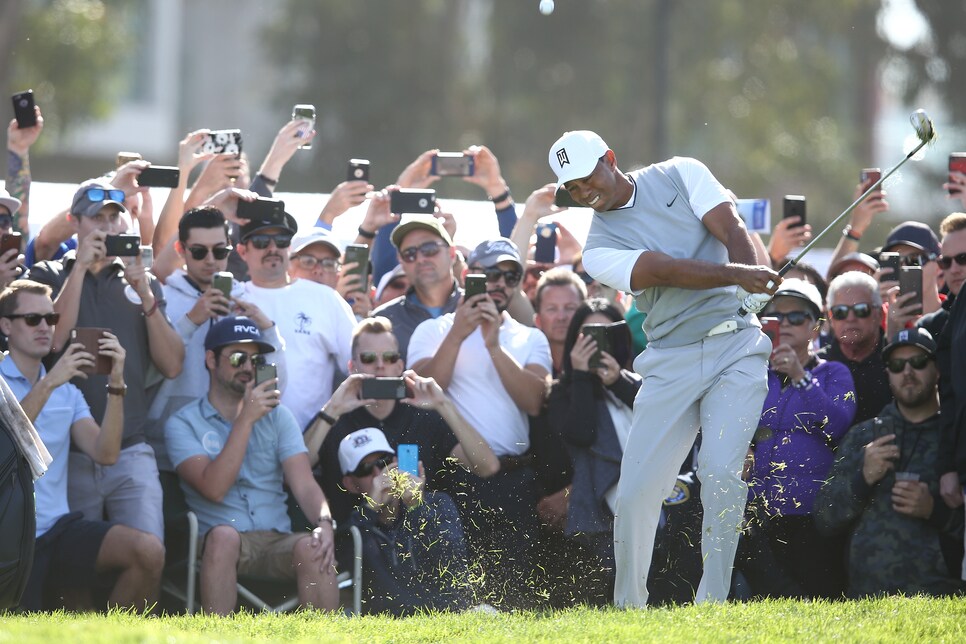 LA JOLLA, Calif. — Tiger Woods' search for a semblance of the form that delivered 79 PGA Tour victories has gone reasonably well, but not exceedingly well. Tough to hit a moving target.
The fairways at Torrey Pines remain elusive for Woods, who nonetheless pieced together a respectable round of two-under par 70 on the South Course in the third round of the Farmers Insurance Open on Saturday.
He moved from a tie for 63rd to a tie for 39th in his first PGA Tour event in a year and only his second in 2 1/2 years.
His short game and putting have saved him from his transgressions off the tee, which at times have been egregious. He opened his round on Friday hitting a driver 65 yards left of the fairway. He was only marginally better with his opening tee shot on Saturday, the 10th hole of the South Course, where he hit it left of the fairway bunkers and left of the cartpath.
"Gross," he said, describing his round.
Woods hit only three of 14 fairways on Saturday, the same number he hit the day before on the North Course. In three rounds, he's hit only 14 of 42, 33 percent, among the worst in the field. Yet he's 10th in strokes gained around the green and 24th in strokes gained putting.
"I tried as hard as I possibly could out there," Woods said. "I didn't have much, but I fought and put up a score and made some putts. It was a struggle out there trying to find anything that was a resemblance of a golf swing.
"But I was scoring. I was chipping and putting. I was grinding. I was trying to miss the ball on the correct sides because I knew I didn't have it, trying to give myself the correct angles, and I did that most of the day. Then I had to rely on my touch, my feel, my putting, and it's been good all week."
Playing from the thick rough took its toll on his approach shots; he hit only nine of 18 greens in regulation. Yet he made only two bogeys, while producing four birdies and has improved his score each day — 72 on Thursday, 71 on Friday and 70 on Saturday.
"I'll see if I can shoot something in the 60s [on Sunday], but make it a little easier on myself," he said. "It's just my swing. My feels are different. I'm struggling with my feels, hitting certain shots. Some of my go-to shots aren't there. The only thing I have is my short game and my heart and that got me through today."
You are using an unsupported version of Internet Explorer. Please upgrade to Internet Explorer 11 or use a different web browser.