News
Tiger Woods says he'll set his 2018 schedule to 'build' toward majors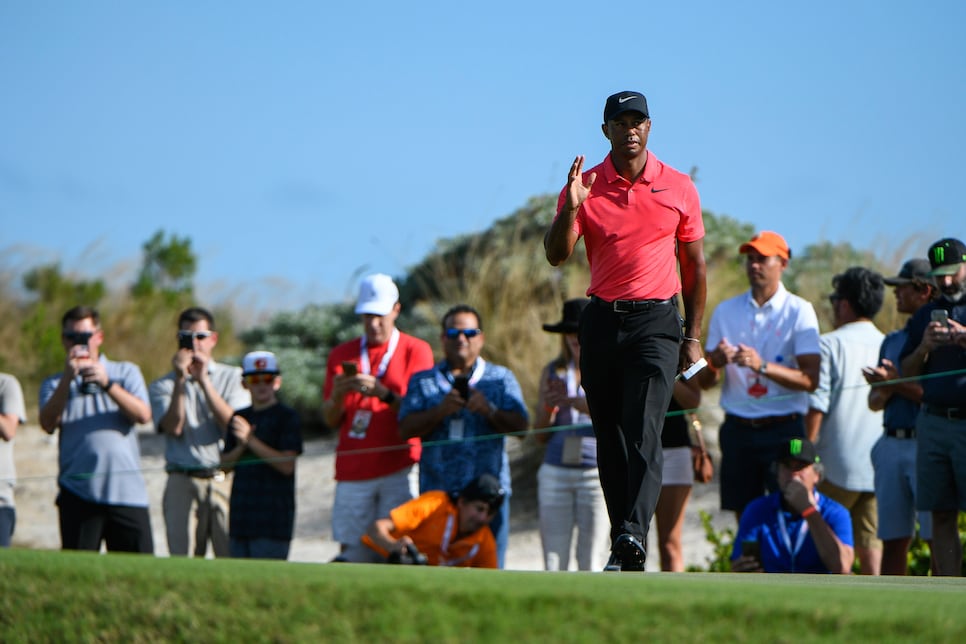 After a successful return to competitive golf with a T-9 finish at the Hero World Challenge, one big question lingers for Tiger Woods:
Not surprisingly, Woods was vague when asked about his schedule for 2018 after shooting a four-under 68 on Sunday; even in the best of health he wasn't one to layout his long-term playing plans. However, Woods did offer a distinct clue about his mind-set for the coming year as he talked after his closing round at Albany Resort in the Bahamas.
"I think we're going to sit down here and we're going to figure out what's the best way for me to build my schedule for the major championships," Woods said. "What my training cycles are going to be? Play enough, but don't play too much."
A year ago, Woods finished 15th at the Hero World Challenge in his competitive return after a previous long layoff because of back surgery, only to announce shortly after that he was going to play an ambitious four tournaments in five weeks that involved trans-continental travel. Woods didn't get through the second straight week before having to withdraw from the Dubai Desert Classic and soon thereafter had a fourth back surgery.
Suffice it to say, it would seem unlikely if Woods were to put together a similarly ambitious schedule for early 2018 even if his back seems to have held up better than a year ago.
Specifically mentioning majors suggests that Woods might set up a schedule where he plays in fits and spurts, competing in tournaments in the run-up to the Masters, U.S. Open, Open Championship and PGA. Because of the issues with his back, Woods has missed 10 of the last 16 majors, including three of the last four starts at Augusta National and the U.S. Open.
Tennis star Roger Federer, a friend of Woods who also has struggled with injuries later in his career, played a limited 2017 schedule that had him sit out the French Open (and entire clay-court season) to limit the wear and tear on his body. The strategy proved prescient as Federer won the Australian Open in January and then claimed his record eighth singles title at Wimbledon in July.
Woods isn't likely to purposely skip a major, but some events that he has played in regularly when healthy on the PGA Tour might not be certain starts in the future. The most likely place to start his 2018 season? It's hard not to see him teeing it up at Torrey Pines at the Farmers Insurance Open in late January.