News
Tiger Woods says Augusta National "wasn't that hard" prior to changes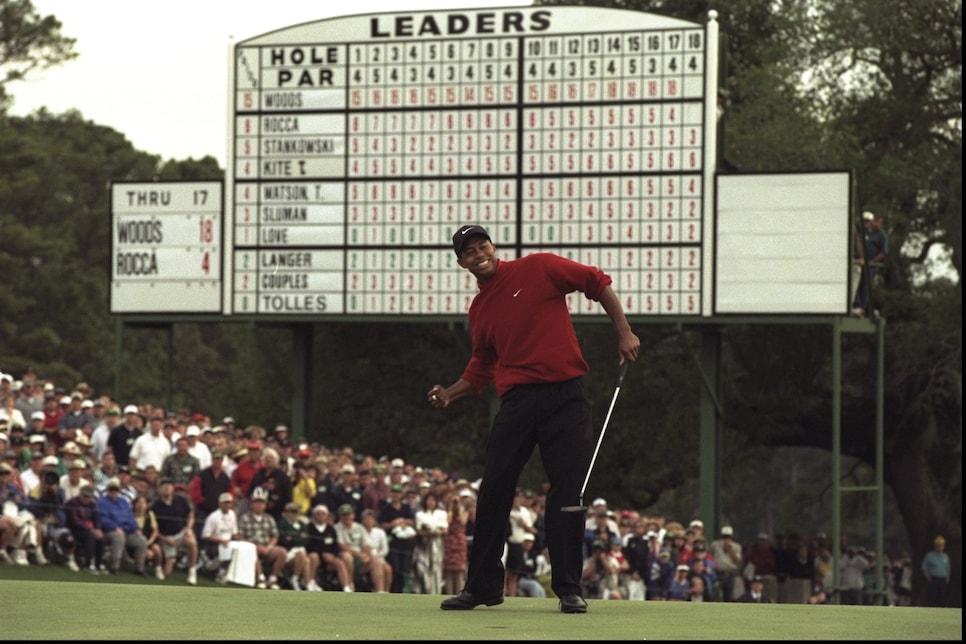 Most golfers consider it sacrilegious to make anything resembling a slight toward Augusta National. In that same breath, while the following from Tiger Woods may convey blasphemy, at its heart is the truth.
Woods, owner of four green jackets, has often made references that the layout for the Masters "wasn't that hard." Easy to say from a player who won the Masters by 12 shots as a 21-year-old. But also an observation shared by Augusta National Golf Club, as the property has undergone an extensive makeover since 2002. A makeover that's included lengthening holes, moving tee boxes, adding tress, growing the rough a cut higher and narrowing fairways.
A renovation known by another name: "Tiger-proofing."
You can understand why. During a 2016 tour for Masters.com, Woods went through some of the old club selections went traversing Augusta National.
On. No. 1: "In my earlier years, the right fairway bunker never came into play for me. In fact, I remember hitting driver and 8-iron, 9-iron or wedge to the green in 1995."
On No. 5: "When I first started playing here, I would hit driver over the bunkers on the left side of the fairway and almost reach the crosswalk. I'd be left with a sand wedge to the green almost every day. Now you really can't do that, and it has changed how I approach this hole."
On No. 9: There was a time when the Club used to mow the grass along the inside of the dogleg downgrain and the outside of the dogleg against the grain, so it would bait a lot of us to hug the corner in an effort to get more distance. Now, everything is mowed from green to tee."
On No. 15: "I didn't have such worries (about accuracy or laying up) in the first round of the 1997 Masters. I hit a driver and a pitching wedge, then made an eagle on my way to a second-nine 30 that helped propel me to my first Green Jacket."
However, Woods still maintains Augusta is one of the easiest courses he faces in the year.
"Most of the golf courses I've played have been really difficult setups, whether it's Torrey, LA., Honda, no one went low," Woods said last May. "Valspar, no one went low Bay Hill was open and the guys just went low on Sunday only, but for the first three days they were almost kind of just jockeying. Augusta was more wide open than pretty much any event I've played in so far this year."
The course will feature another change in 2019, as the already-formidable fifth hole has lengthened by 50 yards. There will likely be a future alteration to the iconic 13th hole as well, following the club's purchase of land from neighboring Augusta Country Club.
Woods, who begins February as one of the 2019 Masters favorites, has not won at Augusta National since 2005.