The Loop
Woods' Saturday only reaffirms his vulnerability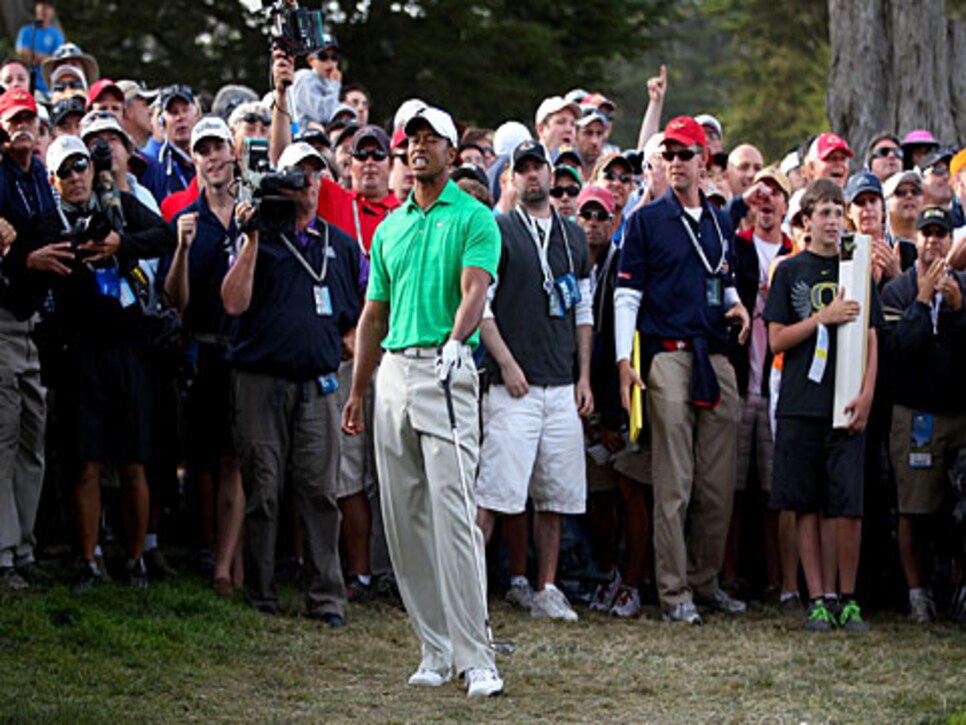 Tiger Woods watches a shot from the rough on the 16th hole during the third round at Olympic. Photo by: Jeff Gross/Getty Images
SAN FRANCISCO -- Tiger Woods squinted into the setting sun. He wanted to follow the flight of his pitching wedge shot from the 18th fairway.
It was a question he'd been asking all day long. More often than is good for an immortal, he discovered he'd hit shots in places he didn't intend to visit.
Woods's caddie, Joe LaCava, indicated the ball had gone right.
The ball sat atop gnarly grass just past the green's right fringe, 20 feet from the hole.
"Brutal lie," Woods said later. "Nasty."
On a day filled with questions, Tiger Woods came with no answers. From what was neither a brutal nor nasty lie -- the ball sat up -- Woods hit a chip that flew six inches short of the green. There it bounced in long grass. Unhappily for Woods, it caromed sideways, still 15 feet from the hole, the kind of mess every hacker makes twice a day. Two putts for Woods, another dispiriting bogey -- his sixth of the round after having made only five in the first 36 holes.
On a day when he might have shown us the Old Tiger, he was the Same Old Tiger. He shot 75 and from atop the leader board, he fell to a tie for 14th. He'll go into Sunday's final round five shots behind leaders Jim Furyk and Graeme McDowell.
It was 2:45 p.m. Saturday when Woods came to the putting green. As on many days since he collided with karma and that hydrant, he was the object of the golf world's attention. But this day was different -- different because in the Open's first two rounds, he had reminded us of how good he once was. It was different, too, because, for the first time in three years, he came to work having slept on the lead in a major championship.
Hard to imagine, how omnipresent he was -- winner of 14 majors -- and now how long he has been away. He won the U.S. Open in 2008, limping on a bad knee and a splintered leg. He lost the 2009 PGA Championship in the last round, to Y.E. Yang. That was the first time he had lost a major when leading after 54 holes. In the nine majors since -- he missed two of them with injuries -- he has finished no higher than fourth (three times) and has been in contention on a Sunday only once, and then just briefly, last year at Augusta.
Of all the questions hanging with Woods, there has never been one asking if he could play brilliantly. We have seen those lightning flashes. We saw one in that 2010 Masters when, suddenly, there he was, with four holes to play, facing putts to make the tournament his. There was a time, when it mattered most, Woods rolled them all in; that Sunday in Augusta, they all stayed out. And not until this week's U.S. Open on the merciless Olympic Club course did we see even a glimmer of the Tiger who for so long dominated the majors. As he built a tie for the lead at 36 holes here, Woods had shown such control and resolve that, yes, it could be argued, he was about to make the world his again.
A bridge walkway brings players from the putting green to Olympics' first tee. It is perhaps 15 feet above the thousands of golf fans gazing up at the heroes. At 2:58 on this afternoon, Jim Furyk crossed the bridge. Hearing cheers and applause, the veteran smiled broadly and waved to the people, happy to be there. Then came Woods, who heard much louder applause and raucous calls of "Go get 'em, Tiger!" He cared only enough to touch the bill of his cap, once. Why so grim? Better than anyone, maybe, he knew there was a harsher question to be answered. Could he keep the flickering flame of brilliance alive?
As precise as he had been with every club in the bag for two days, he was imprecise on this day. He missed the first green, 50 yards short from the left rough. He left his tee shot short on the par-3 third. He left a wedge short on the short par-4 sixth. All bogeys. At the eighth, he three-putted from 35 feet, not even touching the hole with his second from three feet. At the 17th, a short par-5 where birdies must be made, he dumped a 200-yard shot into a bunker 30 yards short and right of the green. An ugly par.
Then came the 18th, uglier yet.
"I struggled on the greens," Woods told reporters. He never could adjust to speeds slower than expected, he said. "It was a tough deal to adjust to." Well. On a day when Woods' iron play was ragged, one is reminded of Ben Hogan's wife, Valerie. The story is, she had grown weary of the great man's complaints about his putting. She suggested, "Hit it closer."
As for Sunday's final round, Woods did his best to portray the kind of confidence that once came naturally. "I'm definitely still in the ball game," he said. "I'm only five back, and that's certainly doable on this golf course." He also said, "It's just patience. It's just a few birdies here and there. It's not like where you have to go out there and shoot 62 and 63. This is a U.S. Open. You just have to hang around."
Never, not once, did Tiger Woods hang around and win a major. Every time, 14 times, he has been on the lead going to Sunday. Common folks hang around, all those guys who might maybe perhaps win if everything falls right.
And there is the answer to all the questions.
This Tiger Woods is just another guy who can win.