News
Tiger Woods Saturday live blog: Woods fires three-under 69 on Day 3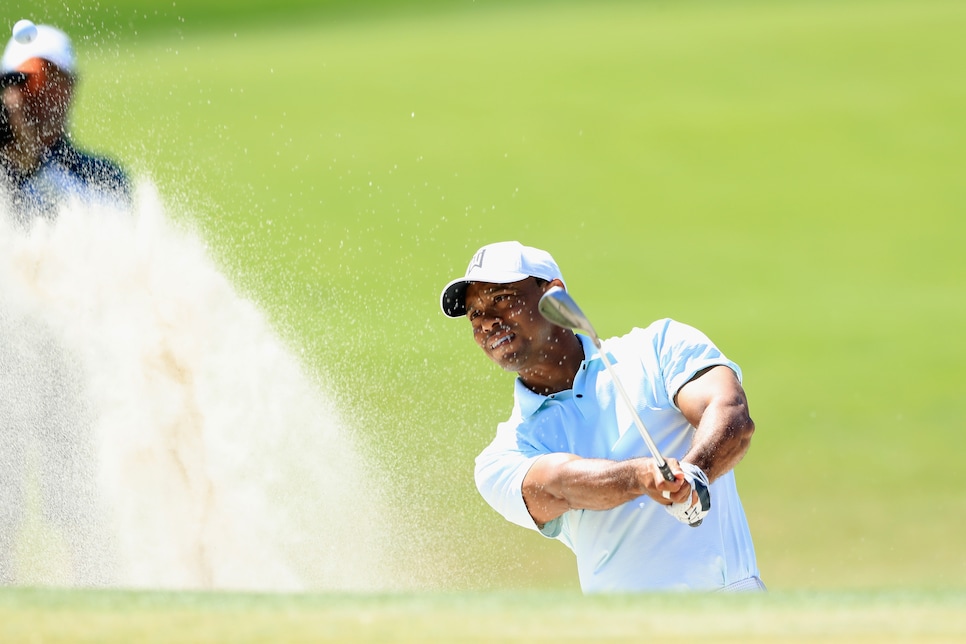 On the surface, Friday appeared to be a bit of a setback for Tiger Woods. Needing a strong push out of the gate to keep up with Henrik Stenson and Bryson DeChambeau, the 14-time major winner instead stumbled on the front nine, making the turn in two over and (seemingly) out of shouting distance of the leaders. Woods bounced back on the second side, racking up two birdies and seven pars for an even-par round, but it was still a number that left him on the fringes of contention heading into Saturday.
However, despite the mixed performance, there was a lot to like about Tiger's Friday showing. His scrambling and ability to grind has been astonishingly good, miles away from the short-game woes we saw from a few years back. Though his iron play was just about average, when he finds the fairway off the tee, Woods has been able to take advantage of the opportunities. If he can keep his driving issues at bay, there's a chance Woods can make some noise in Round 3 and put himself in position to make a Sunday charge.
Starting Saturday at T-17, Tiger tees off at 12:15 p.m. at Bay Hill. Golf Digest will be here throughout the afternoon charting Tiger's progress at the Arnold Palmer Invitational.
4:40 PM: Wrap-up. Woods hit 13 greens in Round 3, best of the three days, albeit few shots finished close to the pins. Though the driving and iron game left some to be desired, Big Cat was lights-out with the flat stick, posting a strong 2.475 sg: putting mark for the afternoon. Though he's just four back of the leaders at the moment, scoring conditions are getting more favorable as the day progresses, meaning Woods will likely be six or so shots back when he tees off tomorrow. Still, with the final round at Bay Hill likely his last competitive foray before the Masters, Tiger has a chance to produce plenty of roars on Sunday.
4:30 PM: Following a 320-yard drive, Woods has a wedge into the final hole, putting it to 10 feet. Has that to break 70.
And he does, finishing it up with a reserved fist pump. That's a three-under 69 for Woods, good enough for T-9 at the moment.
4:25 PM: Tiger goes with 3-wood on 18 and sends it soaring into the stratosphere.
4:20 PM: Blasts the bunker shot about 15 feet past the hole, and is unable to drop it for par. Back down to two under, six under for the tournament. Five back of Stenson and DeChambeau.
4:12 PM: Tiger comes up short on the par-3 17th, and it's not pretty. Ball appears to be a fried egg. Will have green to work with.
4:08 PM: Bit of a bummer, as he misses badly to the right. Has four feet left after that 14-foot putt.
Does end up converting it, however, to go to three under for the day, eight under for the event.
4:02 PM: Goodness. From a bad lie in the bunker, Woods puts his second shot to 15 feet. An absolute stunner. An eagle will go a ways in making Sunday interesting.
3:56 PM: Pulls out the driver on the par-5 16, the easiest hole of the course...and it finds the bunker. Likely takes going for it out of the equation.
3:52 PM: Rolls his 30 footer by, makes par. Still has a par 5 left, but running out of chances to make a dent into the deficit.
3:46 PM: He's hitting his share of greens, but Tiger's been unable to get his second shots close (-0.094 sg: approach). Another long birdie awaits at the 15th.
3:40 PM: Takes a wood on the 446-yard par 4—one of the hardest holes on the course—and splits the fairway. Needs at least two birdies to give himself a shot to do something special tomorrow.
3:36 PM: Okay effort regarding the pitch, although it slides six-eight feet by. Not going to be an easy comebacker for par.
But convert it he does, keeping pace at two under for the day.
3:30 PM: Wrong iron for Tiger, as his approach on the par-3 13th comes up short, falling to a collection area to the right of the green. Lot of room to work, but not a great miss coming towards a big green.
3:23 PM: Nice, clean effort from Woods, leaving himself about 15 feet or so for birdie from 130 yards out. Unfortunately, he can't convert.
More than two-thirds in, seems safe to say Tiger doesn't have quite the energy the past two days as he did on Thursday and last week. Certainly not playing bad; after all, he's T-13. In that same breath, things are just a degree off the past two days.
3:15 PM: Tiger goes iron again off the tee and finds the fairway. The 13th is pretty straightforward, only measuring 370 yards.
3:10 PM: Perhaps we cursed him. Appears to hit sand shot heavy, as Tiger's third comes up well short out of the bunker. Leaves 25 feet for bird. One that he doesn't make. That's a par, but given one back to the field on this hole.
3:05 PM: Tiger gives it a good knock, but not enough, as ball finds it way into greenside bunker. Shouldn't be too terribly difficult to get up-n-down, however.
2:55 PM: After a big backup on the 12the tee, Woods pulls out driver on the par 5. Bit of a fade that lands in the rough, but kicks out to the first cut. Should be able to give it a go from there.
2:44 PM: Best shot of the day from Woods at the 11th. From 187 yards out (wind with him), Tiger throws an 8-iron to seven feet, pin high. If he harbors any hope of a 68 or lower, needs to start converting these putts.
And he does, making his fourth birdie of the day to get back to six under for the tournament, currently good enough for T-10.
2:39 PM: Another iron off the tee for Tiger, scares the right-side bunkers but stays in the fairway. Needs some birdies on holes other than par 5s if he wants to get this in gear.
2:34 PM: An okay approach leaves Tiger with 25 feet or so. Birdie putt races by to the left, but Woods makes quick work of it. Down to T-15 as the late groups have reached the course and handled Bay Hill's front without much incident.
2:30 PM: Tiger goes with another iron and stripes it. Dude has been money with the club of the tee all day.
2:20 PM: The birdie slips by to the right. That's a one-under 35 for Tiger, not bad given his irons were far from solid. Still seven back of the leaders, as Stenson and DeChambeau have recorded birdies in their starts.
2:15 PM: After the best drive of the day with the big stick, Tiger puts his approach to 12 feet or so. A bit behind the hole and not as easy as it looks.
2:05 PM: Excuse our previous update; Tiger WAS in trouble, having to punch out to about 100 yards. From there, he wedges it to about 10 feet, giving himself a chance for another spectacular scramble par.
Alas, Woods is unable to convert the putt, falling back to five under.
1:55 PM: Tiger takes out 3-wood but still can't find the fairway, his tee shot sailing to the right. Doesn't appear to be in that much trouble, but going to be tough sledding from the rough.
1:49 PM: Woods putt just rolls short and to the right. Heads to the tricky eighth at six under.
1:44 PM: On the par-3 seventh, Tiger puts his tee shot safely pin high, about 17-20 feet from the hole. Viable chance for his fourth birdie in five holes, which I believe constitutes "NBA JAM" on-fire status.
1:41 PM: The man is heating up, knocking down the 15-footer with authority. That moves Tiger to two under for the day and six for the tournament. Now just five back and up to T-7.
1:37 PM: After a lay-up, Woods puts his third to about 15 feet with a wedge. Overall a nice effort, and chance for his third birdie in four holes.
1:30 PM: On the par-5 sixth, Woods sends his drive wayyyy to the right, past the bunkers and into rough. It's a par 5 where few have been able to reach in two this week, so going extra conservative is not the worst of things. Still, keeping his driver issues, not the sight you want to see.
1:23 PM: Two ways you can look at the following. If Tiger's driving game becomes adequate, he's going to be lights-out, because his work around the green continues to be phenomenal. Or, if his short game leaves, he's screwed, because he's not doing much of else. Either way, Woods makes another spectacular shot around the dance floor, sending his ball from the bunker just past the hole. Converts the tap-in to stay one under for the day.
1:15 PM: Not a great shot from Tiger, as he flares his approach from 170 yards out deep and left of the green, finding a bunker. Save for the first hole, irons have not looked sharp.
1:12 PM: Another iron off the tee for Woods, and though it's not particularly long, it does find the short stuff. The fifth is just one of five holes this week where the field is under par, good chance to keep things rolling.
1:08 PM: Bold shot from Tiger, as he bumps his third into the hill and it pops up towards the green. It also works, finishing just five feet past the hole. Sound like a broken record, but his consistency and savoir faire in the short game have been remarkable in the early stages of his comeback.
Tiger makes short work of the putt, giving him his second bird of the day to get to five under.
1:01 PM: Woods doesn't make the most of his opportunity, flailing his approach short and right of the green. Finishes in the collection area, but will need some touch to get that up-n-down for bird.
12:54 PM: Tiger breaks out the SmokeWagon on the par-5 fourth and pures it, getting a nice kick back towards the middle of the fairway. Should be in the Go Zone to get home in two.
12:50 PM: Woods' birdie attempt is about from 40 feet out, going fast towards the water, and....BOOM BABY. Big shot from Tiger to get back on track, particularly on one of the harder holes on the course. Even for the day, four under for the tournament.
12:46 PM: Tiger's approach on the third is...conservative, well right of a pin that's tucked to the left of the green (bringing water into play). Not a bad shot, but one he won't be happy with.
12:42 PM: Taking iron again, Woods finds the fairway at No. 3, a hole that can wreak havoc off the tee. At this point, Woods is likely out of the running, but if he can find some semblance of equilibrium off the tee, the weekend will be a victory.
12:38 PM: After a "meh" bunker shot, Woods' par save rolls just right of the hole. That's a bogey for Woods, not the start he needed to get into contention today.
12:31 PM: Tiger almost pulls off a magnificent shot on the par-3 second. "Almost" being the operative word, as his tee shot fails to get over a mound and rolls back into a bunker.
12:24 PM: Woods gets a aggressive with the putt—likely not helped by watching playing partner Justin Rose sink a 25-foot bomb—as his attempt rolls four feet by. He cleans it up for par, and we're off.
12:21 PM: Nice little approach from 180 yards out, tucked nicely into 15 feet.
12:15 PM: Tiger breaks out the stinger for his first shot of the day, and absolutely pummels it down the pipe. Big difference from yesterday, when a nasty dusk hook led to an opening bogey. Woods came into the day with a -2.059 strokes gained: off-the-tee mark through two days at Bay Hill. Shots like that will help right the ship.
12:01 PM: Numbers can be had today. John Huh has already turned in a six-under 66, while Austin Cook is five under through 15 holes. Wind isn't expected to do much today, giving Woods, and the field, a chance to coat the leader board in red.