News
Tiger Woods Saturday live blog: Tiger makes the turn in three under at the Valspar Championship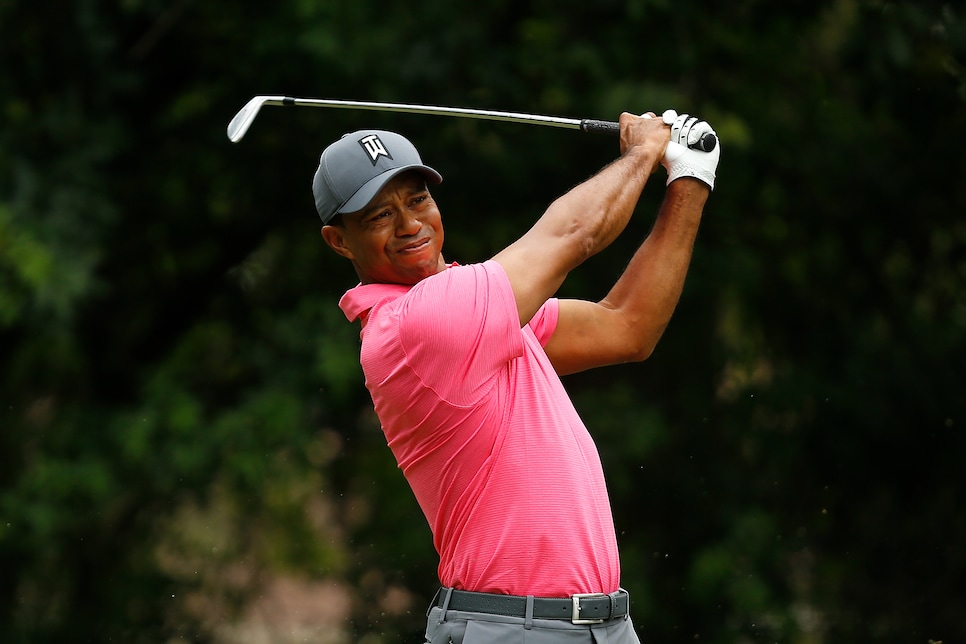 Less than a month after Tiger Woods missed the cut at Riviera, causing everyone to re-arrange expectations for his latest comeback, Woods is now tied for second heading into the final two rounds of the Valspar Championship. The 42-year-old turned back the clock on Friday at the Copperhead Course at Innisbrook, carding a three-under 68 that saw him briefly hold the solo lead for the first time since 2013. He's at four under for the tournament, two back of Canada's Corey Conners.
As exciting as his first two rounds have been, Woods knows there is work to be done as he enters the weekend in contention for the first time since the 2015 Wyndham Championship, where he sat two back through three rounds, ultimately finishing in a tie for 10th. We'll see if Woods can get himself into a similar position on Saturday, or perhaps make a vintage move that vaults him into the solo lead. Follow along here for live updates of Woods' third round beginning at 1:45 p.m. EST when he tees off alongside Brandt Snedeker.
5:49 PM: Conners makes his par, meaning Tiger Woods is one back heading into the final round of a PGA Tour event. Should be an exciting Sunday at the Valspar Championship.
5:44 PM: Woods two-putts for par and finishes up with a four-under 67, the lowest score of his comeback so far. He's at eight under 205 through 54 holes, currently one back of Conners, who just found the green with his second at the 18th. Doesn't look like Woods will play in the final group, but the penultimate one isn't a bad spot either.
5:34 PM: Woods finds the green from 170 yards out, and he'll probably need to drop a lengthy birdie putt to get in the final group on Sunday.
5:30 PM: Two-putt par for Woods, while Conners drops a shot at the 16th. Tiger is now one back at the 18th, where he just split the fairway with a 2-iron.
5:24 PM: Woods takes a rip with a 7-iron at the 215-yard par-3 17th and puts it about 20 feet left of the hole, pin high. Back at the 16th, Conners faces a tough up-and-down to save par and stay at 10 under.
5:19 PM: Woods' approach left him a long birdie putt, and it never had enough pace, coming up four feet short. He holed the par putt and still has had zero three putts all week.
5:08 PM: With water down the right side at the par-4 16th, Woods plays a bold cut shot with a 3-wood and rips it down the left side of the fairway. First bullet dodged at the Snake Pit on the Copperhead Course.
5:00 PM: Woods was staring down his tee shot at the par-3 15th for good reason as it was all over the pin, coming to rest 17 feet from the hole. His putt misses just left, and he walks away with par.
4:54 PM: By the way, wasn't exaggerating about that drive at the 14th. SMOKED.
4:51 PM: Woods' 50-foot eagle putt comes so, so close to falling. Two-putt birdie gets him to eight under, two back.
4:47 PM: Woods' drive at the par-5 14th was smoked, leaving him an opportunity to go at the green with a 4-iron, which he knocked on the front of the green. It's a long eagle look, but an eagle look nonetheless.
4:33 PM: Woods gets a tad aggressive with his second, opening up the face and taking a huge hack, which came up short in the bunker. From there he rolls one just past the hole and cleans it up for bogey. Meanwhile, Conners drops another long birdie at the 12th, getting him to 10 under. Woods is now three back.
4:26 PM: Not a good tee shot at the par-3 13th as Woods pulls it dead left and long. Bogey-free round looks to be in serious jeopardy, barring some more short game wizardry.
4:21 PM: Despite a not-so-great drive at the par-5 11th, Woods still gets a good look at birdie, but it lips out. At the par-4 12th, this time he finds the fairway, stuffs his approach to six feet and lips out again. A bit unlucky on these last two holes, but still bogey-free and still giving himself plenty of looks. He remains at eight under, one back of Conners, who just made birdie at the 11th.
3:55 PM: Bang! Woods holes the 22-footer for birdie, his fourth of the day. Now at eight under, tied for the lead once again. Surreal scene on Saturday at Innisbrook.
3:50 PM: Woods hits a laser beam down the middle at the par-4 10th, then hits his 161-yard approach shot to about 20 feet. Good look at birdie to get to eight under, which would get him a share of the lead after Conners made birdie at the ninth.
3:42 PM: Oh. My. Goodness! Woods drops the chip for birdie and the crowd goes wild. He makes the turn in three-under 33 and is now tied for the lead at seven under.
3:38 PM: Woods overcooks a drive left of the ninth fairway, then catches a wedge too cleanly from the rough and it scoots all the way over the green. Short game has been solid on Saturday, but this will be a challenging up-and-down to stay bogey-free.
3:28 PM: Woods' tee shot at the par-3 eighth was too good, rolling out 27 feet past the pin and leaving him a long birdie try, which looked good for awhile but leaked just right. He cleaned it up for par and now sits just one back of Conners, who made another bogey at the seventh.
3:19 PM: Woods' 17-foot birdie putt hooks just left of the hole and he taps in for par. Two under on the day, six under for the tournament.
3:14 PM: Woods splits the fairway at the seventh with a vintage stinger iron and club twirl, then knocks his 151-yard approach shot well below the hole, but with a good look at birdie. If it falls, he'll be just one back as Conners has made his first bogey of the day to fall back to eight under.
3:04 PM: After pulling his drive well left at the sixth, Woods hits his second into the fairway up near the green and then nearly holes another chip. The short game is dialed in on Saturday, and Woods is still at six under as he heads to the par-4 seventh.
2:49 PM: Woods nearly holes the chip for eagle and taps in for bird. Now at six under, three back. It's all happening now.
2:47 PM: With 283 yards to the green, Woods rips a 3-wood just right of the green in the rough, pin high. The lie looks thick, but would be surprised if he doesn't walk away with birdie here. He's going to need it now that Conners has made his third birdie of the day at the par-3 fourth to get to nine under.
2:41 PM: Woods breaks out the smoke wagon for the first time at the par-5 fifth and stripes one down the middle. Could be in the go zone with a chance to capitalize on a par 5.
2:35 PM: Woods' tee shot at the par-3 fourth comes up just short of the green, but he's able to get up and down far par. He's now three back though as Corey Conners makes another birdie at the third to get to eight under.
2:26 PM: From 20 feet, Woods holes the birdie putt and gets a huge roar from the Tampa crowd. He's back! That gets him to five under, two back of Conners.
2:21 PM: Woods didn't love his drive at the par-4 third, as it just rolled into the rough, leaving him with a difficult 191-yard approach shot. But he struck the best shot of his round so far, leaving him with a good look at birdie coming up.
2:12 PM: After finding the fairway at the par-4 second, Woods hits a lackluster approach shot that settles 75 feet from the hole. He was able to get it down in two for another par. That keeps him at zero three-putts on the week.
Meanwhile in the group behind, leader Corey Conners makes birdie at the first. Woods is now three back heading to the third tee.
2:00 PM: With a decent lie on a bed of leaves, Woods ripped his approach shot into a greenside bunker. From there he knocked one to eight feet, but the putt wouldn't go. Pars are good, but Woods continues to not take advantage of the par-5s, something we've seen a lot of during this comeback.
1:45 PM: And we're off. Woods takes 3-wood off the par-5 first tee and pulls it well left, but he should have a shot to get it back into play.
1:10 PM: Woods' warmup has begun at Innisbrook. Just over a half hour until he tees off: