News
Tiger Woods salvages even-par 72, but notes -- gulp -- that his back was tight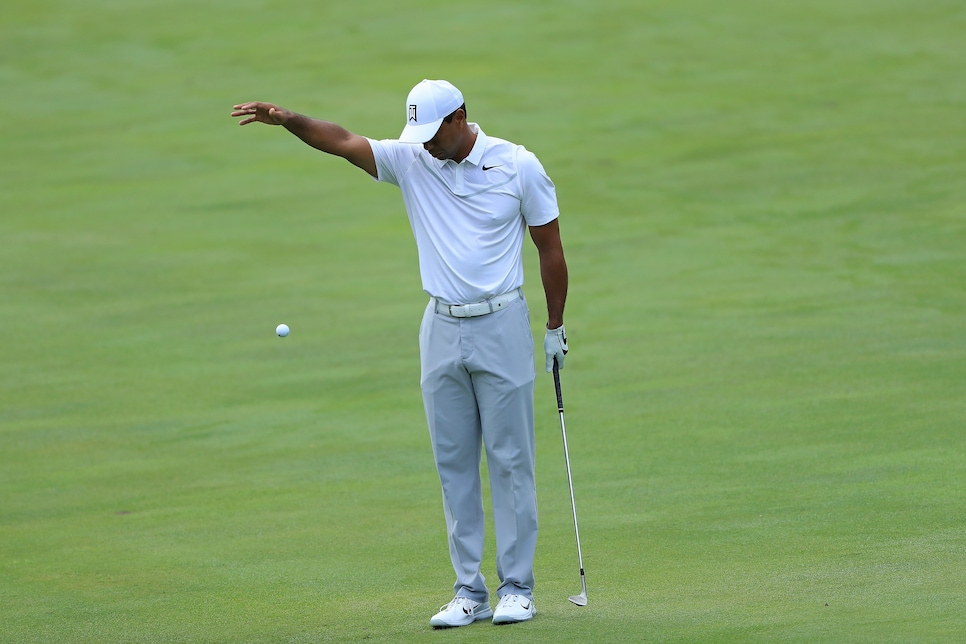 Tiger Woods rallied to card an even-par 72 Thursday in the opening round of the 43rd Memorial Tournament. It had to feel good. It probably would have felt better were it not for back stiffness that contributed to his slow start.
Woods, a five-time winner at Muirfield Village Golf Club, stood 4 over par through seven holes before he figured out a way to play around the tightness in his surgically repaired back. The early struggles included a drive out of bounds on the par-5 15th hole, leading to a double bogey.
"Yeah, I wasn't rotating very well today, back was tight, and it is what it is some days," said Woods, who seemed to be spinning better than rotating. "I made a tweak in my swing, my setup, and lo and behold I was able to make some good swings on the back nine and turned the whole thing around."
Despite the restricted motion, Woods still was able to fly his 3-wood 280 to 290 yards in the warm and muggy air.
He birdied four holes on his inward nine, the front nine, including three in a row starting at the par-5 fifth. He ended the round with a par save with a 6-footer after having to layup following a drive of just 198 yards into the trees in the left rough. "I just hate ending on a bogey," he said, looking pleased.
Now what about this tightness in his back? Woods had spinal fusion surgery roughly 13 months ago, so, yes, one would imagine that issues will arise? But how serious are they?
Remember, 10 years ago he won the last of his 14 major titles and his third U.S. Open at Torrey Pines, near San Diego, with an injured leg that he didn't fully disclose until after he underwent surgery the week after defeating Rocco Mediate in a playoff.
He said it never loosened up Thursday, despite the balmy conditions.
"I have days like that," offered Woods, who failed to break 70 in the opening round for the eighth time in nine PGA Tour starts this season. "My back is fused. I'm going to have days where it's just tight. Unfortunately, today was one of those days, and that's all right. I don't have any pain, thank God. It's just tight. So, no biggy."
Golf broadcaster Grant Boone tweeted a logical reaction to this remark that had to be on the minds of more than a few observers:
"Given Tiger's history with revealing the extent of his injuries, my default reaction is to assume it's a biggy until proven otherwise."
Woods, who played 36 holes at Shinnecock earlier this week in preparation for the U.S. Open, simply might have been tight from a bit of overuse. But he proved that he was fit enough to register four birdies in his final eight holes. So perhaps it is no biggy. In fact, it could very well be nothing at all.
Best to reserve all judgment until we see what unfolds the coming days. At the present Woods sits seven strokes behind the leaders Joaquin Nieman and Abraham Ancer.
"At least I've got a fighting chance," he said.