The Loop
Woods reverts to bad habits on a trying afternoon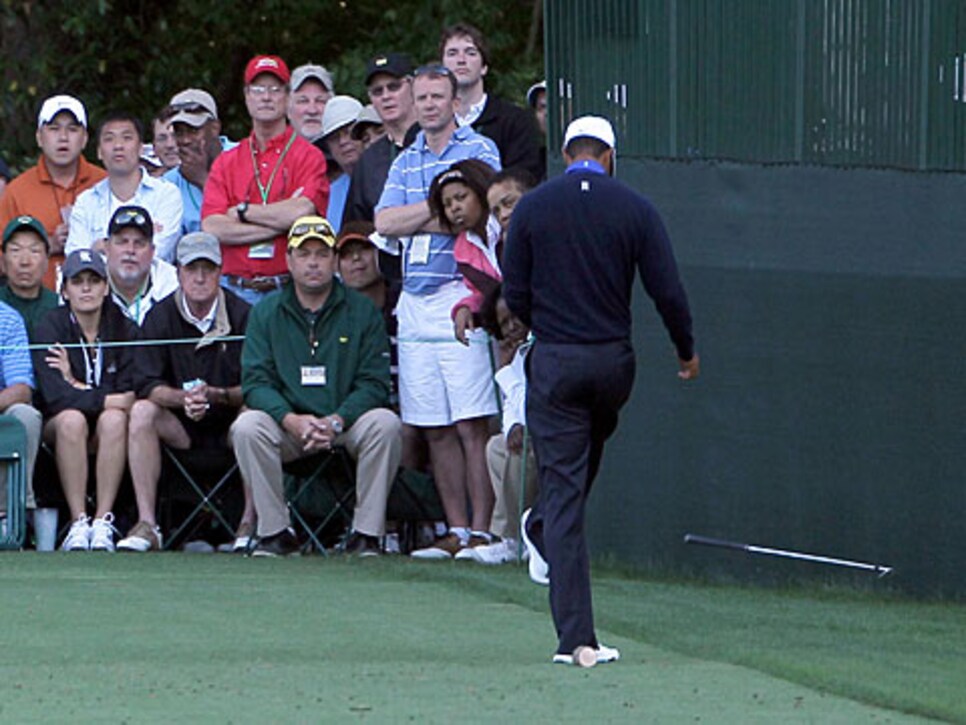 (Tiger Woods kicks his club in frustration. Photo: Getty Images)
AUGUSTA, Ga. -- Now even Tiger's body language is unprintable. He walked with the reluctant gait of a man who'd finished his last meal with the warden. He hid his face in his cap. He dropped a 9-iron that had failed him, and then, to punish it, he kicked it. Only five days ago, Tiger Woods was the old Tiger Woods. Today, he was just old.
Or do you have another way to explain it? The most consistent ball-striker of our era now suffers moments when he has no idea which way or how far the thing will go. He's 36 years old now with body parts that have been hard at work since that Mike Douglas Show 34 years ago. Knees go. Tendons fray. Healing happens, yes it does, but it happens in weeks, not days, in years, not months.
I remember Gary McCord's famously terrifying theory of GOLF. Once the mind recognizes that golf courses have hazards as well as fairways . . . once those hazards seem to leave fairways no wider than shoelaces . . . once the cup shrinks from a barrel mouth to a thimble . . . then, McCord said, the brain becomes overheated. Soon, it melts. It becomes a liquid seeking escape through the head's orifices. This is not a pretty thing. It is the Genetic Overflow of Living Fluids. You're freakin' toast.
McCord has never said as much, but I suspect that midnight collisions with fire hydrants may be an early warning sign of GOLF. If there's a cure, it is best sought in the flower of youth when a man is at his strongest. To approach middle age so afflicted is to risk a lifetime of wondering when you will lose another piece of your mind.
Woods started sensationally Friday. He birdied the first and third holes to move to two-under par for this Masters, a contender. But he didn't make another birdie all day. By the end, he had lost whatever swing he had only last week when he won Arnold Palmer's tournament. From the 13th on, Woods hit a series of shots that, if they'd been hit by you or me, would have been reason to take two weeks off, then sell the clubs.
He left his second at 13 embedded in the bank at the green's front edge. At 14, he didn't touch the cup with a 10-foot birdie putt. At the 15th, he fanned a 4-iron second into the right-side crowd, and then, unthinkably, hit a flop shot so poorly it came to earth in a bunker 20 feet ahead. At the 16th, playing only 144 yards, he left that poor 9-iron shot short and right in another bunker. The 18th, same thing. Had the man been as bad from bunkers as he'd been getting in them, he'd have shot 80-something rather than the 75 that left him three over par for the tournament, eight shots off the lead, behind 39 players.
Afterwards, he spoke to a handful of reporters for maybe three minutes. He said nothing worth reporting, save, perhaps, theses extravagantly optimistic sentences of self-delusion: "I understand how to be patient. I understand how to grind it out. The tournament's not over."