News
Tiger Woods returns to Riviera a different player with a different attitude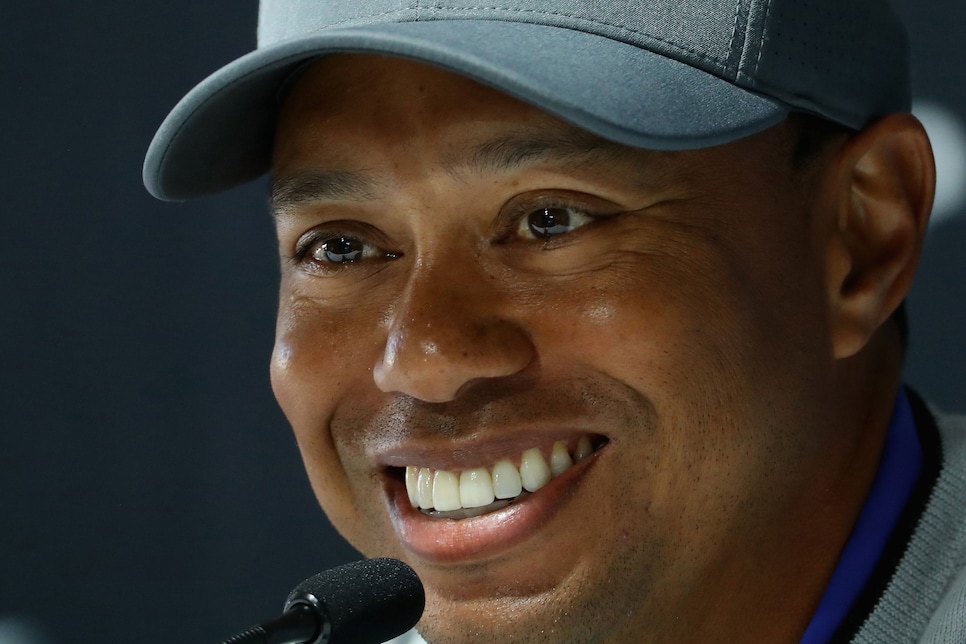 Warren Little/Getty Images
PACIFIC PALISADES, Calif. — A lot has changed since Tiger Woods last played at Riviera. George W. was in the White House, "The Da Vinci Code" was still a few months from being released, Beyonce's Irreplaceable was on its way to being the year's top song and Roger Federer was winning majors.
OK, so not everything has.
It was 2006, and the site of this week's Genesis Open (it was still the Nissan Open back then) looked a little different, too.
"Well, the yardage book on No. 12 when I used to play is a 1-iron and a pitching wedge. Now it's a driver and a 7-iron, 6-iron, somewhere in there," Woods said Tuesday during a pre-tournament press conference. "Some of the holes have really changed. So the old yardage books are out the window.
"This is a whole new game, everything's bigger now. The bunkers are deeper, they seem to be bigger. The greens have gotten more pin locations than I remember, they've added a few sections around here."
This is a whole new Tiger, too, in a couple of ways.
Back then, he was the No. 1 player in the world and he expected to win every time he teed it up.
Now? He's the tournament host and No. 550 in the Official World Golf Ranking, up 106 spots after a tie for 23rd at the Farmers Insurance Open at Torrey Pines two weeks ago.
His own hopes, like his personality these days, have softened as well.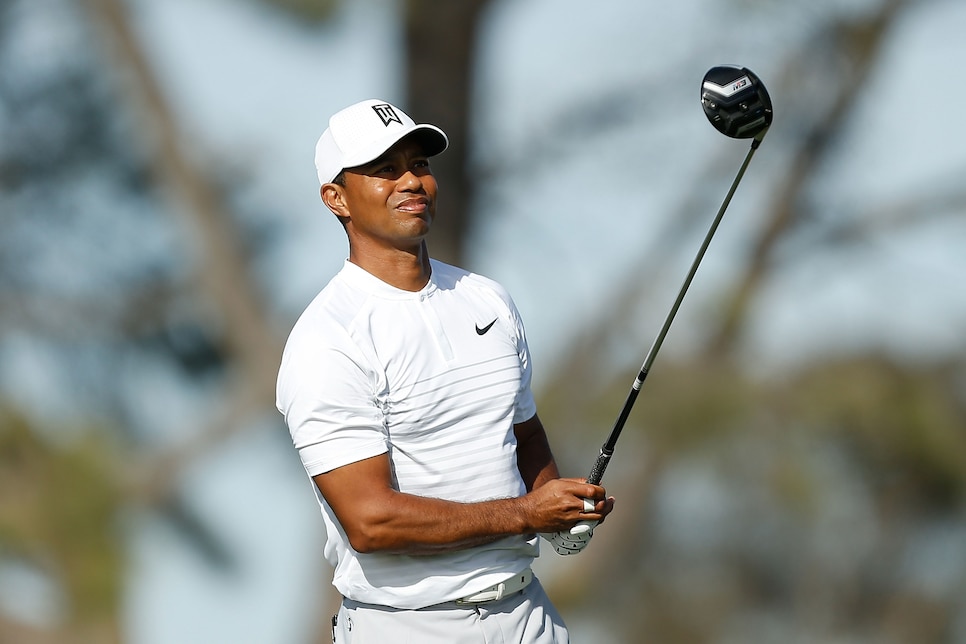 Michael Reaves/Getty Images
"I'd eventually like to win tournaments," said Woods, who is making just his second start of 2018 and third since returning in December from a fourth career back surgery that kept him sidelined for 10 months. "I'm trying to get through that process.
"I'm just starting back. I've been away from the game for a very long time. I've basically played two tournaments, and so I've got a lot of room for improvement and a long way to go."
Still, not everything is foreign to Woods.
On Tuesday, he played Riviera's back nine alongside Justin Thomas and Bryson DeChambeau. Though it was just a practice round, Woods had no trouble keeping up with the long-hitting Thomas, despite cool, crisp conditions. He also hit driver better than the last time his game was on display at Torrey Pines, where he found the fairway just 17 times for the week.
Never mind that Thomas and DeChambeau weren't even born the first time Woods played at Riviera, as a 16-year-old in 1992.
"It's been fun to watch him play," said the 24-year-old Thomas, who has played a handful of rounds with Woods in recent months at home in South Florida and is paired with him for the first two rounds this week along with Rory McIlroy. "Every once in a while he'll hit a shot that you just sit back and take in. I didn't know what to expect [this year]."
Thomas also wasn't sure what to expect from the notoriously private Woods when it came to what has become a budding friendship. The two flew here together, something Woods certainly wouldn't have done with a top competitor in his heyday, and they have kept in touch and played often.
On Tuesday, Woods chatted often. Among the highlights was Woods offering tips in front of the 17th green to Thomas at Thomas' request on how to hit a drawing chip shot, something Thomas said he has trouble doing.
Earlier on the hole, while waiting to hit from the tee box, DeChambeau engaged the oft-curious Woods in some scientific topic. Understandably, not even Woods could help but get lost on that one and responded with a simple, "Yeah."
"I've been blown away how open he is toward me and how willing he is to help me if I ask or if I wanna play," Thomas said. "Today he asked if I wanted to play, and it's a point I never thought I'd be at in my life. He keeps his circle small, but for good reason."
Woods can also sense a difference in how he is perceived by his peers.
"I think now they're starting to see me in a sense as a competitor because I'm starting to come back again," he said. "For a while there that wasn't the case. I was just a person that they could bounce ideas off of or what did I used to do and how do I feel these things, what do I do in certain situations, certain shots, and they would pick my brain."
And what about that relationship if Woods were to be in a position to win again, this week or another?
"I don't care how you react," he said. "I'm trying to win a tournament. I'm sure they'll feel the same way, but it's winning time."
Ah, some things really never do change.