The Loop
Tiger Woods puts extra distance between himself and Foley
SAN FRANCISCO -- This week at the U.S. Open, Tiger Woods wants less from other people and more from himself.
Just as Woods has been opting for more 3-woods and 2-irons this week, he's also been leaving extra yardage between himself and swing coach Sean Foley. While Foley has been working with his other students -- Hunter Mahan, Justin Rose and Stephen Ames -- before their tee times, the sharply dressed golf guru has been conspicuously absent from the driving range each day when Tiger has arrived to warm up.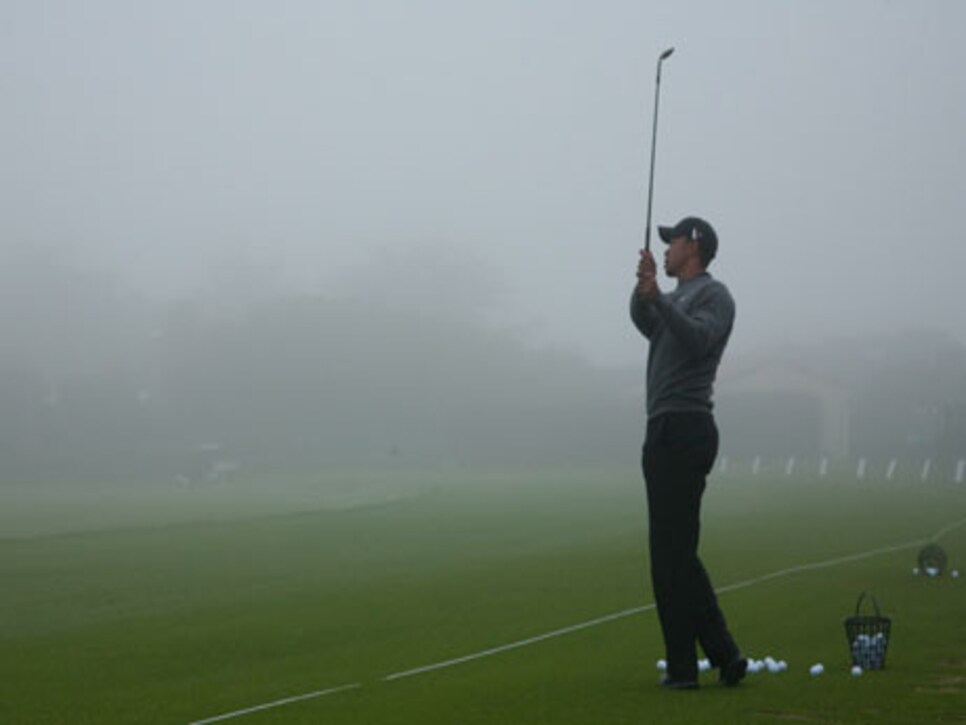 (Photograph by Alan Pittman)
"All these guys have different requirements," Foley says. "Hunter plays his best when he's jovial, and Rosie's the same. Tiger likes to get into a concentrated state."
So while Hunter Mahan gets a pat on the butt and Justin Rose a club shaft across his chest to indicate alignment, Tiger is going it alone. Rolling his first practice putts after lunch on Saturday, Tiger's only extra eyes were those of caddie Joe LaCava, who wasn't even looking. The way LaCava was facing, he noticed what the eager crowd didn't -- a lone figure in a tight argyle sweater walking directly over their heads. The temporary footbridge leading from the practice area to the 1st tee rises fifteen feet in the air, and Sean Foley was actually heading all the way to the third tee, securing a good spot to catch his first glimpse of Tiger's moving day swing.
"The key of Buddhism is for the teacher to make himself obsolete to the student," Foley says. That Tiger is no longer requesting his services before tee time, like he did some at this year's Masters where he finished T-40, is encouraging to both. "That we're only working on technique after his rounds shows how much further ahead he is in the process," Foley says.
Asked to elaborate on this decision, the ever-guarded Woods bluntly yet cordially confirmed the question. "Sean and I don't work together before rounds. We only work after rounds."
Like keeping the headcover on his driver, it's easy to admire the simple confidence of the strategy. Woods has drawn criticism from some about "over-tinkering" with his swing, and this move to get ready alone feels like a shift back to the basics of a clear mind. The best athlete in the world needing to rely, to believe, in nobody other than himself.
However, Woods' solo warm-up sessions, especially after Saturday's 75 (+5), can raise other questions. In his heyday, Tiger always warmed-up with either Hank Haney or Butch Harmon standing by. Still major-less under his tutelage, is it possible Woods doesn't trust Foley to the same degree he trusted his past teachers? Or is it that Tiger wishes to avoid the exhibition and ingloriousness of being physically instructed during this tough stage in his life? Or is it as Foley suggests? That they are so far along that Woods doesn't need help with the little things.
The only thing that's clear is that Woods is still searching for the solution to the problem that has plagued him his entire career, and which indeed plagues so many golfers, and that is how to take your range game to the first tee. The highlight reel of Woods' poor performances on first holes at major championships lives in inverse to the many times he's been clutch down the stretch. He's both lost a ball and hooked one into water on inaugural tee shots at British Opens, and he's had week-long troubles like making three opening double-bogeys at Torrey Pines in 2008. Over a career at Augusta National, his worst scoring average is far and away the first hole.
Tiger has been striping it on the range at the 2012 U.S. Open. "The warm-up was good," Woods said after he released control of the tournament on Saturday. Foley or no Foley, it's the distance over that temporary footbridge that Tiger needs to figure out if he's to win.