News
Tiger Woods practices, and observers take note: "He looked really good"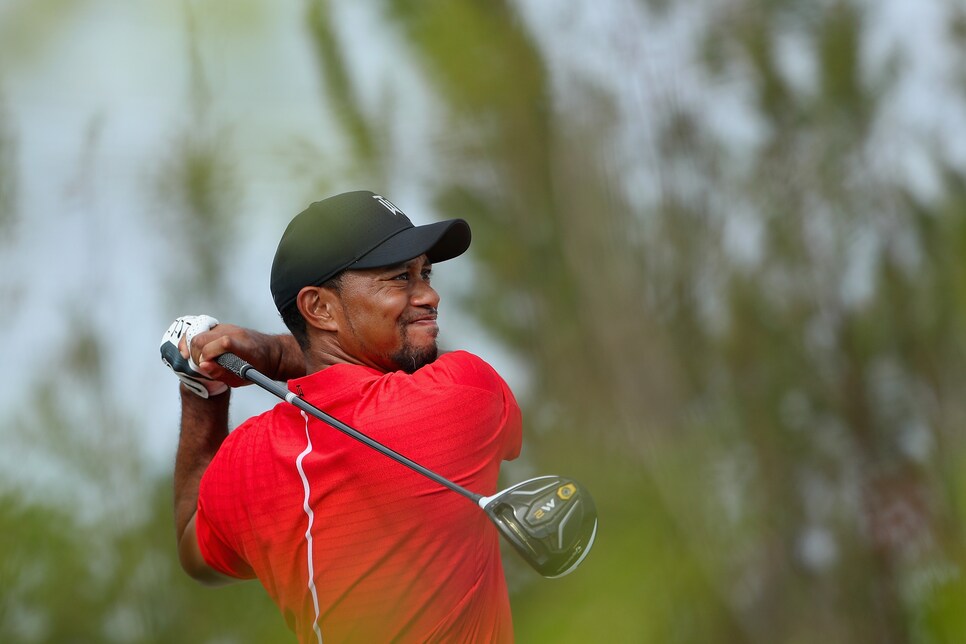 On Tuesday, Ian Baker-Finch was playing golf at Medalist Golf Club in Hobe Sound, Fla. He was joined by Steve Marino and Marc Turnesa, among others. More notably, Tiger Woods was in the house.
Woods, who was playing with a different group of friends and who was also joined by his caddie Joe LaCava, "looked good," according to Baker-Finch, who watched the 14-time major champion hit balls on the range as well as some of the shots through the course of his round.
"His swing was smooth," Baker-Finch told GolfDigest.com via phone. "He looked normal.
"Obviously it's easier when you're in your own environment with your buddies than when it's for real, but he looks to me like he can play golf. I guess a lot of people thought he would never play golf again."
Now, however, exists the possibility that he could return as soon as his Hero World Challenge Nov. 30-Dec. 3 at Albany in the Bahamas.
Though no one who witnessed Woods' latest round at Medalist could say for sure when he will play again -- Woods' agent Mark Steinberg didn't immediately respond to an email seeking comment -- those in attendance do think playing in the event is a possibility for the tournament host.
According to one source, while Woods was walking gingerly around Medalist his power in this latest session was evident. Woods has also been a fixture at the club in recent weeks after having been a ghost all summer.
"He's been out there a lot lately, which is good to see," the source said. "He looked really good to me hitting balls on the range. He was hitting driver high and far."
It has been nearly nine months since Woods has played golf competitively, his last round coming in early February in Dubai, where he shot an opening-round 77 and withdrew the following day because of back spasms. Two months later and after missing the Masters for a second consecutive year, he underwent a fourth back surgery and hasn't pegged it since. During that time, he was also arrested on suspicion of DUI over Memorial Day weekend, a charge that is expected to be reduced on Friday to reckless driving as part of a Palm Beach County diversion program that Woods will likely agree to enter into.
During last month's Presidents Cup, even Woods admitted that there is a scenario where he might never play again. Four days later, though, he posted a slow-mo video hitting chip shots, adding that his doctor had cleared him to start pitching.
While none of the swings shown on Twitter carried anywhere near the speed of Woods' heyday, or even that of high-level tour golf, they were at the very least promising.
Woods' former coach, Hank Haney, responding to Woods' video of the driver swing, said on Twitter, "That's a swing he could win with, it's not across the line and stuck inside coming down, a little stiff looking but it's good enough."
Everything seems to be pointing to a Woods return sooner than later. It also wouldn't be the first time he returned from a long break in the Bahamas.
Last year, Woods came back there following a 15-month layoff that was preceded by two back operations. Though he led the field in birdies with 24 and shot 65 in the second round, he also led the 17-man field in double bogeys and finished two spots out of last place. He ended up playing only three more tournament rounds after that before injury forced him out again.
Wherever Woods returns, he has come a long way from where he was. Again, and at least for now.