News
Tiger Woods posts 67 despite putting woes at Memorial Tournament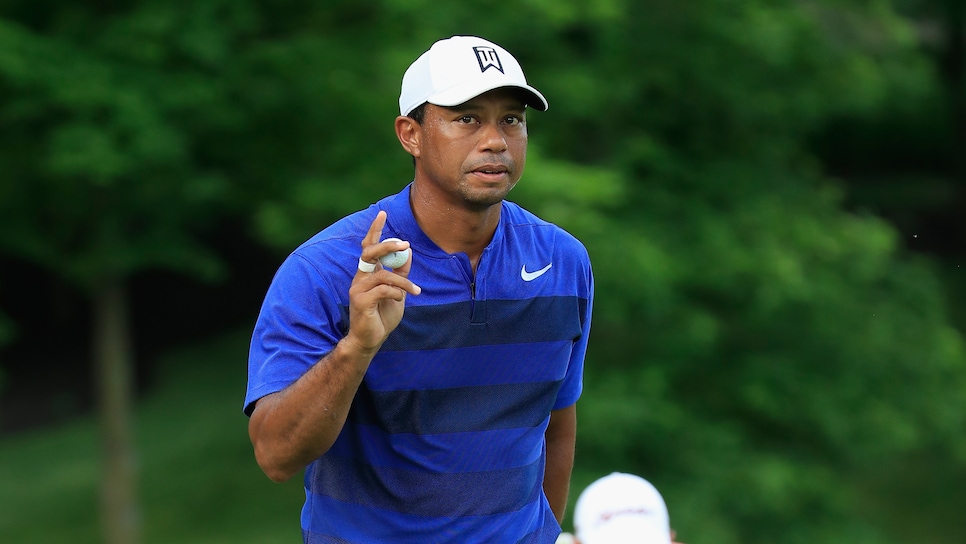 DUBLIN, Ohio — Tiger Woods survived the rain delay. That might have been the most significant news Friday from the second round of the Memorial Tournament.
The 67 he posted was good news, too.
Though disappointed with his putting stroke on a day filled with red numbers, Woods signed for his lowest round at Muirfield Village Golf Club since a closing 67 in 2012, the year he captured the last of his record five Memorial titles.
"I did not putt well today," said Woods, who had 29 whacks on the greens, even with a hole-out for eagle at the par-5 11th. "It could have been easily a nice little 62 or 63. I turned it into a 67."
Most of the little misses occurred after a weather delay of 1 hour, 28 minutes. Woods had just stuffed an iron to 6 feet at the par-3 12th when the horn blew, and having just made eagle at 11 from 97 yards with a wedge, he was eager to keep the momentum going.
When he came back, he'd lost "the rhythm of the round," he said. He missed the six-footer. And then misfired from five feet on 13 and nine feet at 16, also for birdies. The final ignominy came at 17. After pulling his approach just left of the green, he chipped to 3 feet and missed that, too.
"I just hit terrible putts," he said, not making excuses.
At least his surgically repaired back was feeling better after he complained of tightness during Thursday's opening round. And it responded well after the delay, a relief to the 42-year-old seeking his first victory since 2013.
"It's weird to say," Woods began, "but this is my first delay this year coming back out of it. And I was a little bit worried about how my back was going to feel. I was hoping it wouldn't, this delay wouldn't be that long. I didn't really sit down. I was walking, pacing back and forth, trying to keep it loose, trying to keep myself warm, because these are things that I don't know yet. This is new, which is strange. I did it for 20-some-odd years. You would think I would understand it, but this is different for me."
What isn't new for him are thoughts of winning, though it's obviously been a while since the last of his 79 PGA Tour victories.
His expectations seem to be growing as he continues his comeback.
"I hit some good shots in there and I had nice control of pretty much everything. Unfortunately, just didn't make anything. I missed a lot of short putts, which is, you know, something I don't normally do, which is just frustrating. I've got to clean that up come this weekend and, hopefully, I can get it going, and I can play well like this on the weekend and I've got a great chance of winning this tournament."
Woods' weekend scoring average is two strokes lower than his opening two rounds. With a 5-under 139 total, he begins the third round six behind leaders Kyle Stanley and rookie Joaquin Niemann. His back feels fine. He ended the day with a practice session on the putting green.
This could get interesting.