The Loop
Tiger Woods plays with our emotions, Greg Norman wields a chainsaw, and DJ & Paulina chill in Cabo
Welcome to another edition of The Grind, where we're hanging in there, but thanks for asking. You know it's bad when your wife sends you a text regarding Tiger Woods' withdrawal that says, "Maybe it's for the best." Or when a co-worker's 7-year-old daughter watches a video of you talking about Tiger and asks her dad, "Why is the man in the vest so sad?"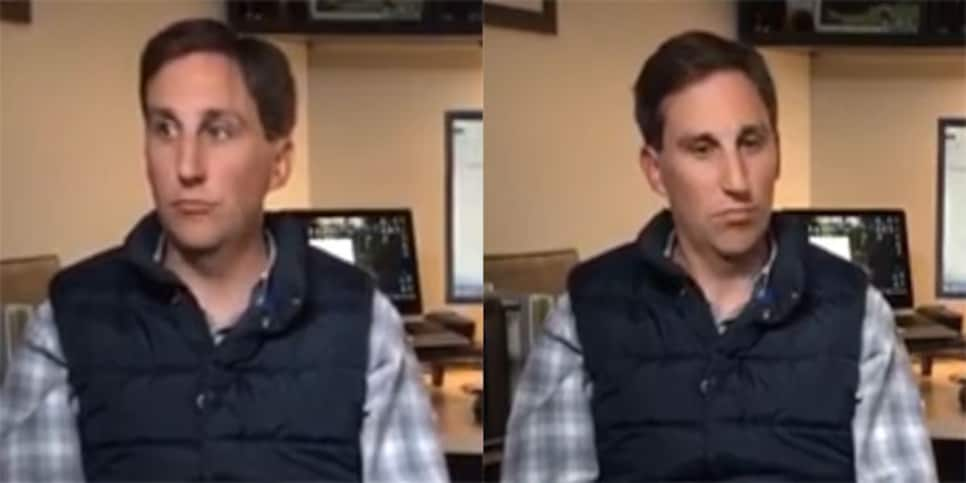 It's dark times like these when I look to old Tiger clips on YouTube -- and the office vending machine -- to lift my spirits. Let's try to get through this before my sugar rush wears off.
Ha Na Jang: It was great to see this rising LPGA star get back in the winner's circle and do what she does best: celebratory dances.
We can only imagine what Jang has up her sleeve for when she wins her first major.
Danny Willett: After a rough week at the Ryder Cup, Willett responded by. . . missing the cut. However, the week was still a success. The Masters winner paired with his normal caddie, Jonathan Smart, to win the pro-am portion of the Alfred Dunhill Links Championship (Congrats to Tyrrell Hatton for winning the event for his first European Tour title).
And it was Smart who made the winning four-footer for birdie on the final hole. Pretty cool.
Jay and Jan Haas: Speaking of caddie-related news, Jay Haas won the Toshiba Classic with his wife Jan carrying his bag. He also became the second-oldest (62 years, 10 months, 7 days) winner in PGA Tour Champions history. Yeah, we'd say that calls for some bubbly to celebrate.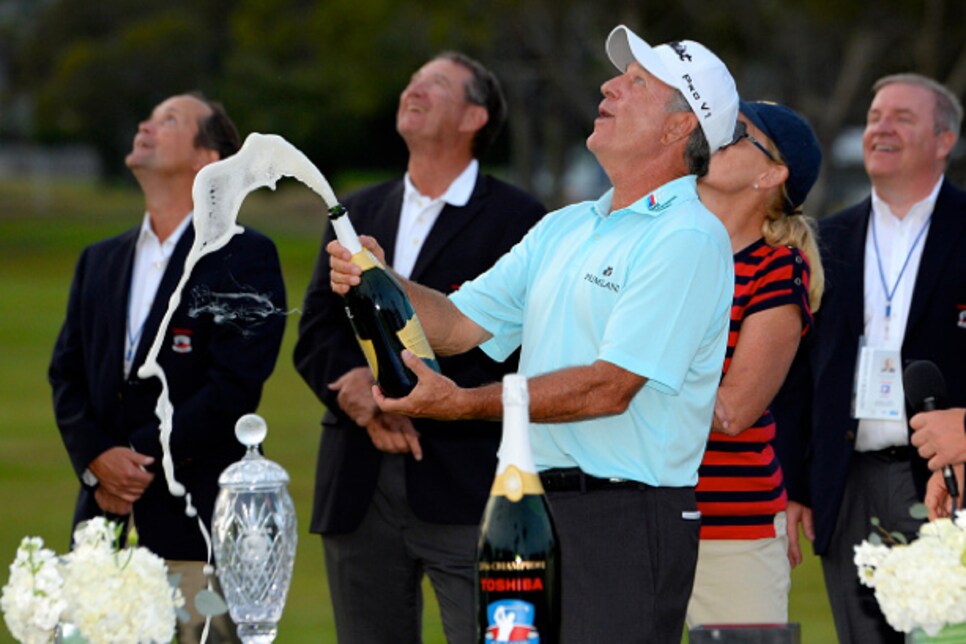 Tiger Woods' comeback: The phrase, "I hope to play," never gave us total confidence that we'd see Woods tee it up this week, but the 14-time major champ confirming his spot in the field on Friday did. Woods' agent tried to explain what changed in those three days after, but that doesn't make it any less shocking. I haven't had my emotions played with like that since LeBron James' "Decision."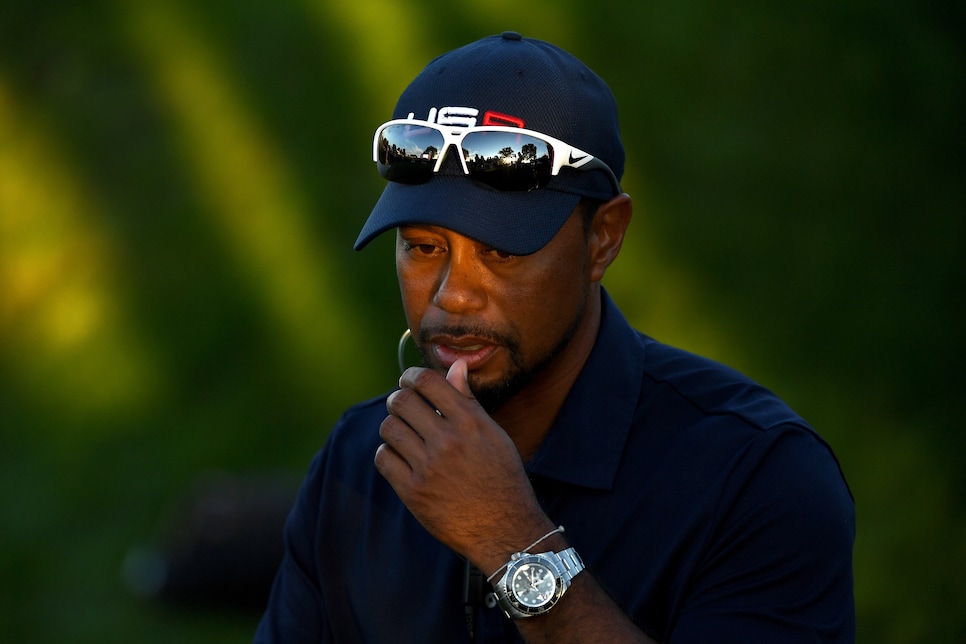 Greg Norman wielding a chainsaw: While we admire a gazillionaire doing his own yard work, we're worried about the Shark biting off more than he can chew. Again. You might remember Norman nearly lost a hand using a chainsaw a couple years back, but he's back to using his favorite power tool -- and taking chainsaw selfies.
Be careful out there, Greg.
Vaughn McCall: We don't know much about this New Zealand pro other than the fact he managed to get disqualified rather than sign for a triple-digit score at the Fiji International:
I suddenly feel a lot better about my last round.
And just like that, the PGA Tour is back! The Safeway Open (Formerly the Frys.com Open) kicks off the 2016-17 season and Tiger Woods and Phil Mickelson will be paired together for the first two rounds! Whoops, scratch that last part.
Random tournament fact: There has had never been this much buzz for a PGA Tour event in the fall. Oh well. At least, Stephen Curry is still playing in the pro-am.
RANDOM PROP BETS OF THE WEEK
-- The Safeway Open will still be ESPN's lead story on Thursday: 10 MILLION-to-1 odds
-- Patrick Reed will win the 2017 Masters: 30-to-1 odds (Actual odds, down from 50/1 this summer)
-- Phil will try even harder than usual to put on a show this week: LOCK
We take you all the way back to Saturday. It was a simpler time, when no one knew who Ken Bone was and Tiger Woods was still scheduled to play this week. He visited Stanford for a football game and posed with the two Cardinal golfers who share his school record for wins:
Woods' alma mater was so fired up about his impending return they re-enacted some of his most famous reactions:
OK, we better stop. This is getting sad.
Hurricane Matthew was no joking matter, but Will MacKenzie's eight-year-old son Maverick added some levity to the situation with these live weather updates:
Make room, Dash Day. There's a new child star on tour.
Both are player reactions to news of Tiger Woods' WD. First, Max Homa responds to taking Tiger's spot in the field.
And Steven Bowditch offers Woods a quick-fix to regain his confidence on the course.
"The only thing you can do is tie it. There's no 19th hole." -- Dwyane Wade using a confusing golf analogy when asked if LeBron James can catch Michael Jordan. Hmm. This would be like Phil Mickelson saying, "There's no fifth quarter," when asked to compare Tiger to Jack Nicklaus.
THIS WEEK IN PAULINA GRETZKY-DUSTIN JOHNSON PUBLIC DISPLAYS OF AFFECTION
The PGA Tour may be back already, but that doesn't mean its stars aren't still in off-season mode. Here's DJ and Paulina at a tropical taco stand in Cabo:
And here's Paulina and her friends modeling some new swimwear:
Something tells us we're not going to see DJ playing on tour anytime soon.
THIS WEEK IN PAIGE SPIRANAC BEING PAIGE SPIRANAC
Now that's thinking on your feet.
THIS WEEK IN PRO GOLFERS REMINDING US HOW GOOD THEY ARE
Here's video of Michelle Wie celebrating after making her 13th(!) hole-in-one:
Brandt Snedeker carried over his Ryder Cup momentum to win by NINE shots. OK, so it was that event in Fiji, but still, nine shots. U-S-A! . . . Congrats to Golf Digest Editor-in-Chief/Chairman Jerry Tarde for being named the recipient of the 2017 Memorial Tournament Journalism Award. Jerry is especially excited to head to Muirfield Village to pick up some chainsaw tips from Greg Norman, who will be the golfer getting honored. . . . In non-golf-related news, last week marked the 10th anniversary of Friday Night Lights' TV debut. I've started re-watching this instant classic as part of my healing process. . . . And in happier news, I had the pleasure of taking a ferry to Liberty National Golf Club with Steve Stricker and Nick Price as part of a Presidents Cup media day. And here's the creepy photo I snapped of the two of them when they weren't looking!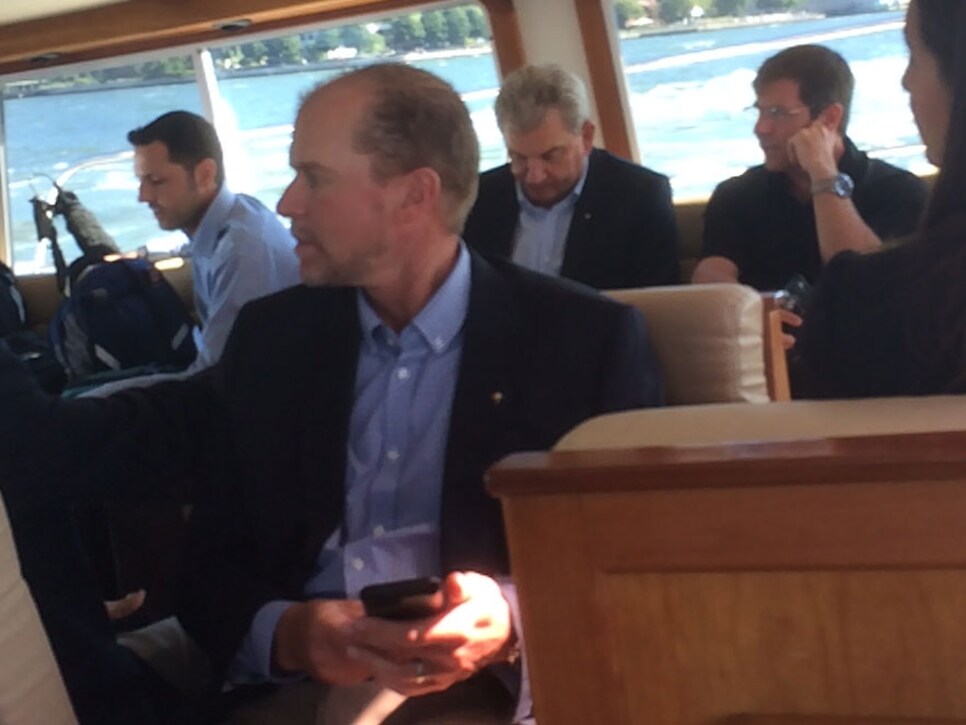 Seriously, no golf event has ever pitted two nicer people. Looking forward to the "War by the (Jersey) Shore" next year.
RANDOM QUESTIONS TO PONDER
Has the #SB2K16 crew decided on their Halloween costumes yet?
When will Tiger Woods actually play again?
Does Tiger need a pep talk from Coach Taylor?