U.S. Open
Tiger Woods, Phil Mickelson submit entries to 2022 U.S. Open field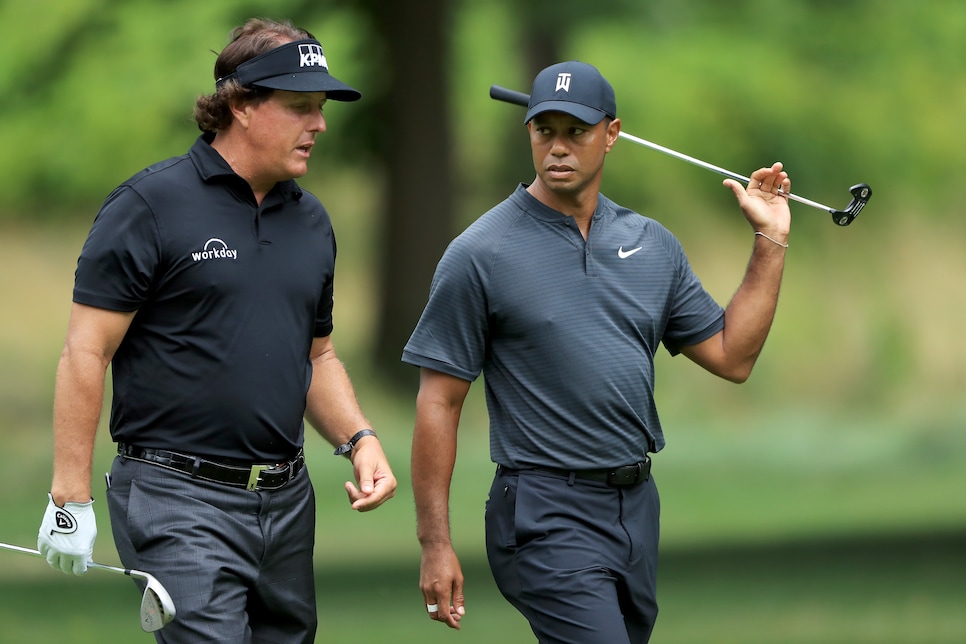 Tiger Woods and Phil Mickelson are among the 9,265 entrants for this year's U.S. Open.
This is not to say either will necessarily be in the field. Woods, who made his return from injury last week at Augusta National, said in a post-Masters interview that he plans to play in the Open Championship at the Old Course at St. Andrews; however he did not offer the same level of commitment to the PGA Championship and didn't mention the U.S. Open. For his part Mickelson missed the Masters as he continued his sabbatical from the game following comments about the Saudi-backed golf league and his alleged conduct in helping draw up the league's operating charter, and there has been no word on when the 51-year-old will return.
However, Wednesday marked the deadline for competitors to submit their registration for the USGA's flagship event to be held at the Country Club in Brookline, Mass., and both Hall of Famers at least took the first steps to entertaining an appearance at the championship.
According to the USGA this was the 10th consecutive year entries exceeded over 9,000 and is the sixth-highest total in tournament history. The governing body accepted entries from all 50 states, the District of Columbia and 79 foreign countries.
"The USGA appreciates the continued worldwide interest in competing in the U.S. Open and we are pleased to offer thousands of golfers an opportunity to follow their dream of playing in a major championship," said John Bodenhamer, chief championships officer for the USGA. "The U.S. Open is unique in major championship golf in that the qualifying process provides golfers of all ages, races and abilities a chance to play their way into the field."
As of April 13 there are 48 golfers exempt into the field, including Woods and Mickelson. The number of fully exempt players will increase with the inclusion of the top 60 point leaders and ties from the Official World Golf Ranking, as of May 23 and June 6. The winner of the PGA Championship (May 19-22) and any multiple winners of PGA Tour events that award a full-point allocation for the season-ending Tour Championship will also earn exemptions.
Local qualifying will be conducted over 18 holes at 109 venues in the United States and Canada. Competition will run from April 25 to May 23. Those who advance out of local qualifying will then compete against players who are already exempt in final qualifying. Final qualifying, held over 36 holes, will also be held in the U.S. and Canada, along with a site in Japan.
The 2022 U.S. Open begins June 16, returning to Brookline for the first time since 1988. Jon Rahm is the defending champ.