News
Tiger Woods once beat Adam Scott so bad that Scott reconsidered his decision to turn pro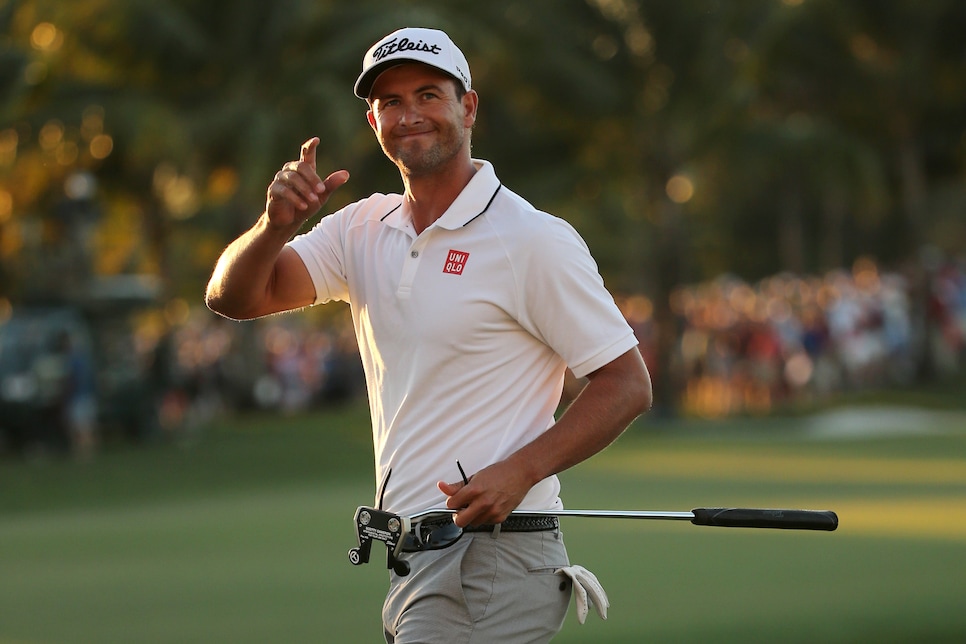 Tiger Woods was a bad man in the way "Mister Rogers' Neighborhood" was good. In his prime, Woods didn't so much beat his opponents as live rent-free in their heads. Evidenced in this story from Adam Scott.
Scott is making an appearance in this week's Shriners Hospital for Children Open, played in Las Vegas. An area that Scott knows well, attending UNLV and training with coach Butch Harmon, who resides in Sin City. Speaking to the media on Wednesday, Scott was asked if he ever crossed paths with Woods during his time in Vegas (Woods was working with Harmon at the time), leading the Aussie to relay this doozy from 2000.
Scott, who had just decided to turn pro and was making his way through the European Tour ranks, was back in Nevada for a session with Harmon. Woods also was in town, getting a last-minute check-up before the U.S. Open. With prodding from Harmon, Woods and Scott went out for an 18-hole match.
"I was nervous, of course. We went out and played, and we had a match, and I think I was maybe 1 down through the turn at Rio Secco [Golf Club]," Scott said, "and then Tiger stepped it up and birdie, birdie, birdie and eagles and stuff.
"[He] actually double-bogeyed the ninth hole. He closed me out on the 14th, but he double-bogeyed the ninth for 63, and I was a bit blown away by what I saw. It was quite windy, and I thought I played quite well. Probably shot about even par, and I was nine off the pace."
That's a butt-whoopin' of biblical proportions. Scott was so demoralized he told Butch, "Maybe I should reconsider turning pro."
Fortunately for Scott, there was a saving grace: that week's proceedings at Pebble Beach.
"The only thing that made me feel good was he won the U.S. Open by 15 the next week, so I was quite happy to see that no one else really played like that," Scott said.
That performance is often cited as the best display of golf the sport has ever seen. But almost forcing a future World No. 1 and Masters champion into retirement at 20 thanks to a practice round ranks right up there.