The Loop
Tiger Woods on what he and Jack Nicklaus talked about at the Ryder Cup dinner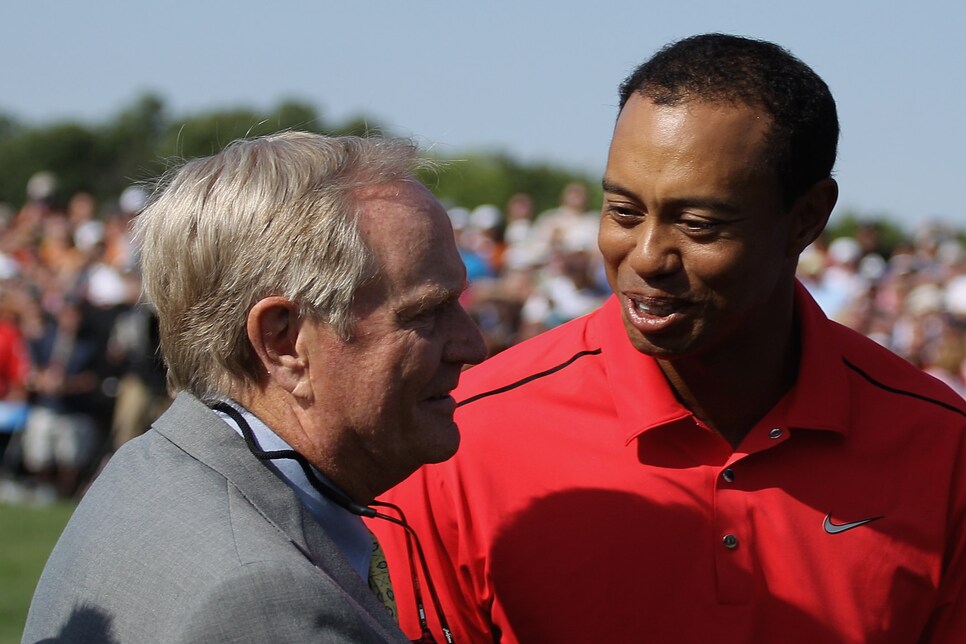 Tiger Woods still has no timetable for his return from two off-season back surgeries, but that didn't preclude him from giving everyone an update on what else is happening in his life. On Friday, Woods posted a new entry on his website in which he talked about a wide variety of topics, ranging from the Ryder Cup dinner to Peyton Manning's retirement to that magical hole-in-one at his new par-3 course.
Beginning with the Ryder Cup gathering at Jack Nicklaus' house on Feb. 25, Woods said he was the first person to arrive (We hope he's not one of those annoying people who show up early to parties) and that the two men who have combined to win 32 golf major championships mostly talked about . . . fishing. Once the rest of the large group arrived, Woods said it was fun to hang out with the guys. Overall, the Ryder Cup vice captain thought, "the dinner was a great idea and brought a lot of guys closer."
Woods also said, "It is a very different experience being out of the spotlight," although he didn't elaborate. Last week, though, Woods found himself in the spotlight when he was on site at his first U.S. golf course design, Bluejack National, to open a new par-3 course. The big star, however, was 11-year-old Taylor Crozier, who made a hole-in-one with Woods watching that was captured on camera.
"How cool was that? The fans went wild, and I bear-hugged him," Woods said. "It was a moment we won't forget."
Woods also mentioned working on some new advertising with two of his biggest sponsors, Nike and Rolex. He said he's been busy, even though he hasn't been playing golf competitively.
"Health-wise, I continue to improve. I'm working hard on my short game at my outdoor practice facility and on my indoor Full Swing golf simulator," Woods said. "Still no timetable on my return, but I'm excited to get back out there with the guys."
Again, not much of an update in terms of his playing schedule, but he continues to sounds confident he'll come back. Unlike one of his buds, who retired earlier this week.
"Congratulations to my friend Peyton Manning on his Hall of Fame career. I look forward to playing more golf with him, and right now, getting more shots. Hopefully, this will translate to more wins for my Raiders!" Woods said, echoing the same sentiments he offered on Twitter on Monday.
Hopefully, for Woods' fans, no real news about his own playing status is good news.